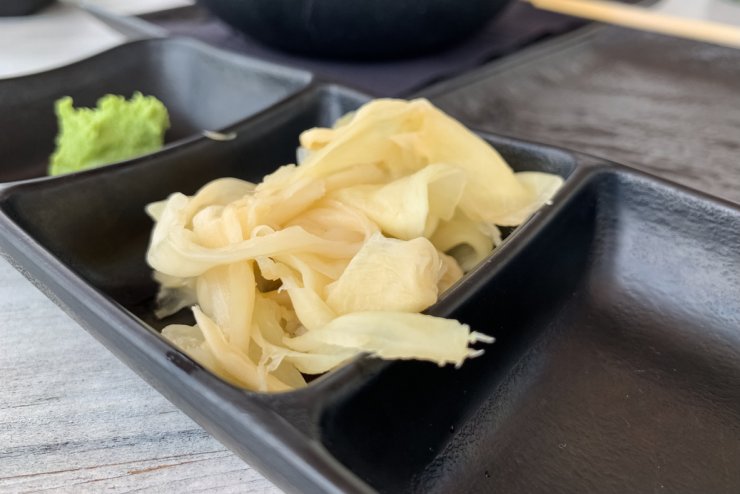 If you've ever visited an authentic Japanese restaurant, you'll notice that pickled ginger is a staple whenever you order sushi. Most people think that these thin, exquisitely arranged ginger slices are simply for adornment — but they're more than that. Pickled ginger is served as a side for sushi to cleanse your palate.
Different kinds of fish have very subtle differences in their flavor profile. The sharp taste of pickled ginger serves as somewhat of an antidote that allows you to fully enjoy the next sampling without confusing its flavors for the previous one.
That said, there's no reason you can't make your own pickled ginger, especially if you have a generous harvest of this homegrown rhizome! Aside from being a palate cleanser between sushi samplings, pickled ginger can also be served alongside soups, sandwiches, and other meals. Combined with rice vinegar, a little kosher salt, and sugar, the taste of these fresh, young ginger slices can transport you to Japan without leaving your seat!
To fully enjoy this wonderful side dish, make sure that you slice the ginger thinly across the grain. Their soft, silk-like texture is what makes each small serving a mouthwatering marvel. To do this, I would recommend using a mandoline, but always exercise caution!
Making pickled ginger can take some time, because you need to let the ginger slices sit for an hour after being sprinkled with salt. It's definitely going to be worth the wait! From stir-fry to soups, salads, and even pulled pork tacos, pickled ginger goes with practically anything. If you can't get enough of them, you can set aside a small serving and enjoy it as is!
Print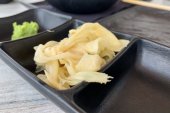 Pickled Ginger
Soft and silky, having some pickled ginger will cleanse your palate in the most exquisite way!
Author:
Prep Time:

15 minutes

Additional Time:

1 hour

Cook Time:

10 minutes

Total Time:

1 hour 25 minutes

Yield:

Serves 8

Category:

Sides & Sauces
Ingredients
1/2

pound fresh young ginger

3/4 cup

rice vinegar

1/2 teaspoon

kosher salt

1/2 cup

sugar
Instructions
Wash the ginger, but don't peel it.
Slice ginger thinly across the grain.
Lay slices out in a single layer and sprinkle the salt over them. Let them sit for an hour.
Dry the slices with a paper towel and put them into a sterilized mason jar.
Combine the rice vinegar and sugar in a saucepan and bring the mixture to a boil.
Pour the hot mixture over the ginger slices.
Cool, then refrigerate.
Use within 3 weeks.
Ginger is easier to grow than you may think! With our Zesty Ginger Gardening Guide, you'll have everything you need to know about growing and enjoying this versatile plant—including specific advice about soil requirements and fertilizer, watering techniques to details about avoiding bacterial wilt, and even easy-to-make and delicious recipes that will allow you to enjoy the fruits of your ginger gardening labor!
Have you tried this quick and easy recipe? It's a great garnish for salads, or the perfect palate cleanser between dishes. Please tell us how it turned out for you.