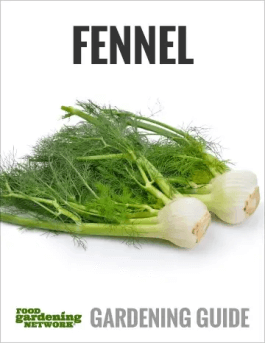 Ask people you know about fennel, and many will say "Isn't that just a seed?" or "Doesn't fennel have a strong smell and taste like licorice?"—for many, fennel looks funny, smells funny, and probably tastes funny! Poor fennel, one of the most misunderstood food plants. So, how can you become a fennel lover?
With a little planning, persistence, and experimentation, you can turn anyone into a fennel lover—including yourself, if you're a skeptic. Think luscious and hearty to eat. Quick-and-easy to prepare. And versatile, with uses for nearly every part of a fennel plant. Undoubtedly, your grandmother would love to know that nothing gets wasted. Bulbs, stalks, fronds, seeds, and even flowers—everything gets used.
Indeed, here is how to turn just about anyone into a fennel lover!
When you grow fennel in your home food garden, try all these ways for using every bit of the plant. Then, introduce family and friends to all the ways for enjoying fennel. You're certain to turn everyone into fennel lovers after they experience this wonderful herb and spice:
How Fennel Lovers Use the Fennel Bulbs
Fennel bulbs give this plant a reputation for strong licorice taste and smell, sometimes turning off people who don't like anise or licorice flavor. Consequently, try braising, sautéing, roasting, or grilling sliced fennel bulbs to soften the flavor and create a tasty side dish! Just cook in a bit of oil and some salt, and voilà! You get fennel transformed into a perfect companion to any main dish! Some of your guests won't notice much licorice flavor … and they might not even know what food you've cooked! Or, use thinly sliced raw fennel bulbs with all the other ingredients in your coleslaw. But, only use ⅓ the amount of fennel bulb compared to the cabbage amount. That way, you'll get just the right amount of additional zing with the fennel bulb, and it blends well with the crunchy cabbage. And remember, even licorice-haters have become fennel lovers!
How a Fennel Lover Uses the Fennel Stalks
Believe it or not, unlike fennel bulbs, fennel stalks don't have the same strength of licorice taste and smell. And yes, they look like celery stalks and can replace celery in soups and stews. Munch on a raw fennel stalk after dipping it in a cool sour-cream-based dip—you might not notice the differences between fennel and celery; even the kids will like them! Lay fennel stalks under chicken and meats when roasting—giving meats room to roast all over, adding juices and flavors, and delivering more edibles for the meal. You can even pickle fennel stalks and enjoy them all year long.
How Fennel Lovers Use the Fennel Fronds
Fennel fronds are the wispy, leafy parts found at the very top of fennel stalks. They look a bit like dill weed, and guess what? Use the fennel fronds just like dill! Just don't plant fennel and dill close to each other in your garden, as fennel can cross-pollinate with dill to create a bitter hybrid. Using kitchen scissors, snip the fennel fronds over a salad. Or, chop fennel fronds and combine with ingredients in your juicer for your next juice drink. Basically, treat fennel fronds like any fresh herb—such as parsley or dill—and you'll maximize your use of your fennel plant. Garnish a food dish with fennel fronds, or create a beautiful arrangement in your flower vase with the decorative greenery of fennel fronds. You can even make fennel-frond pesto, certain to secure your affinity as a fennel lover!
How a Fennel Lover Uses the Fennel Flowers
Fennel is part of the flowering plant family, after all, and is related to carrots. Who knew! Small bright-yellow fennel-flower blossoms grow in clusters to form an umbrella-like bouquet. Eat fennel flowers or flavor other foods with the flowers when cooking—or even just as an attractive garnish on the plate. Additionally, some people swear by the medicinal properties of fennel flowers, as anti-inflammatory and anti-bacterial agents or to ease menstrual symptoms, improve mental health, benefit breastfeeding women, and even fight cancer. With fennel fronds and other complementary flowers, adorn your table or counter with fennel flowers by creating an attractive arrangement in a vase.
How Fennel Lovers Use the Fennel Seeds
After flowering, fennel plants go to seed—and that can be a good thing for fennel lovers! But, fennel "seeds" aren't really seeds in the most scientific sense—they're actually fruits, so they can be eaten and noshed to give you a quick breath freshener, for example. You've probably seen fennel seeds embedded in sausage or included with stews and in crackers. Similarly, you'll find fennel seeds in baked goods, desserts, and even drinks—because fennel seeds deliver a light licorice flavor with a unique taste. And when ground into powder, fennel seeds still deliver the versatility to use in a variety of dishes. Some people just chew on fennel seeds at the end of a meal to help with digestion or to have cleaner breath.
You're certain to find some—or all—of a fennel plant containing something that you can love.
So, do you want to start growing your own fennel and become a true fennel lover? Surprisingly, it's easy and totally worth it! Check out Fennel: How to Grow this Herb and Spice in Your Garden to learn all about growing your own fennel and spreading the love!
Finally, are you still skeptical about fennel? Then, consider getting some store-bought fennel first and using it in all the ways described in this article—you'll get hooked, and then you can add it to your home garden for regular growing and harvesting.
What else would you like to know about the many uses for all parts of the fennel plant? Please leave your comments and questions below.