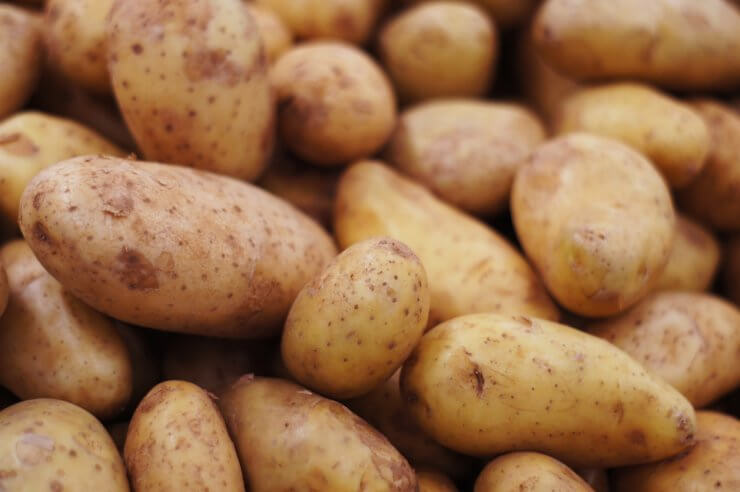 I'll be the first to admit that I love potatoes. They're so versatile in the kitchen; you can roast them, mash them, bake them, make chips, potato salad, potato pancakes, home fries for breakfast… I could go on. But you didn't come here for potato recipes (yet). You probably have a number of your own favorites, which is why you want to know how to store potatoes over the winter. 
Even with eating as many potatoes as you can, chances are if you have a bumper crop, you're going to need to store them for a while. There are a lot of dos and don'ts to storing potatoes, but the key to success happens well before you harvest them. 
Find out how to store potatoes so you can enjoy them all winter long
The problem a lot of gardeners run into is that they've already started harvesting when they think about how to store potatoes. The real trick is to start preparing them for storage in late summer. A lot of gardeners insist that you shouldn't water your potatoes very much after August so they can toughen up a bit before you store them. 
About two weeks prior to harvesting, cut the brown foliage from the potato plant so the skin can thicken. When you do dig them up, be careful not to damage them, as that will cause them to rot in storage. 
Now before you stick them in your root cellar, there's still a bit more in learning how to store potatoes successfully. Sort through your potatoes and gently wipe off any dirt. Do not wash them, however, as that will shorten their shelf life. 
Once your potatoes are sorted, cure them by spreading them out on newspaper in a cool, dry, and dark place for about two weeks. This will continue to allow the skin to thicken. Once the curing process is complete, it's time to actually store your potatoes. 
They still need a few things, though:
Cool temperatures – Make sure you have a space that maintains a temperature of 40 degrees, give or take a few. 

Humidity – Dry areas, such as in your refrigerator, will cause your potatoes to dry out and shrivel. 

Total darkness – Potatoes are vampires. Sunlight will kill them. Okay, they aren't really vampires, but sunlight does cause the potatoes to develop a green skin, which just so happens to be toxic. 

Ventilation – Perforated bags or cardboard boxes work as storage containers. As long as the potatoes can get oxygen and release carbon dioxide, they should be okay. 

Distance from fruit – You've heard of a few bad apples, but a few good apples can turn an entire box of potatoes bad. The ethylene that apples release will spoil potatoes. 
If you've taken all the right steps in learning how to store potatoes, they should last throughout the winter. That said, it's not a bad idea to check on them every now and then. One potato that spoils can easily ruin an entire box. 
Otherwise, enjoy your potatoes!
How do you store potatoes over the winter? Any tips or suggestions you might add? Feel free to add your thoughts in the comments below.