Maple Sage Baked Pear Recipe
In this baked pear recipe, you'll find finely sliced pears, roasted in a maple sage butter until tender and caramelized with a cinnamon granola topping.
I'm going to warn you, the delectable baked pear recipe you're about to embark on is not a health food recipe. It might look innocent, but it's a heavenly dessert. This is a late-night-craving-for-something-sweet-but-quick kind of recipe or a decadent dessert after Thanksgiving kind of baked pear recipe. The pear in this recipe roasts in a maple butter sauce that caramelizes while it cooks and is drizzled over thin slices of tender baked pear.
The best (or worst) part is that it's so incredibly easy, you could probably make it right now if you have unsalted butter, pears, sage, maple syrup, cinnamon and granola!
Before we begin, let's talk about pears for a minute. Pears are ripe when you can easily cut the pear in half, and use a spoon to remove the flesh. Pears take much longer to ripen than most people think, and biting into a hard crisp pear isn't really the ideal way to eat them. In fact, if you were to order gourmet pears today, they'd tell you to leave the pears out, and don't even try them until you can eat them with a spoon.
Knowing this will come in handy, because you'll use a little spoon-work in this recipe to scoop out the seeds. For this baked pear recipe to be perfectly tender, you don't need an exactly perfectly ripe pear, but it certainly helps. That said, don't let it stop you from trying this baked pear recipe. I dreamed it up one late night when I was truly craving apple crisp and decided to get fancy instead. I use Bosc pears because they're already on the softer side and not overly sweet. Plus, we grow them locally.
The other thing to know is how to hasselback a pear. Usually when people think of this technique, they imagine a potato, with a jillion slices right down its back, and we're going to use this same technique on the pear, though we won't peel it like most folks would peel a potato. I'm also making this a double pear recipe so that it can be easily doubled and tripled depending on the mouths you want to feed. Without further ado, let's get into it.
Print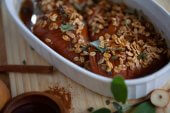 Maple Sage Baked Pear Recipe
In this baked pear recipe, you'll find finely sliced pears, roasted in a maple sage butter until tender and caramelized with a cinnamon granola topping.
Author:
Prep Time:

10 minutes

Cook Time:

45 minutes

Total Time:

55 minutes

Yield:

Serves 4

Category:

Bakery
Ingredients
2

pears, halved the long way, and cored with a spoon at the bottom to remove seeds

3 tablespoons

unsalted butter

1

large sage leaf, finely chopped

3

tabelspoons real maple syrup

2

pinches of cinnamon

1/4 cup

neutrally sweetened granola (as in honey or vanilla, not chocolate or cinnamon)

Optional: scoops of vanilla ice cream
Instructions
Preheat oven to 350 degrees F. Find a small baking dish that will fit your pears perfectly, and not too much bigger than that, because you want the pear to marinate in the maple butter.

Hasselback the pear halves by placing them flat side down, and using a knife to make a series of thin slices, three-quarters of the way down, across the back, to create an accordion effect. Place the sliced pears in your baking dish.

In a small skillet over medium-low heat, add your butter and sage. Cook for about three minutes until the butter begins to bubble, and then begins to brown, then quickly pour in the maple syrup, and mix for about 30 seconds before pouring over the pears. At this point don't worry if the mixture doesn't get into your slices. As the pears soften, you can ladle it.

Sprinkle a pinch of cinnamon over each pear half, then sprinkle granola evenly over the whole thing. If it gets in the maple butter, that's totally fine—in fact, it's great.

Bake for 20 minutes, then ladle the butter mixture over the top. At this point, the pear may be more soft, and you can get the mixture in between all the slices a little easier.

Bake for an additional 20 minutes, or more if needed to get to a soft, spoonable texture.

Ladle the maple butter and granola over the top one more time, and serve alone or with a scoop of vanilla ice cream. Enjoy!
More Pear Recipes
If you're looking for more ways to enjoy pears, our Pear Gardening Guide includes a number of recipes that will help you use up your pickings:
What are your favorite ways to eat pears? I'd love to hear your recipes in the comments below. And if you try this baked pear recipe, let me know what you think!