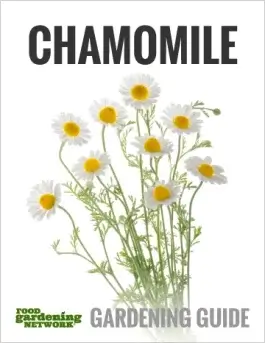 Many of us probably know chamomile best as a delicious, relaxing nighttime tea. A cup of this herbal brew with just a touch of honey is the perfect way to end an evening and head off to bed. And there's nothing like freshly harvested and dried flowers to make the best cup ever. First, though, if you plan to grow your own, it's important to know how to harvest chamomile. It's not hard, but a few little tricks will give you a better harvest. 
The place to start is choosing what type of chamomile you want to grow. There are several varieties, but Roman chamomile and German chamomile are the most common varieties for teas and other culinary uses. 
Roman chamomile is the true variety of chamomile—but it is not as prolific as German chamomile. German chamomile produces many more flowers in a season than Roman chamomile and is the more common source of chamomile tea. Some say German chamomile tends to be slightly sweeter than Roman chamomile; others say just the opposite. Either can make a fabulous tea, so it's really up to you to decide what you'd rather plant.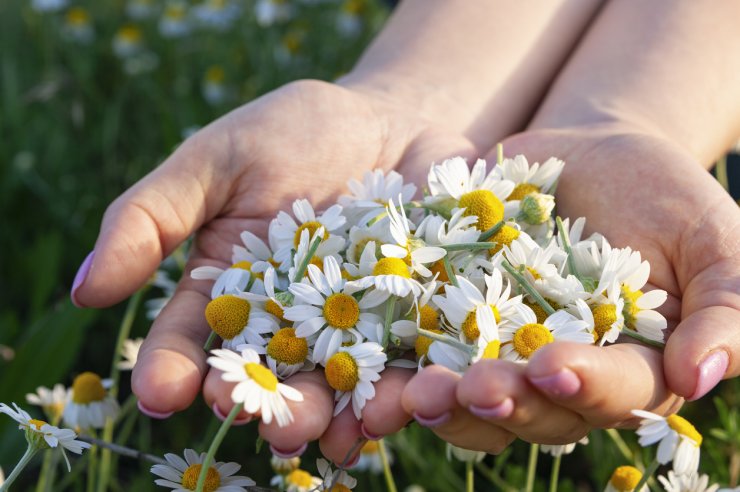 Learn how to harvest chamomile so you can enjoy fresh chamomile anytime you want.
As much as I love chamomile tea, there are all sorts of ways you can use this herb. Chamomile Rice Pudding with Tea-Infused Golden Raisins is reason enough to grow this herb, and you can make soap, shampoo, compresses for reducing inflammation, and potpourri from the dried flowers of your chamomile plants. In addition, some homebrewers use chamomile in their beers. Before you can cook up these wonderful concoctions, however, let's go over how to harvest chamomile so you can get the most reward for your efforts. 
Your chamomile harvest is ready when the flower petals are white, and the centers are bright yellow. The best times to harvest are early in the morning after the dew has evaporated from the flowers, or late in the evening—this is when the oils are most concentrated in the flowers.
Harvesting chamomile is a labor of love. You can pick the flowers one at a time or get a chamomile rake, but they can get pretty expensive. You can find less expensive versions, but this is one of those cases where you really do get what you pay for, so buyer beware. 
As you pick your blossoms, collect them in a container that breathes, like a basket or paper bag. After you've finished harvesting, take the time to snip any stem parts off the blossoms; the stem can add a bitter edge to your tea.
Once you're done harvesting your chamomile, start drying them right away. The most traditional way is to spread your chamomile flowers evenly in a single layer on a screen or woven basket and leave them in a cool, dry spot with good ventilation and no direct sunlight. Depending on your conditions, it can take up to two weeks for the flowers to dry completely. Store the dried chamomile in an airtight container for up to a year.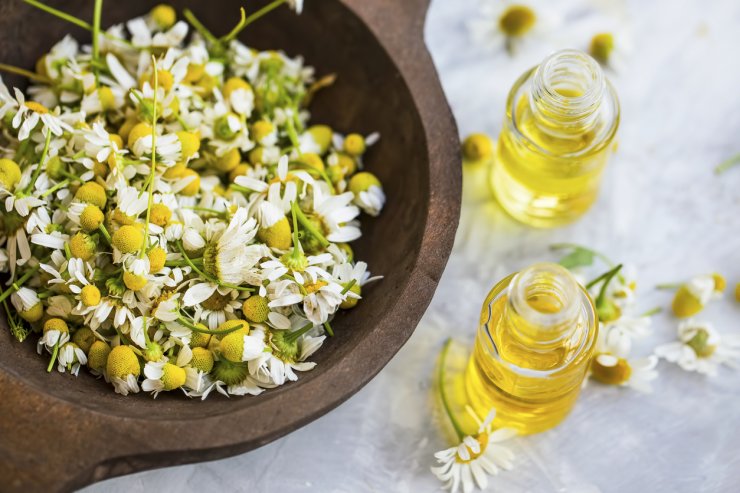 Now that you know how to harvest chamomile flowers and dry them, here are some ways you can use your treasure. 
You can never go wrong with chamomile tea. You will, however, need some way to infuse and strain the herbs. For example, you can buy all-in-one teapots that act as both infuser and strainer. Alternatively, if you don't want to strain your tea after you've brewed it, you can tuck your chamomile flowers—fresh or dried—into a tea ball. They come in a variety of sizes. Some have a chain attached with a hook for hanging the tea ball in your mug; others look like teaspoons, with handles that you squeeze to open the hinged ball.
If you have any leftover tea, don't dump it! You only need a quarter of a cup of chamomile tea to make Vanilla Chamomile Marshmallows. If you've not had the pleasure of making smores with these delightful marshmallows, you need this recipe in your life. It's a subtle but oh-so-wonderful way to turn your already yummy smores into a gourmet firepit experience. 
And don't worry about eating "junk food." Chamomile contains several volatile oils, including bisabolol, bisabolol oxides A and B, and matricin. The flowers also contain antioxidant flavonoids, including a compound called apigenin. Plus, people have used chamomile since the Middle Ages to treat asthma, colic, fever, inflammation, nausea, anxiety, skin diseases, and even cancer.
Researchers still aren't sure exactly what it is about chamomile that makes it so beneficial in so many situations, but studies are increasingly confirming more of the plant's reputed benefits. Many people are less anxious and getting more and better sleep after sipping a hot cup of chamomile tea – even if it is in marshmallow form!
Want to learn more about how to harvest chamomile and use this ages-old health booster? With The Gardener's Guide to Growing Chamomile, you'll have everything you need to know about growing, harvesting, preparing, and cooking with chamomile. Learn more about the history and background, planting tips, specific plant profiles, recipes, nutrition and health information, and resources to help you be the best food gardener you can be—get it all in The Gardener's Guide to Growing Chamomile right now!