Chamomile is essentially a guilt-free food. At less than three calories a cup, it doesn't really factor into a calorie-conscious diet. The "good stuff" in chamomile comes from other things, which we'll discuss in our Home Remedies & Health Benefits section.
Here is the nutrition information for one cup of brewed chamomile tea: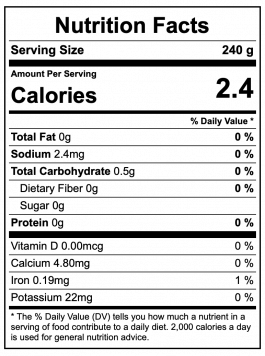 There are minute amounts of these vitamins and minerals in chamomile:
Thiamin: 1%
Copper: 2%
Manganese: 2%
Chamomile also contains trace amounts of folate, niacin, riboflavin, vitamin A, Calcium, and magnesium. Don't drink chamomile tea for its vitamins & minerals; drink it for its flavor and potential health benefits that go beyond its nutritional profile.
Did you know these nutrition facts about chamomile? Please tell us what you think.