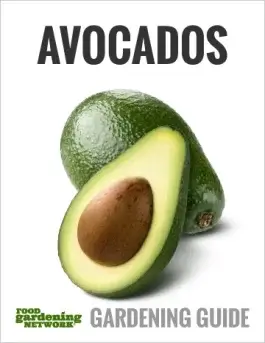 In this month's Food Gardening Magazine, you get everything you need to know about growing avocados at home—this fruit just keeps gaining in popularity, and no wonder, with how delicious it is! Learn about five of the most popular varieties of avocado trees, so you can narrow down your choices to an avocado tree (or two) that will fit in with your landscape and bring you lots of luscious avocados just ready for picking! Soil and climate are key, so let us help you pick the best avocado trees to plant on your property.
You get all the tips, techniques, and advice about how to start and maintain an awesome avocado tree, including steps for growing an avocado tree that bears fruit and the best place to plant your avocado tree. We've got you covered when it comes to growing avocados!
Plus, you get specific advice about how to care for your avocado plant—including when to plant your avocado tree, determining how big your avocado tree will get, general avocado plant care to prevent or treat diseases and pests, and your options for growing avocados indoors.
You've probably wondered whether you can grow an avocado tree from a pit; we'll talk about the results of planting avocado pits and what you can expect. And get the lowdown on how to tell if an avocado is ripe.
This gardening guide about avocados is your #1 guide for being the best avocado tree grower you can be! You should refer to this gardening guide whenever you have questions about avocado tree care—from planning to planting and from maintaining and nurturing to harvesting and reaping the rewards in your kitchen.
First, you get a complete Introduction to Avocados—including some history and basics about avocados. Did you know that the avocado is technically a fruit? Botanically, it's a berry—a very big berry! Avocados are popular now, but did you know that they didn't become a commercial crop in the U.S. until the early 1900s? And they didn't catch on nationwide until the 1950s, when salads across the country included shiny wedges of green.
There's a little good news/bad news on the avocado farming front: you can really only grow avocado trees in seriously warm, tropical regions—unless you have access to a greenhouse. But if you're in the right place, plan to plant two trees—both for their beauty and for the boost in the harvest. We'll also tell you about the avocado's unusual cross-pollination practice. Find out why the "avocado" isn't actually an avocado, and the "happy accident" that led to our most popular type of avocado.
Then, you get Feature Articles about Avocados that include:
Next, this premium gardening guide highlights five popular avocado varieties to help you choose the varieties you want to grow—this is just a sampling of the many varieties available:
And all your avocado-growing efforts are more satisfying when you have quick and easy-to-make recipes, to ensure your harvest is enjoyed by everyone you serve at your home. Food Gardening Network is all about providing delicious recipes for making yummy dishes. Try these recipes and enjoy your avocado harvest:
Next, you'll learn all about the health benefits of avocados with Nutrition Facts about Avocados and Home Remedies & Health Benefits of Avocados. Learn about all the wonderful and beneficial attributes of avocados—including skin health, cough relief, headache relief, and reducing the appearance of stretch marks.
And to be sure you have everything you need to grow your own avocados, we've included a Resources about Avocados section—so that you can easily find additional tools and information about avocados.
Finally, our Avocado Glossary section gives you the explanation of key avocado-gardening terms and concepts—so, you're up to date about important avocado-growing ideas.
Check out this premium gardening guide now—All About Avocados—Everything There Is to Know About This Trendy, Tasty Fruit—from Planting to Eating—and you'll learn everything you need to know about avocados!
Mary Van Doren, Norann Oleson, Victoria Arnold, and Samantha Pulcherz contributed to the creation of this gardening guide.