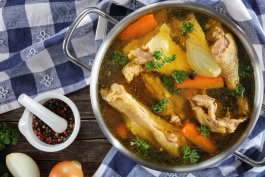 Making chicken stock at home is as easy as it gets if you already cook whole chickens at home, but the trick that makes it really easy is what you do to prepare.
See, all summer long, you're overflowing with fresh veggies like carrots, onions, and garlic from your garden. You're probably chopping them up, and if you're like me, you have so much that you may waste a bit of it too. But if you have your eyes on stock, you'll never need to waste again.
Instead, every time you have ends of carrots, or green onions, leeks, or extra fennel, chop it up into "scrap bags" that you keep in your freezer. I usually keep about six bags at a time and will distribute everything evenly when I have extras. That way, they're ready to go when I make stock.
Scraps Good for Making Chicken Stock
Scraps worth saving for stock are carrots, fennel bulbs, celery and celery greens, onions, garlic and garlic scapes, leeks, scallions, parsnips, and mushrooms.
Woody herbs are also easily saved in these bunches, like rosemary, thyme, and sage.
Ones I veer away from are starchy veggies that will disintegrate into the broth like potatoes or strong-tasting veggies like brussels sprouts, cabbage, cauliflower, or beets. Those are better frozen for other meals.
How to Make Chicken Stock
Easy peasy!
Print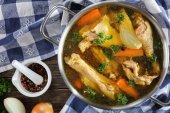 Chicken Stock
You can start making chicken stock at home every time you cook a chicken dinner and turn it into a rich, sippable broth or a base for recipes.
Author:
Prep Time:

10 minutes

Cook Time:

24 hours

Total Time:

24 hours 10 minutes

Yield:

6

-

8

Servings

1

x
Category:

Soups
Ingredients
Leftover whole chicken

1

bag worth of Vegetable scraps

6

–

8

cups of Water

1 tablespoon

apple cider vinegar
cheesecloth
Instructions
The next time you roast a whole chicken, season it really well. After it's cooked, pick the meat off the bone for din-din, but save everything else for stock.
Pour everything into a 6-quart slow cooker, add one or two of your veggie scrap bags, and fill with enough water to cover (about 6-8 cups).
Add a tablespoon of apple cider vinegar, which will help extract all the great nutrients from the bones of your chicken.
Cover and cook on low for at least 24 hours. For food safety purposes, I like to turn it on high for the first hour to get it up to temp, but then keep it on low for the duration.
When it's ready the next day, cover a strainer with cheesecloth (important, don't skip that!) over a large bowl and strain your stock to get all the bones and veggies out.
At this point, you can store it, or you can simmer it on low for about half an hour to make your chicken stock even more flavorful and concentrated. I like to simmer mine personally, but it's not necessary!
One handy trick I learned from a friend is to pour ¼ cup portions into a muffin tin and freeze; then, you can remove and store the little stock pucks in freezer bags for all your recipes. Many recipes call for ¼ cup or ½ cup of chicken stock, so this makes it super easy to have available!
Otherwise, you can store your chicken stock in the fridge for a few days for sipping or freeze it in a larger container to make soup later on.
One thing to keep in mind is that chicken stock is a base. We don't add salt to it because it cooks for so long. The stock can reduce during cooking and turn extra salty and unpalatable. Instead, you add salt when you turn it into a broth for soup, where you'd use it as your base, and add your herbs and spices in the second round.
That's all there is to it! I hope you love this recipe as much as I do. I feel like I'm making chicken stock every week at home, so it's second nature to me. I'd love to hear your tips and tricks for making it or any questions you have so you can make your own!