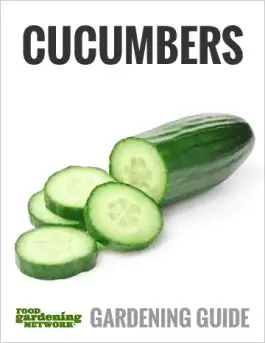 In this month's Food Gardening Magazine, you get everything you need to know about growing cucumbers at home—they're the second most popular home-gardening food item behind tomatoes! With about 100 varieties of cucumbers, we'll help you narrow down your list with a look at some popular varieties that make growing cucumbers easy, so you can have a delicious cucumber harvest! It's easy to get overwhelmed by all the possible choices, so we'll help you choose the best tasting cucumbers to grow in your garden.
You get all the tips, techniques, and advice about how to start and maintain an awesome cucumber garden, including growing pickling cucumbers. We've got you covered when it comes to growing cucumbers!
Plus, you get specific advice about the best way to plant cucumbers—including growing cucumbers in pots or containers or a raised garden bed; and growing cucumbers on a trellis.
You've probably heard that some plants grow better together than others; that's true. We'll guide you through the best cucumber companion plants to consider for your cucumber garden. We'll also give you tips on the ideal cucumber plant spacing so your cucumber vines have enough room to grow—while still leaving enough room for the rest of your garden.
This gardening guide about cucumbers is your #1 guide for being the best cucumber gardener you can be! You should refer to this gardening guide whenever you have questions about your cucumber garden—from planning to planting and from maintaining and nurturing to harvesting and reaping the rewards in your kitchen.
First, you get a complete Introduction to Cucumbers—including some history and basics about cucumbers. Did you know that the Roman Emperor Tiberius ate cucumbers every day? Find out how the cucumber earned its place in the expression "cool as a cucumber." You'll be amazed to learn how many ways cucumbers can add flavor to your kitchen and a boost to your health. And find out why the cucumber is actually a fruit—but why we treat it as a vegetable.
Then, you get Feature Articles about Cucumbers that include:
Next, this premium gardening guide highlights six popular cucumber varieties to help you choose the varieties you want to grow—this is just a sampling of the many varieties available:
And all your cucumber-gardening efforts are more satisfying when you have quick and easy-to-make recipes, to ensure your harvest is enjoyed by everyone you serve at your home. Food Gardening Network is all about providing delicious recipes for making yummy dishes. Try these recipes and enjoy your cucumber harvest:
Next, you'll learn all about the health benefits of cucumbers with Nutrition Facts about Cucumbers and Home Remedies & Health Benefits of Cucumbers. Learn about all the wonderful and beneficial attributes of cucumbers—including skin health, weight loss, and easy (and tasty) hydration.
And to be sure you have everything you need to grow your own cucumbers, we've included a Resources about Cucumbers section—so that you can easily find additional tools and information about cucumbers.
Finally, our Cucumber Glossary section gives you the explanation of key cucumber-gardening terms and concepts—so, you're up to date about important cucumber-gardening ideas.
Check out this premium gardening guide now—The Cucumber Grower's Guide—All You Need to Know About Growing, Harvesting, Cooking, and Eating the Garden's Coolest Crop—and you'll really learn everything you need to know about cucumbers!
Cate Prato, Norann Oleson, Victoria Arnold, and Samantha Pulcherz contributed to the creation of this gardening guide.