My Toasted Sunflower Seed Oil is an amazing, healthy addition to any meal. I took sunflower seeds from my own garden and transformed them into a delicious, nutritious oil perfect for salads, dressings, marinades, and more.
Sunflower seed oil is packed with vitamins and minerals that provide numerous health benefits. It's loaded with vitamin E, which is an important antioxidant that helps protect cells from damage. This antioxidant also strengthens the immune system and may even help prevent certain types of cancer. The oil also contains linoleic acid, a type of fatty acid that can help reduce inflammation in the body. Finally, sunflower oil is a healthful choice, as it contains only low levels of saturated fat and ample amounts of both polyunsaturated and monounsaturated fatty acids.
When Toasted Sunflower Seed Oil is used in cooking, the toasting process brings out a unique nutty flavor and deepens the aromas of any dish. My Toasted Sunflower Seed Oil is a great way to add flavor and nutrition to any meal. Try it for an added boost of healthy goodness!
Hope you enjoy my Toasted Sunflower Seed Oil recipe as much as I do! Have fun experimenting
Print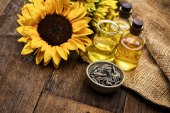 Toasted Sunflower Oil
Toasted Sunflower Oil is a delicious, nutritious oil perfect for salads, dressings, marinades, and more.
Author:
Prep Time:

5 minutes

Cook Time:

20 minutes

Total Time:

25 minutes

Yield:

Varies

Category:

Sides & Sauces
Ingredients
Hulled sunflower seeds (any amount)
Instructions
Place your sunflower seeds into a blender and blend until the consistency of fine meal is achieved. Then, add in just enough water to prevent it from adhering to the sides of the machine—don't be too liberal with this though; you wouldn't want to dilute your oil!
Gather the paste in a large bowl and knead with your hands. You should observe oil gradually seeping out from the seeds. Securely grasp and press the paste, passing it through a sieve or strainer to extract its initial traces of oil. Carefully decant the oil into a bottle and commence the next step of your process to acquire more oil.
Place the meal in a roasting pan, and then set your oven to 300 degrees F. Cook for 20 minutes, stirring every 5 minutes for best results. When finished, remove from the oven and strain.
Let the seed meal sit atop the sieve for a few hours, and if you're in a hurry to speed up the process, use your hands to lightly press it through. Add to the same container you used prior, and store in a cool dark place for up to a month.
Will you try to make your own Toasted Sunflower Oil? Let me know how it comes out!