Growing sunflowers in the summertime can be both a fun and rewarding activity. Sunflowers bring a cheerful beauty to your garden, and provide you with delicious, nutritious seeds at the same time. Sunflower seeds are incredibly versatile: they can be roasted for snacking on their own, used as ingredients in salads and other recipes, or even turned into Sunflower Flour.
Sunflower Flour is a great alternative to traditional wheat flour and almond flour, and it is easy to make at home with just one ingredient—raw, hulled sunflower seeds!
But Sunflower Flour can cause baked goods to turn green. Why? Because the same nutrient that makes sunflower seeds so healthy—polyphenol antioxidants—can lead to a green color in baked goods when the ground seed is utilized. This is due to chlorogenic acid reacting with proteins, resulting in specks or streaks of green. Whether it's breads, cakes, or cookies, incorporating sunflower seeds can add an unexpected hue.
Not to worry, though! To get the best result in baking, opt for using baking powder instead of baking soda. Baking soda exacerbates the green and should be avoided. Additionally, you can also add a small amount of acid like lemon juice or vinegar. Simply add 1 1/2 teaspoons of either lemon juice or vinegar per cup of sunflower seed flour.
Using Sunflower Flour in recipes gives them an extra nutritional boost, so give my Sunflower Flour recipe a try today! You'll be glad you did!
Print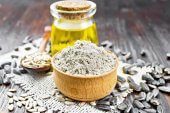 Sunflower Flour
Sunflower Flour is a nut-free alternative to almond flour and can be used in all the same ways!
Author:
Prep Time:

10 minutes

Total Time:

10 minutes

Yield:

1 1/4 cups

(Approximately)

1

x
Category:

Sides & Sauces
Ingredients
1 cup

raw sunflower seeds (hulled)
Instructions
Process the sunflower seeds in a blender, food processor, or coffee grinder at high speed—just be sure to process no more than 1/3 cup or 1/2 cup at once if using a coffee grinder.
Grind for 30 seconds, then scrape the sides of the device and repeat until you achieve a flour-like consistency.
Place a mesh sieve over a bowl, and transfer the flour into it. Carefully shake the sifter to remove any large particles of flour from passing through. Once finished, put back any coarse bits and grind these pieces until they become as fine as possible before re-sifting.
Securely store the flour away in an airtight container in either your refrigerator or freezer for a maximum of 6 months.
Will you try to make your own Sunflower Flour? Let me know how it comes out!