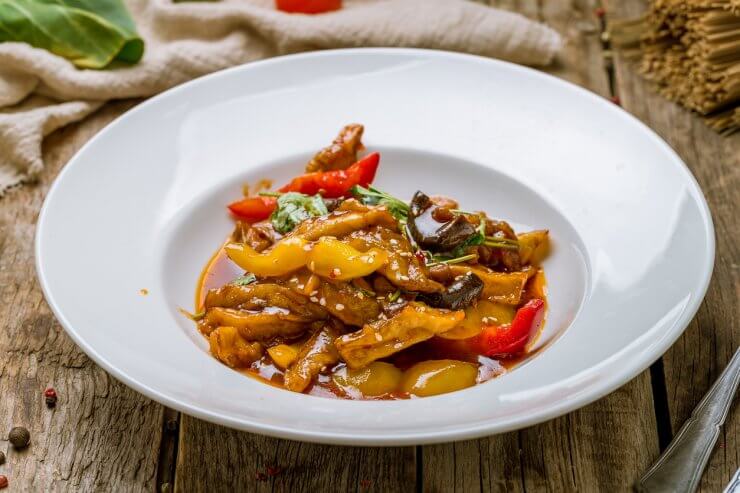 Have you ever had those days when you want something simple but still special? I know I do! For those days, I whip up a delicious batch of Sweet and Sour Eggplant!
What I really love about this dish is that not only is it easy to cook, but the ingredients all balance out each other while letting you enjoy a range of textures—from tender to crunchy and everything in between. Best of all, you can find most of the ingredients in your garden or pantry, so you can make this dish in a jiffy!
For the sauce, some water, sugar, garlic, soy sauce, ginger, sesame oil, and crushed red pepper flakes give it a rainbow of flavors that blend in different gradations of sweet, salty, and spicy that can be absorbed by the eggplant once sauteed. The corn starch is what gives it a thicker consistency once simmered. You just need to watch out for when the sauce gets a little bit dry. When it does, add in a splash of water, and you're all set!
For the eggplant, light oils like canola or vegetable oil are best since they don't have a strong taste, allowing the eggplant to really absorb all the sauce's flavors. Thick eggplant strips will give you something tender to chew on, and you can skin them if you prefer. More red and yellow pepper adds to the crunch and the taste.
Sesame seeds, chopped cilantro, and sliced green onions are great for garnish when you want an added spot of color!
Sweet and Sour Eggplant can be enjoyed on its own, but it's even better when you serve it over rice or quinoa, as a topping for rice noodles, alongside naan, or even in a taco! Take your pick or try all of them out for variety!
Print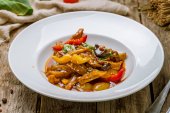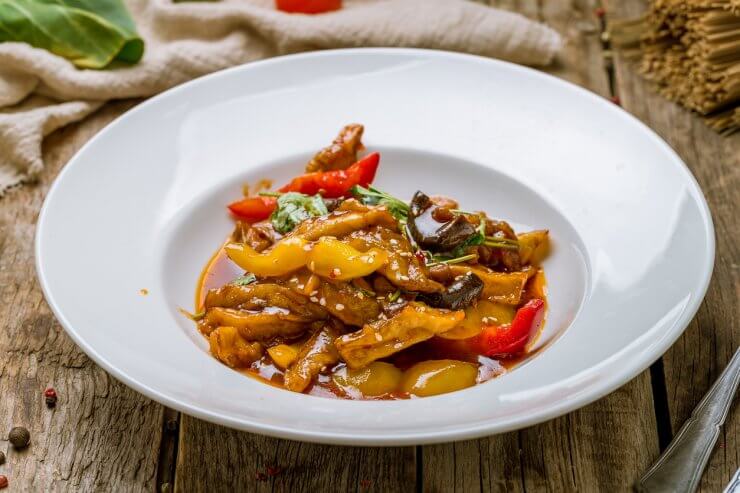 Sweet and Sour Eggplant
If you're craving for something simple but special, then a serving of savory Sweet and Sour Eggplant will do just the trick!
Author:
Prep Time:

10 minutes

Cook Time:

20 minutes

Total Time:

30 minutes

Yield:

Serves 4

Category:

Sides & Sauces
Ingredients
1

large American or Italian eggplant

1/2 cup

warm water

1/4 cup

soy sauce or tamari (gluten-free)

2 tablespoons

brown sugar

2

cloves garlic, minced

2 tablespoons

ginger, minced

1 teaspoon

sesame oil

1/2 teaspoon

red pepper flakes

1

red pepper, chopped

1

yellow onion, diced
Instructions
Prepare your eggplant by peeling it, and then slicing it into 1/2- to 3/4-inch matchsticks. Discard any seeds if necessary. Note: If you're using a thin-skinned Asian eggplant, you can use two, sliced into pucks and half-moons and you don't need to skin them.
To prepare the sauce, whisk together warm water and corn starch in a bowl. Once smooth, whisk in soy sauce or tamari, brown sugar, garlic, ginger, sesame oil, and red pepper flakes.
In a medium skillet, add 2 tablespoons olive oil and bring to a medium heat. Add onions and peppers and cook until soft and the onion is translucent.
Add eggplant and your sauce, then cover and simmer for about 10 minutes until al dente. (Add water as needed so they don't burn).
Serve alongside rice or noodles, or even in a quesadilla or a taco.
Start growing eggplant at home
Eggplants add a beautiful aura to any garden with their bright purple flowers and jewel-toned fruits. They're also a culinary staple in many homes. This warm-weather crop is in the nightshade family and can be enjoyed fried, roasted, baked, and freshly seared in a skillet. Eggplant is easily grown in warmer climates but can be quite cold-hardy in northern climates as well. Want to grow your own eggplant? In our Eggplant Gardening Guide, we explain how to choose eggplant varietals, grow them in your garden, harvest them, and then enjoy them at the table. Check it out.
Have you tried this Sweet and Sour Eggplant recipe? It's full of wholesome goodness. Please tell us how it turned out for you.