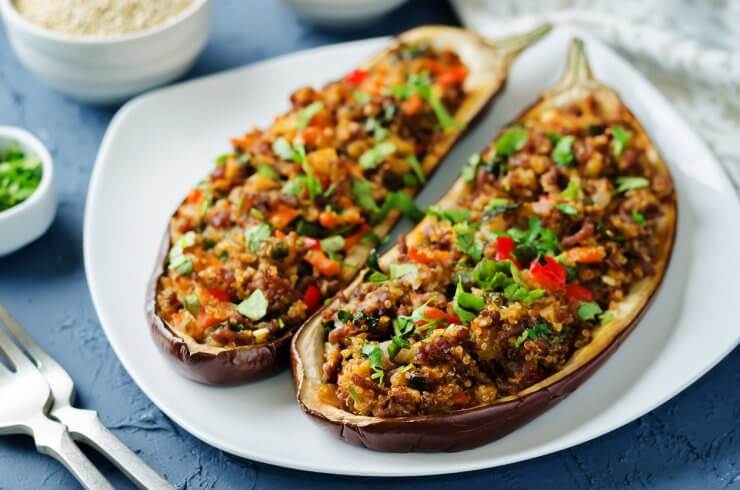 I love family lunches for two reasons; first, you get to catch up with everyone and have a nice chat, and second, you have a great excuse to be creative with the dishes you'll be serving up!
For one of our family lunches, I decided to showcase what was best in my humble home garden at the time: eggplants!
Yes, these deeply colored veggies can be a total crowd pleaser once you turn them into savory Stuffed Eggplant Boats! The best part is, they're not just nice to look at—they're also pleasing to the palate!
When making your own Stuffed Eggplant Boats, large eggplants work best since you have a lot of room to put in your stuffing. Take your pick of minced turkey, beef, or even pork for your protein boost. Add in some nicely chopped onions, green pepper, and carrots for that kick of spice and crunch. Some crushed garlic cloves will enhance the earthy spice, while the tomato sauce brings in that delectable combination of sweet and tangy to harmonize the flavors. The tomato sauce also blends nicely with the tender flesh of baked eggplants, giving your Stuffed Eggplant Boats a riveting texture that's hard to resist.
Creative and simple to make, these Stuffed Eggplant Boats can be enjoyed by kids and adults alike. It's got all you need for a complete, healthy, and satisfying meal that tastes even better when shared with family! Try it out for your next gathering and be sure to have more than enough on hand because your guests will likely ask for seconds!
Print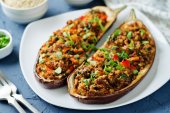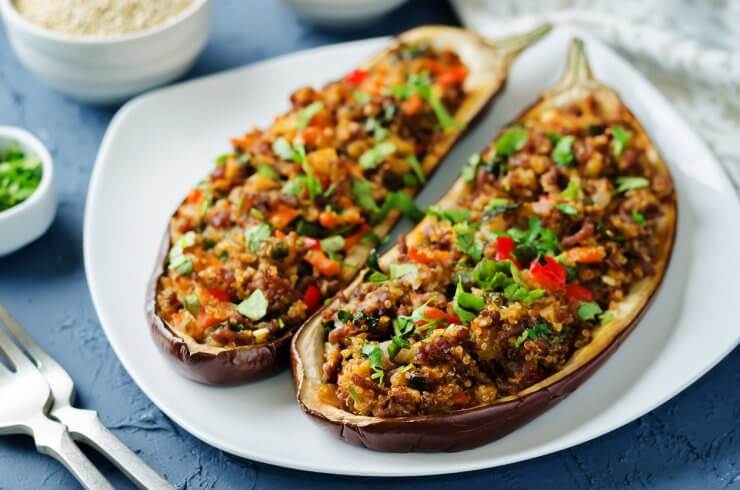 Stuffed Eggplant Boats
Fun, creative, and easy to cook, these Stuffed Eggplant Boats are pleasing to both the eyes and the palate!
Author:
Prep Time:

15 minutes

Cook Time:

1 hour

Total Time:

1 hour 15 minutes

Yield:

Serves 8

Category:

Entrées
Ingredients
4

medium eggplants

2

pounds ground beef or turkey

2

yellow onions, finely chopped

1

green pepper, finely chopped

2

carrots, finely chopped

4

garlic cloves, minced

12 ounces

marinara sauce
Extra virgin olive oil
Salt and pepper
Optional: pinch of red pepper flakes to make it spicy
Garnish: chopped parsley (optional)
Instructions
Prepare by preheating the oven to 350 degrees F, and slicing your washed eggplants lengthwise down the middle. Rub flesh with olive oil, salt, and pepper, then place them flesh-side down on a non-stick baking sheet or parchment paper. Bake for 45 minutes or until tender, then let cool on the counter.
While the eggplants are cooking, make the filling. Preheat a skillet to medium heat and add 2 tablespoons olive oil. Add onions and carrots to the skillet with a sprinkle of salt and pepper. Cook until onions are transparent, and carrots are softened, then add garlic and cook for a minute, or until fragrant.
Add your ground beef or turkey to the skillet and cook for about 10 minutes or until browned and cooked through. Add red pepper flakes now if you want a spicy version.
Scoop the flesh out of your eggplants, chop, and add to the skillet. Cook for just a few more minutes.
Add marinara sauce and bring to a simmer for about 10 more minutes. Add salt and pepper to your taste, then fill the eggplant "boats" and enjoy!
Start growing eggplant at home
Eggplants add a beautiful aura to any garden with their bright purple flowers and jewel-toned fruits. They're also a culinary staple in many homes. This warm-weather crop is in the nightshade family and can be enjoyed fried, roasted, baked, and freshly seared in a skillet. Eggplant is easily grown in warmer climates but can be quite cold-hardy in northern climates as well. Want to grow your own eggplant? In our Eggplant Gardening Guide, we explain how to choose eggplant varietals, grow them in your garden, harvest them, and then enjoy them at the table. Check it out.
Have you tried this Stuffed Eggplant Boats recipe? It's a great way to use the whole fruit in your baking. Let us know how it turned out for you!