I love to cook; I find the process both energizing and relaxing, and I love creating delicious meals for friends and family. But sometimes I want to focus more on the relaxing and less on the effort it takes to get to delicious.
This is why we have frittatas. The frittata is easier to make than an omelet and less fuss to make than a quiche. Once you have all your ingredients ready to go, the oven will do the rest of the work for you. Plus, when your frittata comes out of the oven it will look amazing—all toasty warm in its pan.
Our Pepper and Potato Frittata is all kinds of satisfying, packed with protein, flavor, and color. While our recipe calls for the use of a pan you can take from the stove to the oven (let's hear it for less cleanup!), if you don't have a pan that can take the heat, pour your mixture into a pie plate (or two) sprayed lightly with non-stick cooking spray. Your frittata will come out looking wonderful, and it's easy to serve up hot wedges for breakfast or brunch.
Truly, the shape of the pan isn't critical here; use what works for you. I've used a baking pan intended for making hamburger buns to make mini frittatas. That actually made it convenient to cook them ahead of time to have ready for breakfast for the week.
Whether you love to cook or you'd rather just get things done so you can get to the serious business of eating, you are bound to find the frittata to be a convenient way to make a meal. And if you can add in your own home-grown hot peppers, this is a great way to showcase your pepper harvest. Enjoy!
Print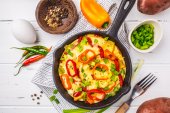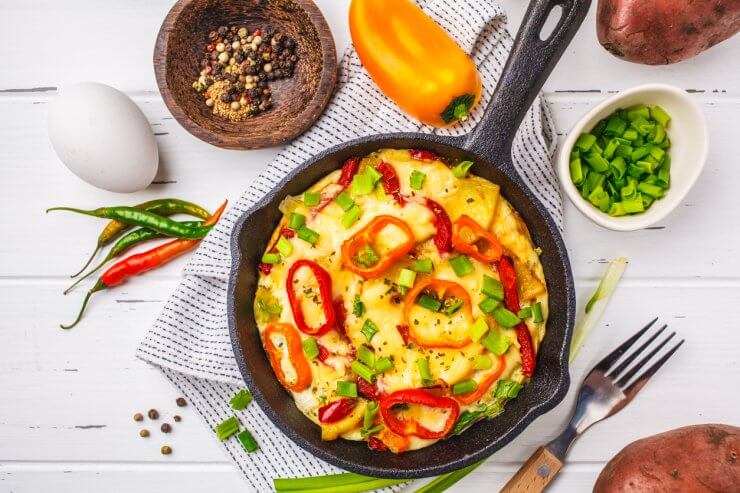 Pepper and Potato Frittata
A frittata is a hearty way to serve up breakfast, brunch, or even dinner! Our Pepper and Potato Frittata is packed with flavor. You can control the spiciness of the frittata by adjusting the hot pepper content. For those who like it spicier, there's always hot sauce.
Author:
Prep Time:

20 minutes

Cook Time:

20 minutes

Total Time:

40 minutes

Yield:

Serves 4

Category:

Breakfast
Ingredients
6

slices bacon, chopped

1 tablespoon

olive oil

1 1/2 cups

chopped hot and sweet peppers (to taste)

1/2 teaspoon

red pepper flakes

1 1/2 cups

cooked potatoes, cubed

12

eggs, well beaten

4 ounces

crumbled feta cheese
Salt and pepper to taste
Instructions
Preheat broiler to 350 degrees F and adjust a rack to about 6 inches from the broiler.
In a large oven-proof skillet over medium heat, cook bacon until it's nearly crisp.
Remove bacon and drain on paper towel.
Add peppers to the pan and cook over medium heat until they're soft, about 3 minutes.
Move peppers to one side of the pan and use paper towels to blot up extra bacon grease.
Crumble bacon and add it back to the pan.
Add potatoes and warm on medium heat.
Season mixture with salt, pepper, and red pepper flakes.
Add eggs and stir slowly until the eggs form soft curds, about 5 minutes.
Add the feta cheese to the pan and stir gently to mix in the cheese.
Put the pan in the oven, 6 inches from the preheated broiler.
Cook until the top of the eggs are set and the cheese is lightly browned, about 5 minutes.
Cut into wedges and serve immediately. Hot sauce is optional.
Have you tried this recipe? This is one of our favorites for brunch. Please tell us how it turned out for you.