My husband and I have been making this recipe for years, and it always gets rave reviews. I've certainly had traditional tequila-based Sunrise cocktails before on a hot summer day, but I make so much homemade Meyer Lemon Limoncello, I decided to make my own Sunrise with a new twist – a Limoncello Sunrise! This recipe is definitely what we consider to be the perfect taste for us, and it's made completely from scratch!
It's OK if you don't grow your own citrus or pomegranate needed for this recipe, store-bought is totally fine obviously. Our oranges and lemons are always the stars of the show for cocktails and this cocktail is no exception, giving us all the reasons to make the limoncello and grenadine we want. Since I'm a big fan of all things citrus, this recipe is always a winner in our house. We don't have big Florida citrus trees, but our little indoor citrus garden does just fine!
We love how the cocktail tastes like orange juice but with a zesty kick. The sweetness of the homemade Pomegranate Grenadine is just perfect, too. It's not too syrupy, but definitely sweet enough so it does the job!
Whenever I have my friends over, they also always expect to have a glass of this Limoncello Sunrise. It's become our signature drink at home, and I'm always happy to make it for them. The great thing about this recipe is that it's so easy to make. I love garnishing it with a sprig of rosemary wrapped in an orange peel. Sometimes, I opt to soak cherries in grenadine for a fun and festive twist. You can also sprinkle sugar over a slice of orange and use a kitchen torch to caramelize it. That's my favorite garnish of all time!
This recipe saves us time and effort from going out. We can just sit back, relax, and enjoy our drinks at home. We don't have to spend a lot of money to do it, either, and when you make this totally garden-to-glass cocktail for your friends, they'll be pretty impressed!
Print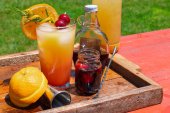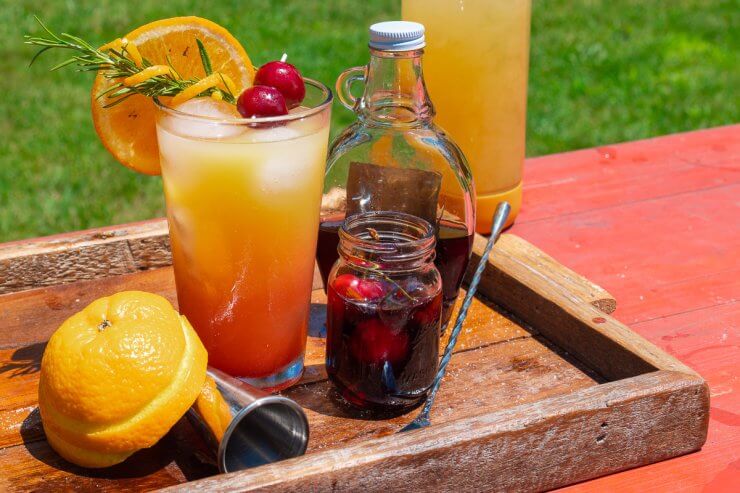 Limoncello Sunrise
This refreshing tropical garden-to-glass cocktail, Limoncello Sunrise, combines homemade Meyer Lemon Limoncello and orange juice with a splash of homemade Pomegranate Grenadine and some inspiring garden-fresh garnishes.
Author:
Category:

Beverages
Ingredients
Garnish:

A sprig of rosemary wrapped by a curl of orange or lemon zest. A slice of orange sprinkled with sugar and torched until crispy. Optionally, you can also soak cherries in grenadine overnight or longer for homemade maraschino cherries.
Instructions
In a glass, add two ice cubes. Use a shaker filled with ice and add orange juice and Limoncello. Shake for 30 seconds, then pour into glass. Tip glass ever so slightly, and pour grenadine slowly down the side over the back of a spoon. When it pools at the bottom, that's how you get the sunrise effect, it should quickly rise up.
Notes
If you made your own grenadine and it reduced too long, it may be too thick and you'll need to stir a bit to get the effect.
Lemons may seem like an exotic tree to grow, but all they need is a little TLC to give you years of tangy harvests! You don't have to live in a subtropical zone to grow lemons—there are plenty of varieties happy to grow as productive houseplants! With our Tart & Tangy Lemon Gardening Guide, you get all the details that go into growing and harvesting bright, fragrant lemons. Get recipes for dishes sweet and savory that make it all the more rewarding to grow your own lemons.
When you try this Limoncello Sunrise, let me know what you think!