This Knockout Peach Berry Fizz recipe is my new favorite, and I'm pretty confident it'll be yours, too — especially if you have berries that you don't know what else to do with. Of course, I make all the desserts I can think of with them, but there are only so many pies and cakes I can bake. To save myself from trouble, I turn them into a cocktail! And this cocktail is about as garden-to-glass as it gets!
Now I know that peaches and berries don't usually ripen at the same time, so you can either freeze your berries ahead of time and wait for your peaches to ripen, or make the other spirits during berry season, and save them for peach season. They'll keep just fine!
I've always been a fan of fruit-flavored drinks, but this one takes the cake. Or should I say, it takes the pie? It's got everything I want and more. It has the sweetness of the peaches, the tartness of the raspberries, the juiciness of the blackberries, and the freshness of the strawberries — all in one cold drink! Not to mention, the vodka makes it even more irresistible.
My favorite part about this recipe is that everything is homemade. From the schnapps, to the liqueur, to the cordial and vodka, and the simple syrup, it's all made from scratch. I still can't get over how everything just works so well together.
The great thing about this Knockout Peach Berry Fizz is that it's perfect for any reason. Even if I have no specific reason to make it, I just do it! This recipe is my go-to drink whenever I want something fruity and invigorating. Plus, I get to show off my bartending skills, too! It's not like I'm a professional bartender or anything, but since I grow the ingredients at home, why not make the cocktail as though I am?
For the garnish, I like to poke some bolted thyme flowers through the center of a raspberry, but they poke quite well into blackberries and strawberries too.
This Peach Berry Fizz recipe makes a gorgeous pink drink that doesn't fall short on flavor. I love how the colors blend together, and I can't get over how delicious it is. With just a few sips, I feel like I've made my own wine spritzer. I'm telling you, this drink is really a knockout!
Print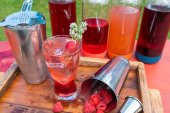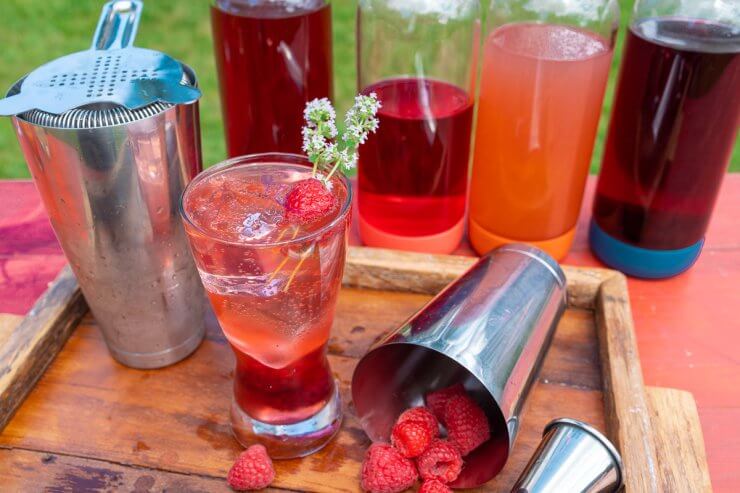 Knockout Peach Berry Fizz
Author:
Category:

Beverages
Ingredients
Garnish:

Thyme flowers peeking out of raspberry
Instructions
In a shaker with ice, combine simple syrup with peach schnapps, blackberry liqueur, strawberry cordial, and raspberry vodka. Shake.

In a glass with ice, pour what's in the shaker, then top with seltzer. Garnish, and enjoy.
Notes
If you can't find simple syrup, you can make it quickly! Simply combine a ratio of 1 cup of water to 1 cup of sugar, boiled down into a syrup. Once your sugar is melted, you have simple syrup. Simple!
Peaches are so sweet, they're used as a synonym for a person who is delightful! With our Perfect Peaches Gardening Guide, you'll have everything you need to know about growing and enjoying this delicious fruit.
If you make this Peach Berry Fizz, let me know what you think!