Pizzas on a grill? Is that even possible? With these Grilled Personal Pizzas, it sure is!
In many ways, Grilled Personal Pizzas are like a party: the smaller and more intimate they are, the better you can enjoy them! What's great about making these pizzas is that their size makes them super easy to put together without you having to worry about making a mess. They're also delightfully crispy and smoky, and pretty fun to make, especially when you flip the crusts over the grill!
Of course, you'll find a lot of pizza staples on the ingredient list such as whole tomatoes, tomato sauce, oregano, olive oil, mozzarella, and pizza cheese. You'll also be adding some white wine and unsalted butter to give your pizza sauce a nice texture and a subtle kick in flavor. With these, you'll have that signature tangy-salty taste of pizza with an extra side of yumminess that has made it a favorite snack for many.
Thinly sliced heirloom tomatoes also give your Grilled Personal Pizzas some added flavor and a refreshing crunch. Fresh oregano topping your pizza lends that nice balance between spicy and sweet, letting you indulge in that subtle but earthy taste that's also divinely aromatic. With the host of garden goodies featured, who's not to say that pizzas aren't veggies?
You'll know your Grilled Personal Pizzas are done when the cheese is nicely melted and the crust is delightfully golden-brown. They may be smaller than the average pizza, but they're definitely big on taste!
With delicious flavors and colorful ensembles, these Grilled Personal Pizzas will surely be a hit at kids' parties or lunch gatherings with family and friends!
Print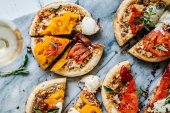 Grilled Personal Pizzas
A sure-fire hit during parties, these Grilled Personal Pizzas will let you indulge in the flavors of this all-time favorite with an extra side of crisp!
Author:
Prep Time:

20 minutes

Cook Time:

20 minutes

Total Time:

40 minutes

Yield:

Serves 4

Category:

Entrées
Ingredients
1

(28-ounce) can tomato sauce

1

(28-ounce) can whole tomatoes

1/2 cup

white wine

2 tablespoons

unsalted butter

1 teaspoon

dried oregano, plus extra to taste
Kosher salt and freshly ground black pepper

2

(13.5-ounce) containers refrigerated pizza dough (You can also use

two

1-pound balls of pizza dough.)
Olive oil

1

(8-ounce) package mozzarella balls

2 cups

shredded pizza blend cheese

3

large heirloom tomatoes, thinly sliced
Fresh oregano for garnish
Instructions
Preheat the grill to high heat (about 550 degrees F). Line a baking sheet with parchment paper.
In a large skillet, combine the tomato sauce, canned tomatoes, wine, butter, and oregano and bring to a simmer over medium heat. Cook, crushing the tomatoes with the back of a wooden spoon or a potato masher, for about 10 minutes. Season with salt and pepper to taste. Remove from the heat.
Roll out both containers of pizza dough, cut each in half and form into circles, and set on the baking sheet. Brush the dough with olive oil. Using the parchment paper, flip both pieces of dough onto the grill (oiled side down). Cook for 2 minutes. Brush the tops with olive oil, and using tongs and a spatula, flip the crusts over. Top with tomato sauce, mozzarella balls, pizza cheese, and tomato slices. Close the grill and cook for 3 to 5 minutes until the cheese is melted and the crust is golden brown. Garnish with fresh oregano. Slice and serve.
Have you made pizzas on the grill? How did they turn out?
Want to grow your own tomatoes for these pizzas? With The Everything Tomato Gardening Guide, you'll have everything you need to know about growing and enjoying this versatile food, from the history and background of the mighty tomato to specific advice on growing, harvesting, and enjoying your hard work!