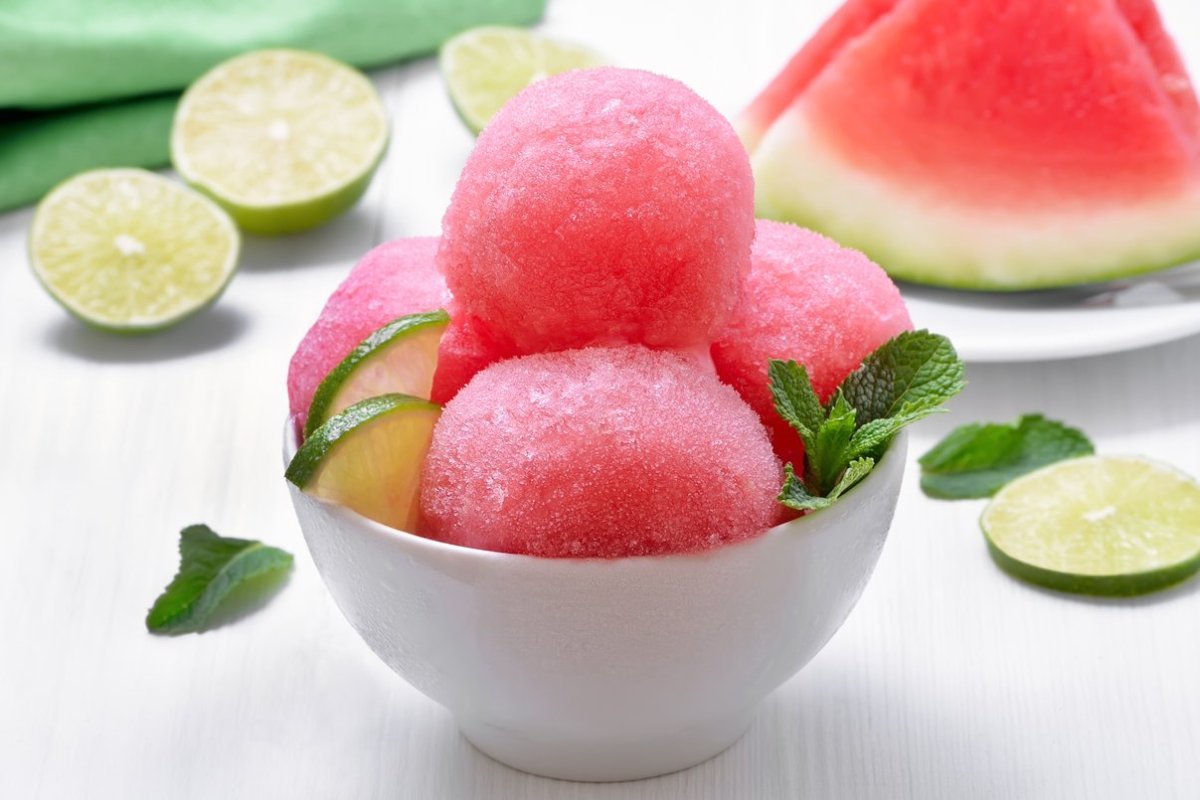 Hot days are, of course, perfect for a sorbet, but even cold days are, too! Regardless of the weather you're having, it's always a perfect time to enjoy a sorbet, especially if it's this Easy Watermelon Sorbet.
Aside from being a feast for the eyes, this Easy Watermelon Sorbet isn't just delicious — it's also 100% natural. That's right! No preservatives, no cheats — just some fresh watermelon and some equally fresh lime juice.
Of course, the trick to getting a solid sorbet is to freeze your diced watermelon overnight. I know this is a long time to wait but, trust me, it'll be well worth it. You can try to shorten the freezing time to several hours, but you have to make sure that the watermelon is completely, absolutely frozen. Otherwise, you get more of a slushy sorbet than a solid one — which isn't bad at all if that's what you prefer. But if you're more partial to enjoying a solid sorbet, then freezing the fruit overnight is the way to go.
Once you get some nicely frozen watermelon, place it in a food processor or blender. Add some lime juice little by little so its tanginess won't be too overpowering. You'd generally want your Easy Watermelon Sorbet to remain sweet with only a hint of the lime's tanginess to balance out the taste. If you want your sorbet to be more on the sweet side, you can always add a sweetener like honey or liquid stevia. Keep in mind, though, that honey might change the texture, but liquid stevia won't.
When you're happy with the texture and taste, take the sorbet out of the food processor and serve immediately. We all know that sorbet melts in the bowl, but this one will scrumptiously melt in your mouth!
Print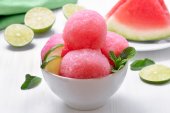 Easy Watermelon Sorbet
Savor the perfect sorbet when you whip up a batch of this light and cool Easy Watermelon Sorbet!
Author:
Prep Time:

15 minutes

Freezing Time:

2 hours

Total Time:

2 hours 15 minutes

Yield:

Serves 4
Ingredients
2

to

3

cups watermelon cubed

1/2

 lime juiced
Instructions
Dice your watermelon, and place the pieces in the freezer overnight. (After several hours in the freezer, you can proceed, but if the watermelon isn't completely frozen, the sorbet will have more of a slushy texture, rather than a solid sorbet.)
Place your diced, frozen watermelon into a food processor or blender and add some lime juice. Use 2 to 3 cups of watermelon for each half lime, but only add a little at the beginning and add more to taste as you go.
Continue to process your watermelon and lime juice in your food processor until you get a sorbet-like texture. You can add a little more lime juice as needed for taste and texture.
If you want a sweeter sorbet, you can add in a little honey or another sweetener of your choice. (Adding honey may change the texture a bit; liquid stevia does not.)
Serve immediately.
Watermelon is a delicious treat and a powerful superfood! Learn more about growing watermelon in our Wonderful Watermelon Gardening Guide. You'll get everything you need to know about growing and enjoying this delicious fruit, history and background of this sweet summer plant to specific advice on growing, harvesting, and enjoying your hard work!
Have you tried this recipe? It's an easy summer specialty—please tell us how it turned out for you.