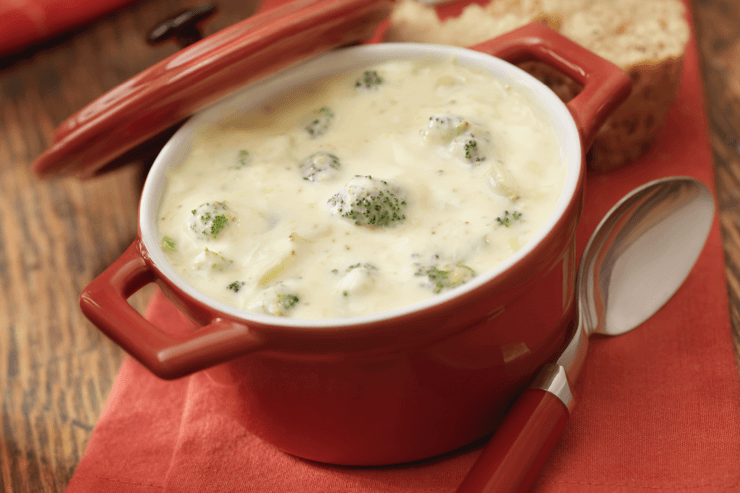 Cream of Broccoli Soup is comfort food in a bowl that also looks elegant enough to serve at a dinner party. What's better than that? Plus, it's universally well-liked. Why else would this soup appear on just about every American restaurant menu?
But this soup is so easy to make at home! The basic ingredients usually include florets of broccoli pureed with milk, a little celery and onion, broth, and butter. Of course, a soup this ubiquitous inspires variations. Some recipes use cream or half and half instead of milk. Some add cheese. Others include a roux to thicken the soup.
This version relies on a roux to add body and milk to keep the taste (and fat count) on the lighter side. It calls for chicken broth, but vegetable broth works well, too. The broccoli and other vegetables give our Cream of Broccoli Soup a nice complexity without the need for cheese. But no one will stop you from adding a spoonful of shredded cheddar on top as a garnish. Speaking of garnishes, a dollop of sour cream, some homemade croutons, or a sprinkle of finely chopped broccoli looks attractive and can add to the flavor.
A word about pureeing hot soups. An immersion blender is the safest, least messy method. You place the stick in the pot, turn it on, and move it around. No pouring the soup back and forth. However, it can be difficult to get every last bit of soup smooth. To do that, a blender is usually the tool of choice. But beware: you can't just pour the hot soup into the pitcher and flip the switch. Even with the cover on tightly, you're liable to experience a soup volcano that's at best a splattering mess and at worst, dangerous as steam and hot soup pour forth.
To safely blend a hot soup, do it in batches. Do not fill the blender more than half full. Put the cover on and drape a kitchen towel over the top. With one hand firmly on the top, pulse the blender briefly a few times to get the soup moving. Once the contents start to move, you can run the blender on low speed and slowly increase the speed. Then pour out the pureed soup into a bowl or pot and do the next batch. This way, none of the soup ends up on the kitchen walls, leaving all of it to go into your tummy. Yum.
Print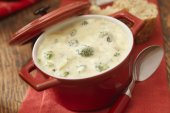 Cream of Broccoli Soup
A lighter version of a classic that's just as satisfying, this cream of broccoli soup is easy to make. If you've never made this soup with broccoli from your garden, now's the time. You won't believe how fresh it tastes. Serve as a main course for lunch with a salad or half sandwich or as a satisfying starter at dinner.
Author:
Prep Time:

10 minutes

Cook Time:

25 minutes

Total Time:

35 minutes

Yield:

Serves 8

Category:

Soups
Ingredients
5 tablespoons

butter, divided

1

onion, chopped

1

stalk celery, chopped

3 cups

chicken or vegetable broth

8 cups

broccoli florets

3 tablespoons

all-purpose flour

2 cups

milk
Ground black pepper to taste
Instructions
Melt 2 tablespoons butter in a medium-sized stock pot, and sauté onion and celery until tender. Add broccoli and broth, cover and simmer for 10 minutes.
Pour the soup into a blender, filling the pitcher no more than halfway full. Hold down the lid of the blender with a folded kitchen towel, and carefully start the blender, using a few quick pulses to get the soup moving before leaving it on to puree. Puree in batches until smooth, and pour into a clean pot. Alternately, you can use an immersion blender and puree the soup right in the cooking pot.
In a small saucepan, over medium heat, melt 3 tablespoons butter, stir in flour, and add milk. Stir until thick and bubbly then add to soup. Whisk to combine. Season with pepper and serve.
Have you made this recipe? It's so easy and delicious! Please tell us how you liked it.