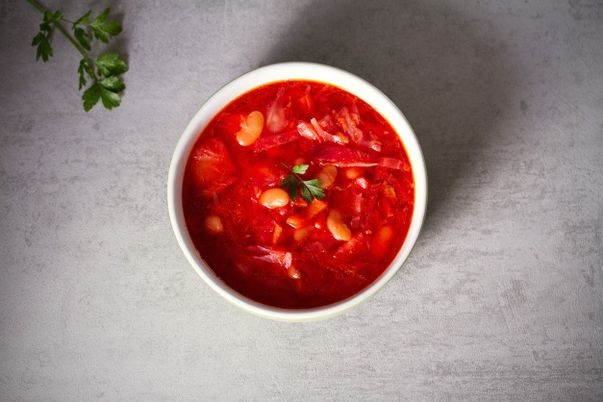 If you're of a certain age or you watch "The Marvelous Mrs. Maisel," you might be familiar with the term "borscht belt." That is the area in the Catskills of New York where Jewish families spent the summer and Jewish comedians tried out their material on their enthusiastic audiences. They called it the "borscht belt" because many of the participants were descendent from immigrants who came from Russia, Ukraine, or Poland—where borscht soup was a staple.
Those same immigrants made borscht a popular soup in the United States, and there are many versions, depending on the part of the world you came from. This recipe has its roots in Ukraine. Although all borscht soups have a classic red color, and contain similar ingredients, recipes can vary from those that contain meat, such as beef or pork, to those that are completely vegetarian. This version splits the difference, with no meat, but a lovely chicken broth to round out the flavors.
One of the tricks to cooking with beets is keeping your hands, clothes, and countertop free of the red stain. There are several ways to do this: wear gloves when handling the beets to keep from staining your fingers, and don an apron to protect your clothes. Using a food processor to grate the beets will help contain the juice and minimize staining. If beets get on your clothes or countertop, blot the excess juice with a paper towel and wash quickly with soap and water. Though clothing needs to be treated quickly, beet stain on your hands or porous surfaces will normally fade away in a day or two.
Although chicken soup may be better known for its medicinal properties, borscht serves up bowls full of immune-supporting antioxidants. Its nitrates can help lower your blood pressure and it's full of fiber while low in calories. So don't feel guilty about garnishing with the traditional sour cream and a few sprigs of dill.
Print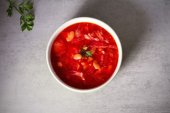 Classic Borscht (Red Beet Soup)
Borscht is one of the best ways to enjoy beets. Serve it as a main dish with hearty peasant bread or as a starter for a leisurely meal. Your family will love the taste and you'll feel good about all the healthful ingredients. Enjoy!
Author:
Prep Time:

30 minutes

Cook Time:

40 minutes

Total Time:

1 hour 10 minutes

Yield:

1

0

1

x
Category:

Soups
Ingredients
3

medium-size beets, peeled and grated

3

medium golden potatoes peeled and sliced into bite-sized pieces

2

carrots peeled and thinly sliced

2

celery ribs trimmed and finely chopped

1

small red bell pepper finely chopped, optional

1

medium onion finely chopped

4 Tbsp

ketchup or

3 Tbsp

tomato sauce

4 Tbsp

olive oil divided

8 cups

chicken broth +

2 cups

water

1

can white cannellini beans, juice included

2

bay leaves

2 Tablespoons

white vinegar (or to taste)

1 teaspoon

sea salt
pinch of black pepper

1

large garlic clove, minced

3 Tablespoons

chopped dill
Instructions
Peel all vegetables, then grate or slice them. Keep potatoes in cold water to prevent browning.
Heat a large soup pot (6 Qt) over medium high heat and add 2 Tbsp olive oil.
Add grated beets and sauté 10 minutes, stirring occasionally until beets are softened.
Add 8 cups broth and 2 cups water and bring to a boil. Add potatoes and carrots, simmering for 10-15 minutes until vegetables are tender.
While vegetables are simmering, put a large skillet over medium high heat and add 2 Tbsp oil.
Add chopped onion, celery and bell pepper. Sauté stirring occasionally until softened and lightly golden (7-8 minutes). Add 4 Tbsp Ketchup and stir fry for 30 seconds, then transfer contents of skillet to the soup pot.
When vegetables are adequately cooked, add the cannellini beans with their juice, bay leaves, vinegar, teaspoon salt, pepper, garlic, and chopped dill. Simmer for an additional 2-3 minutes.
Add more salt and vinegar to taste.
Have you made Classic Borscht? How does it compare with other borscht recipes? Let us know!