Onions are delicious, and they're good for you, too! Low in calories, high in flavor, and fat- and cholesterol-free. Onions are high in vitamin C and they're a good source of dietary fiber. Onion bulbs have a combination of three families of compounds that scientists believe have good effects on our health: fructans (dietary fiber), flavonoids (antioxidants), and organosulfur compounds (responsible for the taste and smell of onions).
Here is the nutrition information for 160 grams (about a cup) of chopped onions: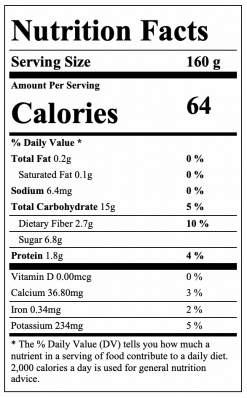 The main plant compounds in onions are:
Inulin. Inulin is in a class of dietary fibers known as fructans. It's a prebiotic fiber that promotes gut health by keeping beneficial bacteria thriving. If you're taking a fiber supplement for gut health, you might want to just up your onion intake.
Quercetin. This flavonoid has been shown to help delay or slow the oxidative damage to cells in your body—snagging free radicals before they can do damage to cells and tissue.
Vitamin C. This powerful nutrient may include protection against immune system deficiencies, cardiovascular disease, prenatal health problems, eye disease, and even skin wrinkling. Plus, it's essential for tissue repair in the body.
Onions also provide vitamin B5, folate, potassium, calcium, and manganese.
Did you know all these nutrition facts about onions? Please tell us what you think.