Kale is low in calories and high in nutrition! You can eat it raw or cooked; as a chip or in a smoothie. So versatile, so delicious, and so full of what's good for you!
Here is the nutrition information for one whole cup of chopped kale: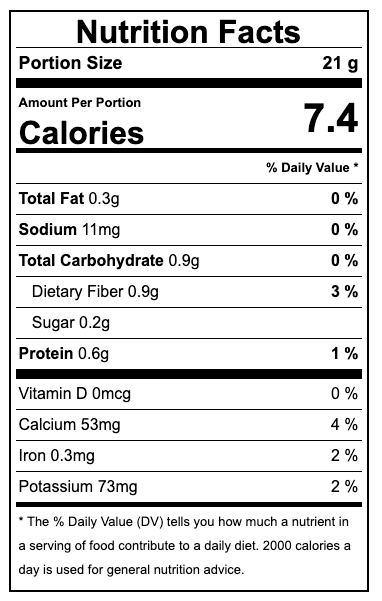 Source: https://www.nutritionvalue.org/Kale%2C_raw_nutritional_value.html
Here are some of the beneficial compounds in kale:
Vitamin C: One cup of kale provides your body with 200% of the vitamin C you need daily! The vitamin C in kale is an antioxidant necessary for immune system and skin health. Vitamin C helps protect your cells from damage, boosts your immune system, and helps your body make collagen—essential for smoother skin and healing wounds.
Vitamin K: A daily serving of kale provides 68% of your recommended dietary intake of vitamin K—essential for blood clotting, and a contributor to bone health.
Calcium: Kale gives you 15% of your daily recommended intake of calcium, which is essential for the health of your bones, muscles, and organs.
Fiber: With 5 grams of fiber in a cup of kale, look forward to keeping your digestive tract healthy. Fiber also helps keep cholesterol low, reduces the risk of heart attack, and slows the way your body absorbs sugar.
Minerals: Kale is also a good source of minerals—copper, iron, manganese, phosphorus, and potassium.
Did you know all these nutrition facts about kale? Please tell us what you think.