We know basil and tomatoes taste great together, and they grow well together in the garden. We know corn, beans, and squash are great garden companions. But vegetables and herbs aren't the only ones that make good companions in the garden. Fruit trees enjoy good neighbors, too. And if you plant fruit trees (or want to), you may want to know a little about fruit tree companion plants. 
Like vegetables, fruit trees are susceptible to several pests and diseases. And while some are self-pollinating, others need the help of birds, bees, and insects to bear fruit. 
Fruit tree companion plants can help deter pests, ward off disease, and attract pollinators, just like they do for vegetables. Wondering what to plant and what goes with what? Here are 18 popular fruit trees and the companion plants that help them thrive.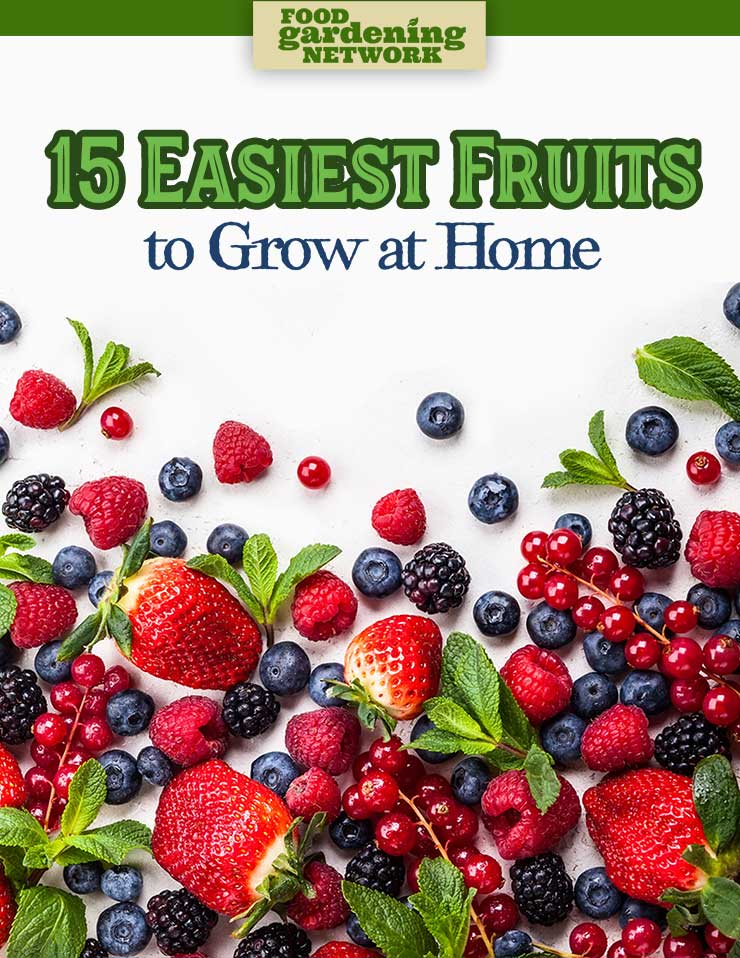 The ultimate list of fruit tree companion plants
One thing to point out about fruit tree companion plants is that the goal is to create an ecosystem that's rich in life. This, by the way, is known as a guild. So you may see references to an apple tree guild or a peach tree guild. This is just the collection of plants, shrubs, and other trees around your fruit tree. So even though there may only be one or two companion plants listed for these trees, almost any plant that deters pests, attracts pollinators, or benefits the soil will make a good companion. And usually, the more the merrier. If you can create a small, diverse pollinating ecosystem, both your fruit trees and your entire garden will benefit.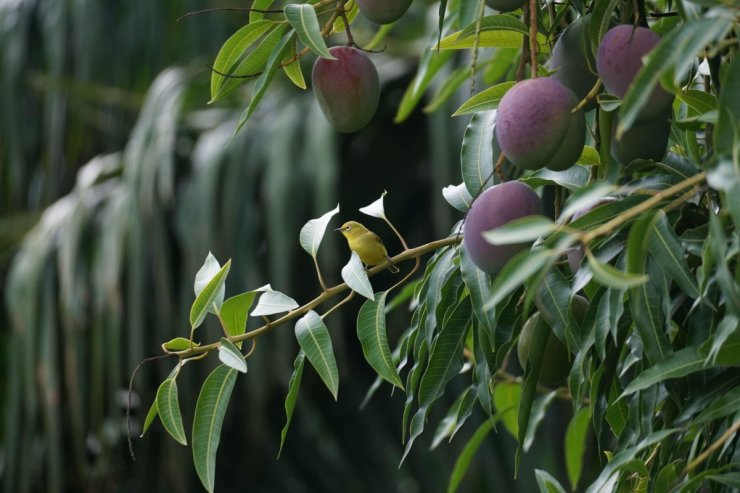 1. Mangoes. Nasturtiums make great companions for mango trees as they attract pollinators and act as ground cover, helping regulate soil moisture and temperature. The downside of nasturtiums is that they also attract pests. That makes them an excellent trap crop, but if you're finding this is an issue, grow mint nearby, preferably in a container, so the mint doesn't take over your space.
2. Loquat. You may know the loquat better as the Japanese plum. This small, somewhat tangy fruit is evergreen in warmer climates. Some varieties are self-fertile, and others aren't. So you may need to consider planting several depending on the variety and if you want them to bear fruit. Loquat trees also enjoy a steady source of nitrogen, so nitrogen-fixing plants like red clover make nice loquat fruit tree companion plants.
3. Cherries. Cherry trees require at least two varieties for cross-pollination and fruit development. For companions, herbs like chives, chamomile, and oregano are beneficial because they attract pollinators, can repel some pests, and oregano and chives have anti-fungal properties that may be helpful in combatting fungal diseases. 
4. Apricots. Apricots are prone to pests like aphids and spider mites, so any plants that either deter pests or attract predators are good choices. Chives are an excellent choice as they can deter some pests, and when they flower, they attract bees.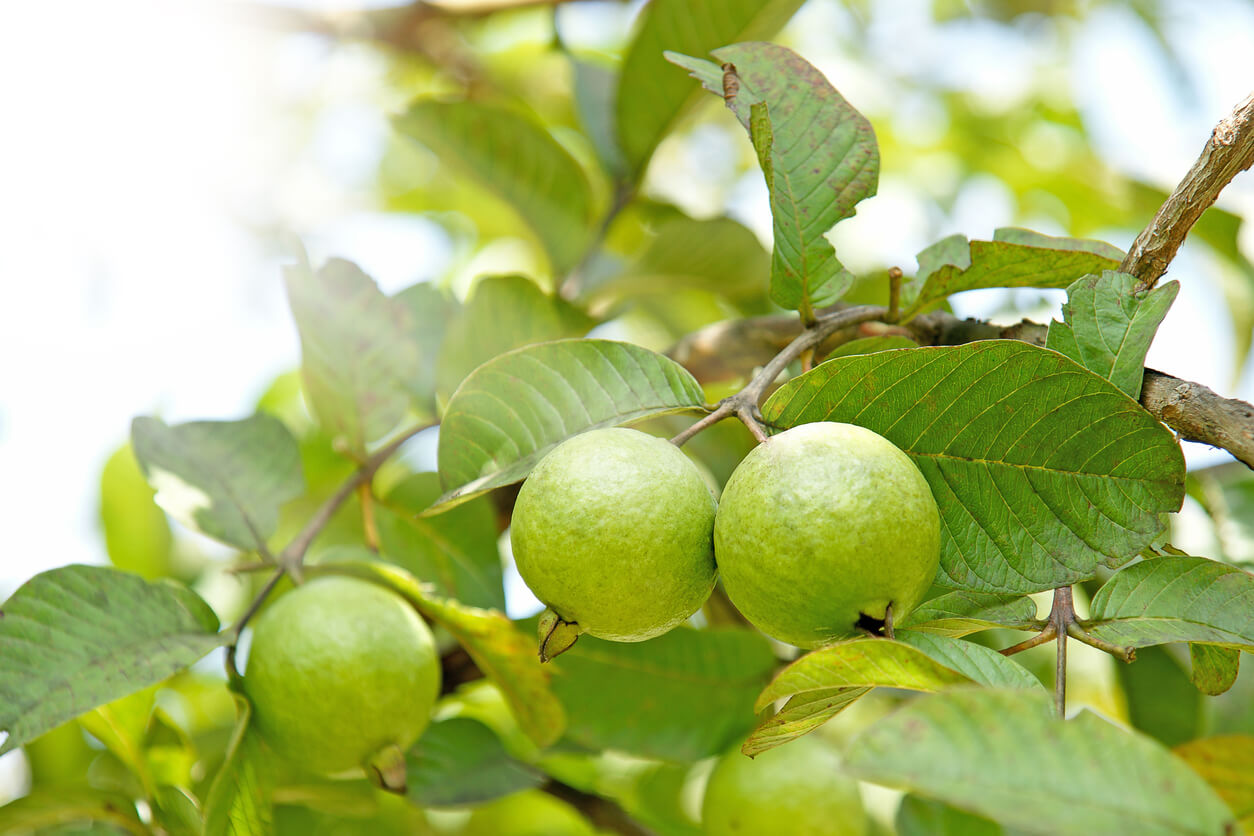 5. Guava. Guava trees are self-fertile, but bees and butterflies are always a welcome help. So plants that attract pollinators make good companions for the guava tree. Guava trees are also susceptible to several pests. Therefore, plants like chives that may both repel some pests and attract pollinators are good options for companion plants.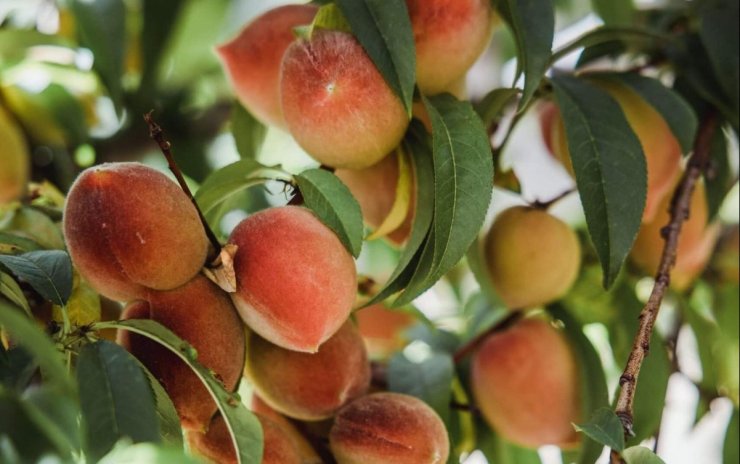 6. Fig. Thyme and oregano are both good companions for fig trees as they can inhibit weeds, deter pests, and are both perennial and drought tolerant.
7. Banana. Comfrey makes an excellent companion for banana trees, as well as many other fruit trees. The long roots of the comfrey pull nutrients from deep within the soil, so they are more accessible to other plants. Sweet potatoes also make good companions for banana trees, as their foliage helps retain moisture and block out weeds. 
8. Plums. Plums need another variety of plum tree to cross-pollinate and bear fruit. Additionally, dill and lavender will attract bees, butterflies, and other pollinators. Plus, there is some anecdotal evidence that lavender helps repel moths, including those that may harm your plum tree. 
9. Pomegranate. Pomegranate trees require a fair bit of nitrogen, making clover an excellent companion for them. Clover fixes nitrogen in the soil, and the flowers also attract pollinators.
10. Peaches. Though herbs and flowers are some of the most common fruit tree companion plants, strawberries also belong around many fruit trees. Their sprawling growth can shade out weeds, and their flowers attract pollinators.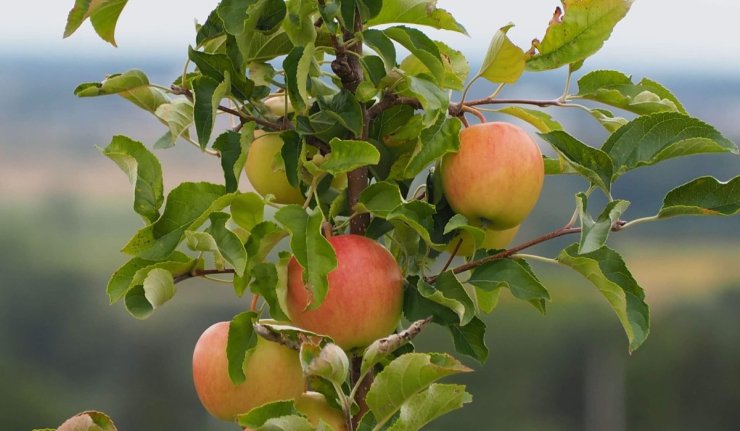 11. Apples. Apple trees need the pollen from another variety of apple nearby to successfully bear fruit. So apple trees make great (and necessary) companions for other apple trees if you have at least two different varieties. Just be sure to choose two varieties that flower at the same time. In addition to other apple trees, flowers like dandelions and daffodils make great fruit tree companion plants, as they attract pollinators.
12. Pears. Like plums and apples, pears need a second variety of pear tree in order to cross-pollinate and bear fruit. And like apples, dandelions make great companions, thanks to their ability to attract pollinators. 
13. Pawpaws. Pawpaw trees are most often found in nature as understory trees. So, they appreciate cool, moist (but not wet) soil. Therefore, plants like nasturtiums that offer a mulching-type of ground cover are excellent companions.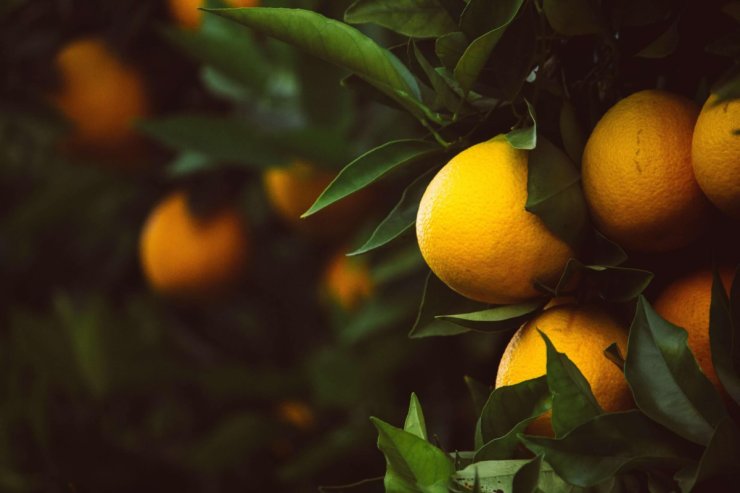 14. Oranges. Not surprisingly, most citrus trees, including orange trees, grow very well around other citrus trees. So almost all of these winter harvest fruit trees can grow near each other. Aside from that, comfrey makes a great companion, as it fixes nitrogen in the soil and attracts pollinators.
15. Limes. Lavender is one of the top fruit tree companion plants for citrus trees such as lime. The flowers attract pollinators like bees and butterflies, and there is some speculation that it helps ward off deer and rabbits. 
16. Lemons. I'll admit that the first thing I think of as a companion for lemons is rosemary. And sure, rosemary lemonade might be my reason for that. But rosemary, along with other herbs like yarrow and lavender, can help repel harmful pests. 
17. Papayas. Papaya trees require a regular source of nitrogen, making nitrogen fixers like clover or peas excellent fruit tree companion plants. Papayas are also prone to pests, so if you plant papayas, add in a few plants that attract beneficial insects, like dandelions. 
18. Grapefruits. Like most citrus trees, grapefruit trees are susceptible to several pests. But beneficial insects like lacewings, ladybugs, and the tachinid fly can help by feeding on aphids, mites, beetles, whiteflies, and other harmful pests. To attract these beneficial insects, plant yarrow, dill, or lemon balm. 
Alright! That's a lot, I know. But ultimately, you have a pretty wide range of fruit tree companion plants. For the most part, you can't go wrong with herbs or flowers like nasturtiums.
If you're looking for some more specific help with growing fruit trees, be sure to check out our selection of more than 50 Gardening Guides, which feature in-depth information on growing specific fruits, herbs, and vegetables.
And if you're looking for some help with maintaining your fruit trees, we're fans of both of these extended pruners:
Now it's your turn. I'd love to hear about the companion plants you use around your fruit trees. Let me know in the comments below.
Note: Food Gardening Network contains links to affiliate websites, including Amazon and Rakuten Affiliate Network, and we may receive a commission for any eligible purchases made by you through links on this page. Any reviews are based on honest reviews of the products.