If there's a fruit that embodies luxury, it must be the blueberry. They're juicy, plump, not overly sweet — just enough to get your tastebuds dancing, and they add that perfect amount of pizazz to anything from oatmeal to salads to muffins to smoothies. These little berries are jam-packed with nutritional goodness and they're a perfect snack straight from the blueberry bush. They are also native to North America, meaning that for U.S. and some Canadian gardeners, blueberries are relatively easy to grow. The hard part is determining which are the best blueberries to grow, since there are several types of blueberry bushes and dozens of varieties.
The five main species of blueberries you'll find are:
1. Lowbush:
Lowbush blueberries grow wild in Maine and southern Canada. The plants produce berries that are far smaller than what you usually see at the market, but they are sweet as candy with an intense blueberry flavor. Many gardeners will tell you that if you don't already have wild blueberries naturally growing on your property, they won't grow there. It can be done, but it requires a lot of work.
2. Northern Highbush
The northern highbush blueberry is what we've come to know as the common blueberry: it's the berry we see at farm stands and at the market. Plump, big, and a rich, deep blue. It's native to the eastern and northeastern United States. Northern highbush plants grow to a height of 6 to 12 feet; hence their name.
3. Southern Highbush
The southern highbush blueberries grow in areas with mild winters. They tend to flower earlier in the spring and keep growing later into the fall than their northern counterpart. They grow best in the middle, lower, and coastal south, in zones 7 to 9. Southern highbush plants grow to be 5 or 6 feet tall.
4. Rabbiteye
Despite the cute name, rabbiteye blueberry plants can grow to 15 feet tall and 10 feet wide by the time they mature (in seven to eight years). They produce large, tasty berries — some as big as a nickel. Their name comes from the way the berries mature: pink first, then blue.
5. Half-high 
Half-high blueberries are what you get when you cross lowbush and northern highbush varieties. Half-high blueberry bushes only grow to be about — you guessed it — half as tall as the northern highbush. The half-high tops out at 3 or 4 feet. It doesn't produce as many berries as the northern highbush, but you won't be sacrificing quantity for quality. These berries have great flavor, color, and shape.
Within those species, there is a range of varieties suited for different climates. While most blueberries need cool weather to fruit, some varieties are bred to do well in warmer weather. That's important to bear in mind when you choose the variety you want to grow.
It's also important to note that blueberries need time. Think of your first year of setting the plants as an investment in the future. You may not get many berries your first season. Once a plant is three years old, it can produce 2 to 3 pints of berries in a season. After a plant reaches five years old, you could look forward to 10 pints or more — just make sure you have some netting handy so the birds don't get all the berries.
You can learn more about the different varieties and species of blueberries and get more details on growing your own in our comprehensive Blueberry Bonanza Gardening Guide.
Our method and process
Now then, how about which blueberries to grow? Here's how we chose the 15 best blueberries for our list.
We created a list of all the blueberries listed on Burpee's site and then ordered the list by the ranking number as well as the review comments to arrive at a list of 15. Without further ado, here's our index for the best blueberries to grow in your garden!
The official list of the 15 best blueberries to grow in 2022
The Southern Bluebelle is ideal for patio gardeners in zones 6 to 10. This bush variety tops out around 3 feet tall and only needs 250 chill hours to set fruit. 
The Reka blueberry is known for its adaptability to a variety of climates and soil types, and for its vigorous growth. One reviewer called this early fruiting variety "the best-tasting blueberries ever!"
The Titan is appropriately named, as the berries can grow to the size of a quarter! The sweet berries are perfect for enjoying fresh from the bush or for preserves or muffins. 
The Jersey blueberry is a reliable garden classic. The medium-sized berries ripen in late season, and are known for adding rich blueberry flavor to muffins and pies. 
Personally, I think the Prairie Berry blueberry deserves a spot on the list just because it's so fun to say the name! Of course, you want more than a cute name when you're growing blueberries, and these high-performing northern highbush blueberries produce beautiful clusters of large, sweet fruits perfect for a blueberry pie!
Prolific and hardy in zones 3 to 7, the Patriot blueberry plant will give you an early-season harvest of large, sweet berries and gorgeous fiery red foliage in the fall. 
The Spartan blueberry gets rave reviews for its excellent flavor, large berries, and fast growth. Gardeners in zones 5 to 7 can expect a plant that grows up to 6 feet tall, giving the berries plenty of air and sunshine to help them ripen.
Gardeners in zones 3 to 8 can enjoy the sweet taste of these gorgeous blueberries. This vigorous plant is a beautiful addition to your landscape, as well, with vivid orange fruits slowly turning to dusky black as the berries ripen. 
Right in the middle of our best blueberries list is the heavily yielding Bluecrop blueberry. You'll get several weeks of a mid-season harvest of sugary-sweet berries perfect for pies and preserves. 
Chandler's claim to fame is that it produces the world's largest blueberry. The blueberry bush itself is quite large, too, growing up to 7 feet tall with an 8-foot spread. Growers in zones 4 to 7 will appreciate the extended harvest, thanks to the late ripening. 
If you're looking for something unique, the Pink Lemonade blueberry is it. This blueberry bush tops out around 5 feet and produces large quantities of lovely radiant pink berries in the mid to late season. Several reviewers also commented on the gorgeous foliage that turns from pinkish white to crisp red-orange in the fall. 
This southern highbush variety produces spicy-sweet, sky blue berries with blue-green foliage that turns burgundy in the fall. Add in the pinky-white flowers, and you have a colorful blueberry bush to bring some edible interest to your landscaping. Misty only needs 300 chill hours to fruit, making this one of the best blueberries to grow in warmer climates. 
If you want a hardy blueberry, Northblue is it. This plant is suitable for zones 3 to 7 and has survived temperatures as low as 35 degrees below zero. This juicy, "wild" tasting blueberry also makes a great addition to your landscape, producing white foliage in the spring and turning to deep burgundy in the fall. 
Coming in at number two on our list of the best blueberries to grow this year is the Razz blueberry. Boasting a remarkable and unique flavor with raspberry overtones, these plump, powder-blue berries are ideal for eating fresh, making jams and preserves, and baking. Hardy in zones 4 to 7 and growing to 6 feet tall, this plant offers a generous yield of fruits toward the middle of the season. 
Number one on our list is the Polaris blueberry, developed in Minnesota specifically for cold hardiness. This half-high blueberry bush is an early-fruiting variety that tops out around 4 feet. Gardeners in zones 3 to 7 can expect deep blue berries with a wonderfully sweet flavor and rich aroma. 
Want to start growing blueberries at home? Blueberries are a favorite of everyone, everywhere! With our Blueberry Bonanza Gardening Guide, you'll have everything you need to know about growing and enjoying this delicious and healthful fruit.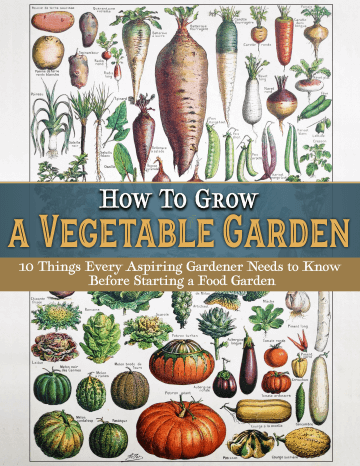 Discover 10 top tips for growing, harvesting, and enjoying fruits, vegetables, herbs and more from your home garden—when you access the FREEBIE How to Grow a Vegetable Garden, right now!
Is your favorite blueberry on the list? What's the best blueberry bush in your garden? Let us know in the comments!
Note: This post contains affiliate links, and we may make a small commission when you make a purchase after clicking them. However, this post is based on honest and true reviews of the products above.