To make a prairie it takes a clover and one bee,
One clover, and a bee.
And revery.
The revery alone won't do,
If bees are few.
When Emily Dickinson wrote this poem in the mid-1800s, she may or may not have been thinking about flowers for a vegetable garden. There's really no way to say. She is, however, absolutely correct in that without bees and other pollinators, we would have a lot fewer fruits and vegetables in this world. Melons, squash, cucumbers, blueberries, cranberries, and cherries would all be lost without pollinators. I've seen tomato plants grow sky high without growing a single tomato.
If you want a healthy, abundant garden, you gotta get some bees in there. To "bee" fair, butterflies, bats, birds, and beetles can also act as pollinators. While the flowers of fruits and vegetables can attract pollinators, it's helpful to make your garden more welcoming to these beneficial beings by planting flowers that you know will attract them. As a bonus, if you plant the right flowers for a vegetable garden pollinator party, some of those flowers will also deter pests, too.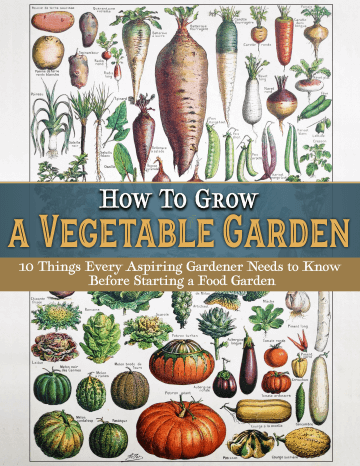 Discover 10 top tips for growing, harvesting, and enjoying fruits, vegetables, herbs and more from your home garden—when you access the FREEBIE How to Grow a Vegetable Garden, right now!
What are pollinators and why do we need them? Your quick guide to flower biology
If you remember back to Biology 101, you'll recall that there are male and female flowers. Male flowers produce pollen, which female flowers need to produce fruits. Pollinators searching for nectar carry this pollen from one flower to another, thereby fertilizing gardens and even large commercial crops.
Bees are, of course, the most well-known pollinators. They're also the most purposeful and efficient in seeking out nectar and pollen, but butterflies and hummingbirds that feed on the nectar of flowers can also act as pollinators. Even small insects can spread pollen in their purely accidental, though not inconsequential, way.
By some estimates, bees are responsible for about one-third of all the food we eat, and possibly much more. Clearly, they're important for your garden. And for every garden.
7 Flowers for a vegetable garden that your local bees, butterflies, and beetles will love
So what flowers for a vegetable garden should you grow? Well, here's something cool. It's actually a really easy thing to do, and it will also make your garden extra beautiful. Native flowers are ideal, but within that, look for lots of color and variety. The more you can offer, the more pollinators will come your way.
1. Sunflowers. Sunflowers are especially attractive to pollinators, and you can eat the seeds when the season comes to an end. Just beware that sunflowers aren't always nice to the plants around them. Pole beans and potatoes are particularly impacted by sunflowers, although tomatoes, cucumbers, and peppers tend to grow well with them.
2. Chives. This herb is the extra bonus point in your search for flowers for a vegetable garden. First of all, chives are a delicious addition to so many meals. They're also incredibly easy to grow. The purple flowers attract bees, and the herb repels pests like aphids.
3. Lavender. The gorgeous purple and blue lavender flower is a favorite of bees and butterflies. It's also a perennial in most growing zones, AND it tastes great in desserts.
4. Calendula. Stick with me here. Pests love calendula. Why is that good? The flower attracts aphids and whiteflies. That can be beneficial when those pests decide to enjoy your calendula rather than your tomatoes or squash. Plus the flower also attracts ladybugs, which will eat said aphids and whiteflies. The gorgeous orange and red blossoms of the calendula also attract bees and butterflies.
5. Marigold. Pollinators love marigolds. Soil nematodes do not love marigolds. In fact, marigolds release a substance that neutralizes nematode eggs.
6. Nasturtiums. These colorful flowers come in all shades of reds, yellows, and oranges, and they're so easy to grow that you can pretty much ignore them. They tend to lure pests away from your other vegetables, but they also repel aphids and whiteflies. Bees, butterflies, and hummingbirds all love nasturtiums, and they're edible for humans, too.
7. Mint. The strong scent of mint is a deterrent to many insects, and although mint is known for its refreshing leaves, it does produce little pods of white and purple flowers. Bees love mint, as do ladybugs. It's also perennial, and it's easy to grow; you can literally ignore it and still harvest pounds of the leaves.
When you're deciding on flowers for a vegetable garden, think about these and how much they can bring, not just in terms of color (and flavor in some cases), but how they'll function in the overall biome of your garden.
What flowers do you plant to help bring pollinators to your garden? Any you would recommend? Leave your thoughts where we can chat in the comment section.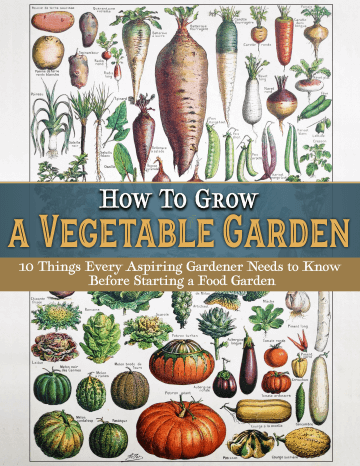 Discover 10 top tips for growing, harvesting, and enjoying fruits, vegetables, herbs and more from your home garden—when you access the FREEBIE How to Grow a Vegetable Garden, right now!