There are dozens of varieties of carrots you can grow in different shapes, sizes, and colors. They're a great snack. You can cook them up as a side dish or grate them and add them to a quesadilla. You can pickle them or turn them into Carrot Cake. Just one problem: they grow underground, so we're often left wondering how to know when carrots are ready to harvest. 
And since the "carrot" part of carrots grows underground, you can't really dig them up and then put them back if they aren't ready. I might also add that carrots sometimes get a bad rap as being difficult to grow. In truth, they aren't hard to grow, but you do need the proper soil preparation and a bit of patience: carrot seeds take a while to germinate, and their growing cycle is relatively long.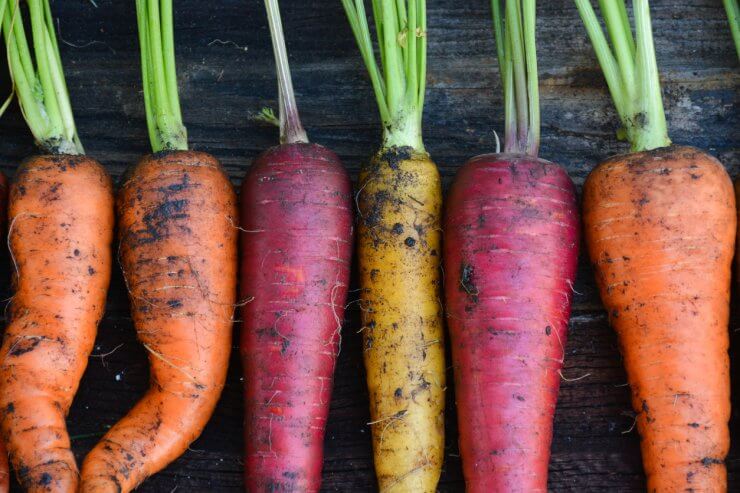 That still doesn't settle the issue of how to know when carrots are ready to harvest. Luckily, we have some other signs that make it clear that it's time to pull up those carrots and enjoy some root vegetables. 
Your guide to the secrets of how to know when carrots are ready to harvest
Carrots fall into two main groups: early and maincrop. As their name suggests, early carrots mature earlier than their maincrop counterparts. In general, early carrots are ready for harvest in about 60 days; maincrop carrots mature in 70 to 85 days. That brings us to the first tip for how to know when carrots are ready to harvest.
1. Mark your calendar. You don't need to be super organized to do this, so don't fear. Just make a small note on your calendar when you plant your carrot seeds. Then, depending on the variety, you can have a pretty decent idea of whether or not it's time to harvest.
2. Note the variety. This works in conjunction with marking your calendar, since different varieties of carrots grow at slightly different rates. Plus, it's nice to know what kind of carrots you're eating! For example, Purple Dragon carrots, which are delicious raw in salads and slaws, or oven-roasted with a bit of honey and salt, mature in 65 to 70 days.
3. Consider the season. When you plant your carrots plays a significant role in how to know when carrots are ready to harvest. While you can get both a spring crop and fall crop of carrots in most regions, be aware that carrots may get fibrous if temperatures climb too high. That may mean you have to harvest your carrots before they are ready, but there's some good news below about that particular issue.
4. Don't fear the frost. As cool-season root vegetables, carrots like a little chill. In fact, carrots generally taste better after a frost or two since the cold weather alerts the carrots to store energy (aka sugars) in their roots.
5. Harvest a few. Ultimately, if you're wondering how to know when carrots are ready to harvest, there's only one thing to do: pull a few and find out. To do this, loosen the soil around the top of the carrot and gently pull it from the earth. You can also use a garden fork to help. Then, if your carrots look good and taste good, it's time to harvest. 
Harvest your carrots early
If you still feel like you aren't sure how to know when carrots are ready to harvest, there is some good news. You don't have to wait for the full growing period before you start harvesting them. As a matter of fact, some types of carrots are tastier if you harvest them a little early. 
Danvers carrots are best harvested young; the older the roots get, the more fibrous they become. And if you like your carrots sweet, harvest your crop of Chantenay carrots early. 
Or don't harvest your carrots
If you live in a temperate zone, you can leave carrots in the ground after the first frost and right up until the ground freezes for the winter. If you live in a milder region, you can leave your carrots in the garden all winter long and harvest them whenever you like.
In other words, you can just go out to the garden and pull up some fresh carrots anytime you want, as long as the ground isn't frozen. One caveat I should add is that if you see any plants shoot up a flower stalk, that's the day you harvest that carrot. If you miss the harvest window, all their energy will have gone to produce flowers and seeds, and you'll be left with a less than tasty root. On the bright side, you'll have a lovely flower for the dinner table.
Don't toss the tops
Did you know carrot tops are edible? You can use them to bulk up a pesto, add them into your tabouli salad, liven up a vegetable stock for soup, or use them in place of other herbs like parsley. 
You do, however, want to remove the carrot tops (and clean the carrot roots) before you store your carrots. For ages, farmers have stored carrots in boxes with slightly damp sand. You can lay down a layer of sand, put your carrots in (tops removed), alternating head-to-tail so more will fit in a row, and then cover that row with sand. Repeat the process until the box is full and store in a cool, dark spot.
Want to learn more about carrots? With the Crunchy Carrots premium gardening guide, you'll have everything you need to know about growing and enjoying this versatile vegetable. Starting with the history and background of carrots to hands-on advice on growing it … from planting techniques to watering (or not) … from easy-to-make, delicious recipes to the nutritional benefits of carrots—get it all in the Crunchy Carrots Gardening Guide right now!