Root vegetables are sturdy and long-lasting. You can store carrots for a long time, under the right conditions, and have homegrown carrots for months after your harvest.
There are some basic guidelines you should follow, however you decide to store your carrots. Remove the greens and clean and dry the roots before you eat your carrots or put them in storage. You don't want the roots sending any more moisture or energy to the tops; you want that moisture and energy for yourself. Carrots you plan to eat soon, you can keep in the fridge for a few days. Have you ever noticed carrots in the fridge develop fresh root hairs? That's because home fridges aren't cold enough to qualify as cold storage. Any carrots you want to keep on hold need to bypass the fridge.
For ages, farmers have stored carrots in boxes with slightly damp sand. You can lay down a layer of sand, put your carrots in (tops removed), alternating head-to-tail so more will fit in a row, and then cover that row with sand. Repeat the process until the box is full and store in a cool, dark spot.
For long-term storage, a root cellar is ideal. But, since most of us don't have root cellars, consider making pickled, dried, or frozen carrots.
Pickled Carrots
Print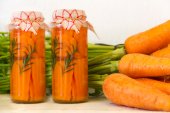 Pickled Carrots
Pickled carrots make a colorful garnish and can be a delicious addition to a crudité plate along with olives and raw veggies.
You don't have to do full-on canning to preserve your carrots. You can do a quick pickling process that will give you tasty pickled carrots the same day.
Author:
Prep Time:

15 minutes

Other (cooling, chilling):

3 hours

Cook Time:

20 minutes

Total Time:

3 hours 35 minutes

Yield:

1

-pint jar

1

x
Category:

Sides & Sauces
Ingredients
1

pound carrots, peeled and sliced into coins or thin sticks

1 cup

apple cider vinegar

1/2 cup

water

1/4 cup

sugar

2 tablespoons

kosher salt

1 teaspoon

black peppercorns

1 teaspoon

mustard seeds
Instructions
Put your prepared carrots into a heatproof glass jar; a canning jar is a good choice.
Combine all the other ingredients in a pot and bring the mixture to a boil, stirring occasionally.
Once the mixture has reached a full boil, pour it over the carrots.
Let them cool, uncovered, until they reach room temperature.
Cover tightly and refrigerate for at least two hours.
These will keep for up to three weeks.
Dehydrated Carrots
You can dry your carrots for a handy, nutritious, low-calorie snack. Just wash, trim, and peel your carrots. Then slice them very thinly into disks or use a peeler to make long carrot ribbons. Blanch the carrots in boiling water for three to four minutes, then plunge them into ice water. Once they're cool, drain them. Sprinkle the carrots with a little ground ginger.
Line a baking sheet with parchment paper. Spread the carrots pieces out evenly and bake in a low oven—the lowest setting your oven has—for two to four hours. Check every half hour to stir the carrots lightly and check for dryness.
Allow the dried carrots to cool completely. Store in an airtight container out of direct light.
Frozen Carrots
One of the quickest and most efficient ways to preserve a bumper crop of carrots is to freeze them. You'll want airtight containers to store them in; no one likes freezer burn. Consider getting a vacuum sealer; it does a great job at preventing freezer burn, the arch nemesis of frozen foods. Vacuum food sealers are a terrific kitchen tool.
Wash your carrots, peel them (optional) and cut them into coins. You can also dice them if you prefer. Blanch your carrots in boiling water for two to three minutes; this helps preserve the flavor and color of your carrots.
After blanching, plunge your carrots into an ice bath. Once they're cool, drain them and let them dry completely. Then spread them in a single layer on a baking sheet lined with waxed paper and put them in the freezer for at least an hour.
When they're completely frozen, transfer your carrots to airtight containers. If you like, you can separate the layers with waxed paper to keep them from sticking, but freezing them in single layers before packaging them is usually enough.
Label and date your container and use your carrots within a year.
Other preservation methods
If you're an experienced canner, you can certainly can your carrots to keep your pantry stocked through the winter months. But canning requires an investment in equipment, and to preserve carrots properly, you need a pressure canner. If you're not really interested in canning, you can certainly cook your carrots—into soup, say—and freeze that.
How frequently do you harvest your carrots? What's your favorite way to preserve your carrots? Please tell us what you look for when getting ready to harvest and how you preserve your harvest.