8 Recipes for a Garden-to-Table Holiday Dinner
This meal plan for a complete garden-to-table holiday dinner includes everything you need for a big family gathering—from the bird to the fixins, dessert, and a hot apple cider cocktail!
Doesn't the idea of having all the ingredients you need (or at least most of them) for a big holiday dinner sound like fun? No more elbowing around the farmers market at the last minute hoping to find honeynut squash, or buying plastic-packaged herbs for your turkey? That sounds like a fine way to spend the holidays, indeed!
This year for Food Gardening Magazine, we made a number of recipes straight from the garden. Today I've put together a whole holiday meal plan that incorporates those recipes and a few new ones that you can prepare with ease for your next holiday meal or Sunday supper with family.
In the video above, we are going to make: 
Of course, it's not required to grow all the ingredients, but if you're a homesteader and like to plan for these types of harvest meals, here are all the crops you'll need to make this a truly garden-to-table dinner:
garlic

sage

thyme

rosemary

onions

carrots

potatoes

lentils

basil

marjoram

cranberries (no, you don't need a bog!)

oranges

celery

leafy greens

apples

shallots

pears
This is actually a shortlist for the major meal we're about to put together. So let's get started!
Garlic Confit Roasted Bird (Chicken or Turkey)
[See the full printable recipe card]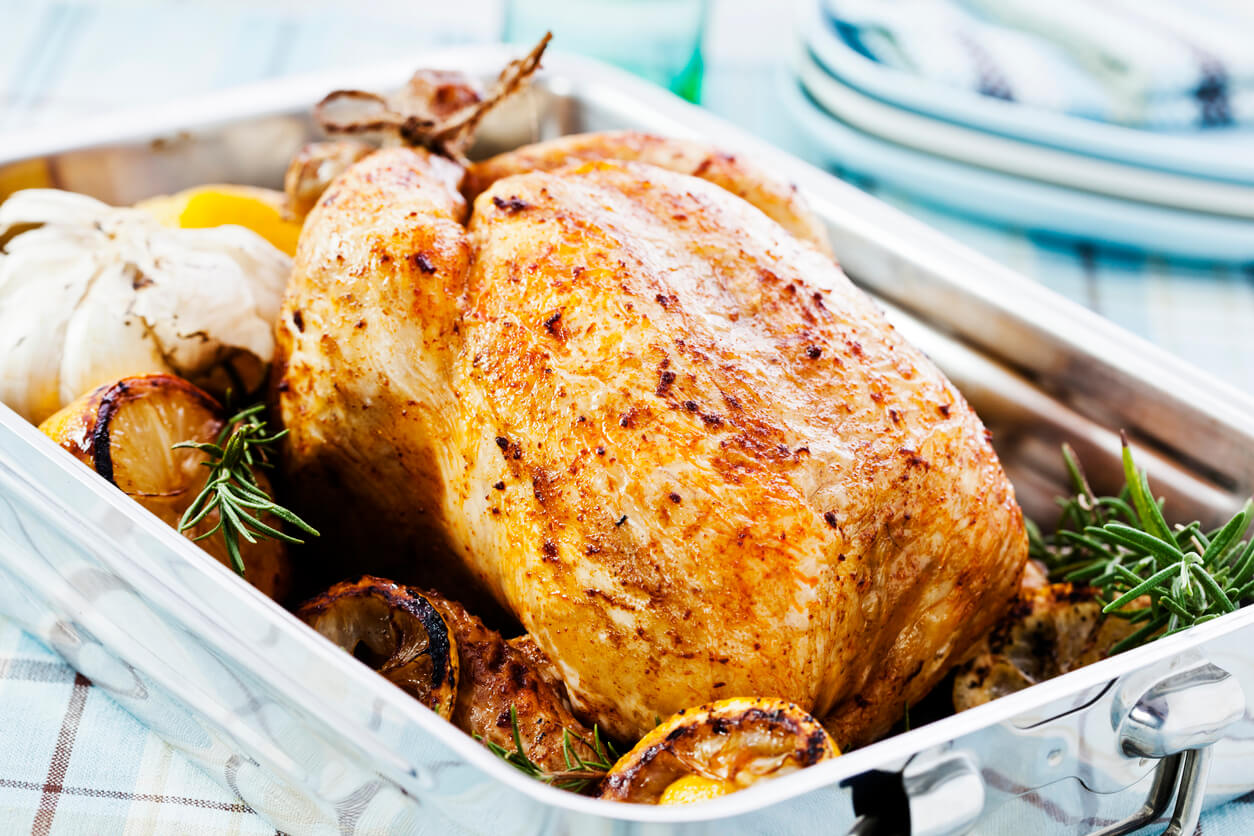 Just like you would on the morning of a big gathering, we'll start with the bird because it takes the longest to cook. You can use a chicken or turkey for this Garlic Confit Roasted Bird recipe, depending how many guests you are serving. 
To make the garlic confit, start the night before by preheating your oven to 200 degrees F.
Fill an oven-friendly saucepot with two cups of garlic cloves, then cover it with olive oil so that all the cloves are covered.  Bake for two to three hours, careful not to burn. They're ready when you can mash them, and they spread like butter. Pour your cloves with the oil into a jar, and refrigerate overnight.
In the morning, you'll have a jar of perfectly cooked garlic, which you'll turn into a spread that we'll rub under and over the skin of our bird. Depending how much you love garlic, use a cup or more of the confit, warmed just so it's soft, and mash it together with a handful of herbs you like from your garden. Typical herbs for poultry would be rosemary, sage, and thyme, which is what I've used.
Now, simply rub it over and under the skin so that the bird is totally immersed in this garlic confit mixture. Bake it in the oven at 350 degrees F for chicken or 325 degrees F for turkey, and then for 20 minutes per pound, plus an additional 15 minutes at the end, or until the internal temperature is 165 degrees F.
We'll get that cooking, and start on the rest!
Veggie Lentil Soup
[See the full printable recipe card]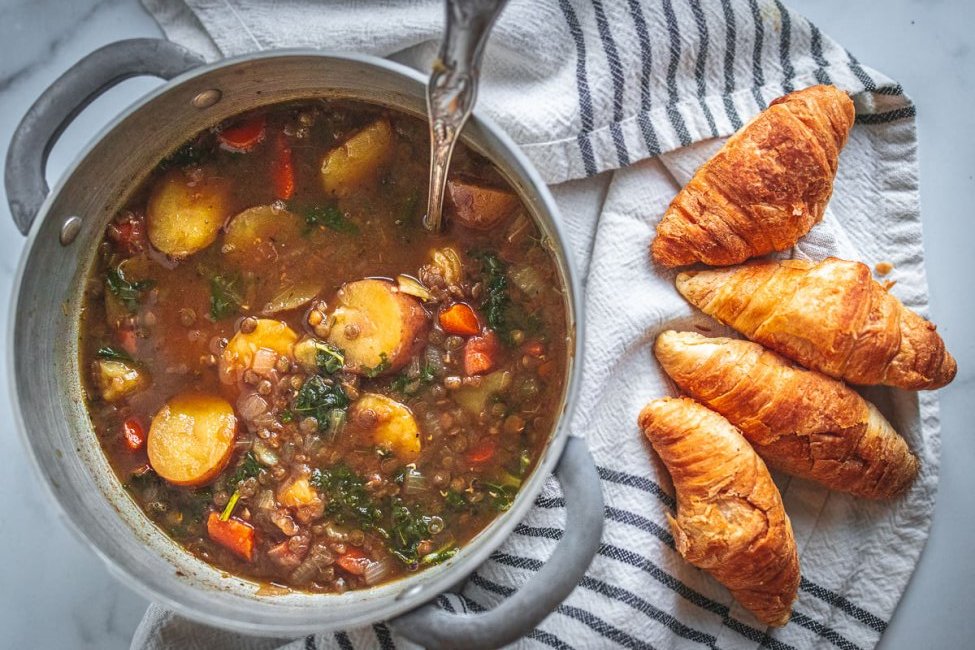 Next we're going to make an incredibly simple Veggie Lentil Soup. This recipe actually comes from my daughter's Waldorf school where the kids make this soup in kindergarten, and it's absolutely delicious. If a kindergartener can make this soup, so can you!
The recipe is traditionally vegetarian and you only need water, but if you want to, you can also make your own bone broth the night before. To do that, you'll take bones from a previously cooked chicken, and add them to a slow cooker with any garden scraps you've been saving in your freezer. Then you'll add 8 cups of water, a teaspoon of apple cider vinegar, set the slow cooker to low, and leave overnight. At least 12 hours is great, but it can cook up to 48 hours. In the morning, strain your broth over cheesecloth, and add the broth to the slow cooker. Make sure you have about 8 cups of stock, and add water if you don't.
Now if you don't want to do all that, you can make the vegetarian version and just start with 8 cups of water, and add it to the slow cooker now, set to high. In a skillet, add a drizzle of olive oil, and when it gets hot, add half an onion, diced, and two minced cloves of garlic. Let them cook for a few minutes to release the gasses in the onions, then pour them into the soup along with 3 cups of halved baby potatoes, two carrots sliced how you like them, 1/4 cup soy sauce or tamari, and a half teaspoon each of dried marjoram, thyme, and sweet basil.
You can let it cook on high for four hours, or low for up to eight hours. About an hour before you want to serve, add 2 cups of chopped kale and 1/2 cup of French green lentils. Now, the most important part—add the salt and pepper! I recommend adding half a teaspoon at a time until you get the saltiness you like. This will sit all day on low, which makes it super easy to make, and you can also make it ahead and freeze it! I'd just save the lentils and kale until the day you serve it.
Cranberry Sauce
[See the full printable recipe card]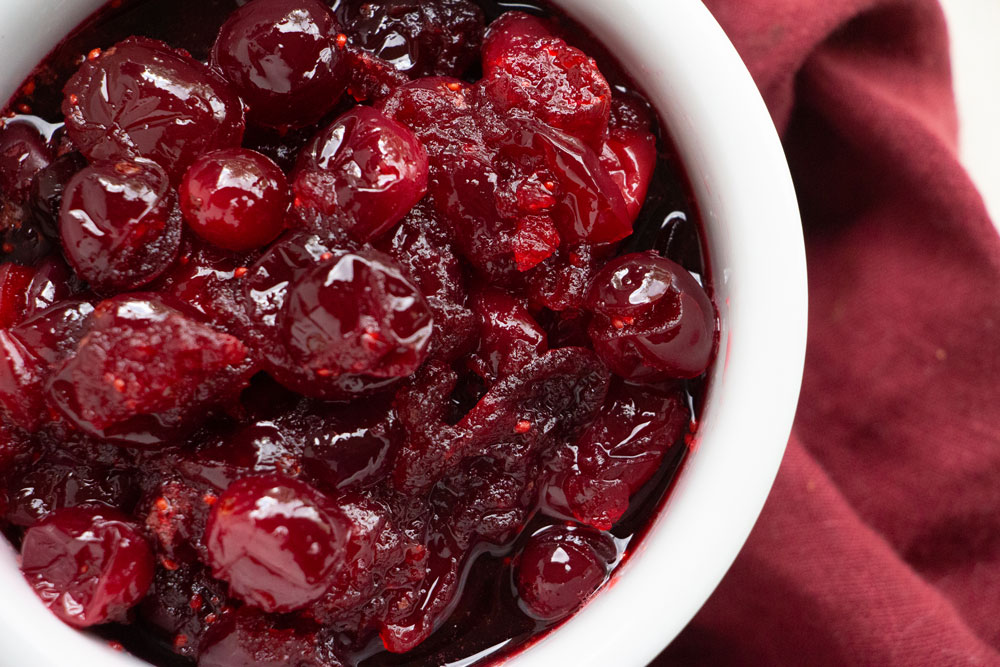 Next, let's get the cranberry sauce ready. I know some folks love their cranberries in the can, but I just can't get behind it! Especially since cranberry sauce is so easy to make. Let's do it together!
To make this recipe, you'll need a medium saucepot. Add the juice of one orange, and the zest of one orange (no pith please), 2 cups of apple cider, 1 cup of REAL maple syrup, and a cinnamon stick. Bring it to a boil, then add 6 cups of cranberries and simmer for 20 minutes. The cranberries are going to pop and break down on their own, but mix occasionally to keep it from burning. Now mash as much as you like for texture, and do a taste test for sweetness. Pour it into a bowl to cool, and leave out the cinnamon stick.
Now refrigerate it, and it'll be ready for dinner when you are!
Italian Bread Stuffing with Sage
[See the full printable recipe card]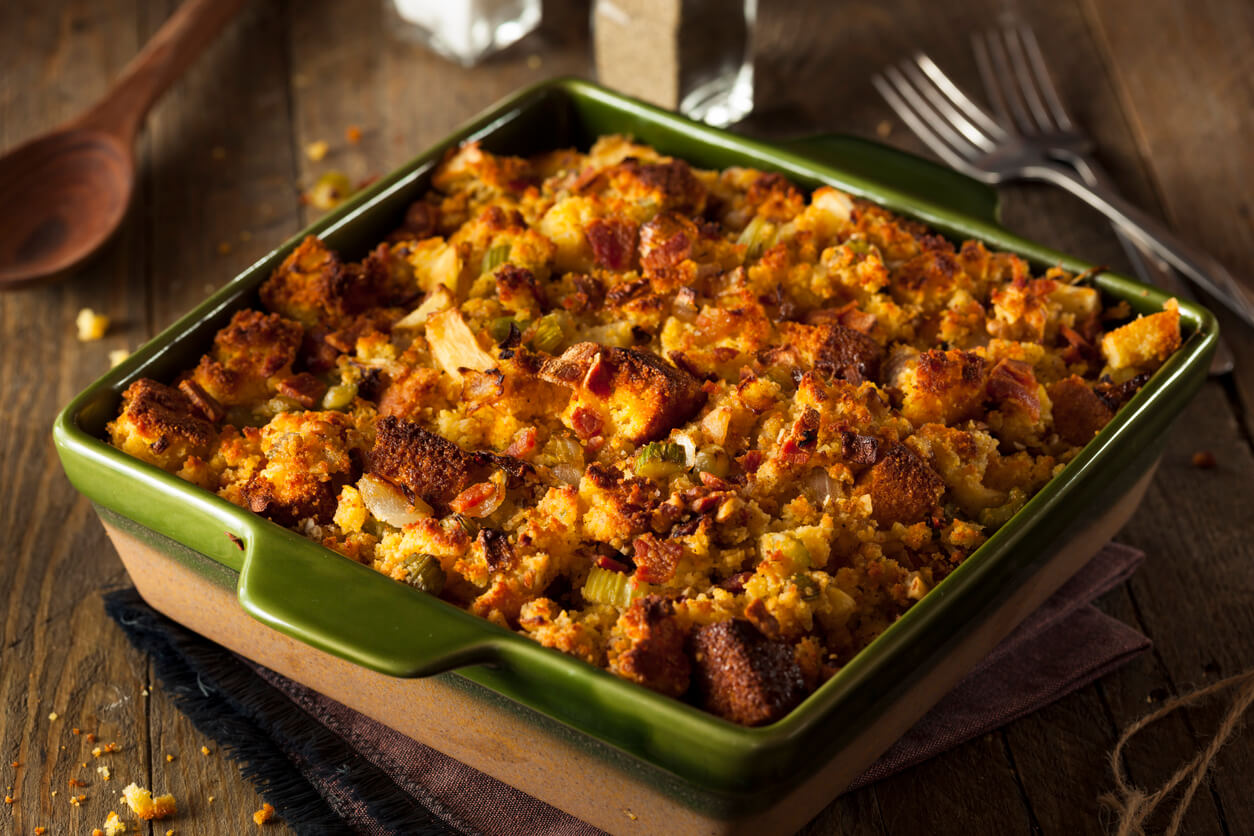 As for our Italian Bread Stuffing, we are going very simple on this stuffing here, my friends.
Get yourself a loaf of Italian bread, cut it into cubes, and then leave it out on the counter for a day or two until it's stale (or bake at 200 degrees F for an hour or so). In a skillet, add 1/2 an onion, chopped, a carrot, chopped, and about a cup of chopped celery with a stick of butter. Once everything is softened, add two fresh leaves of sage, finely chopped, into the mix and cook for about a minute. Add the bread and toss gently. Then drizzle up to 2 cups of broth over the bread mixture until it's moistened but not soggy. Add to a casserole dish and sprinkle with salt and pepper.
Now you'll just cover and bake at 350 degrees F for 30 minutes. Then, take off the cover and bake for another 10 minutes. That's all there is to it! To make it ahead, just wait to bake it until the day of. It can sit in the refrigerator for two days uncooked, or you can freeze it and unthaw it overnight before you bake it.
Awesome Instant Mashed Potatoes
[See the full printable recipe card]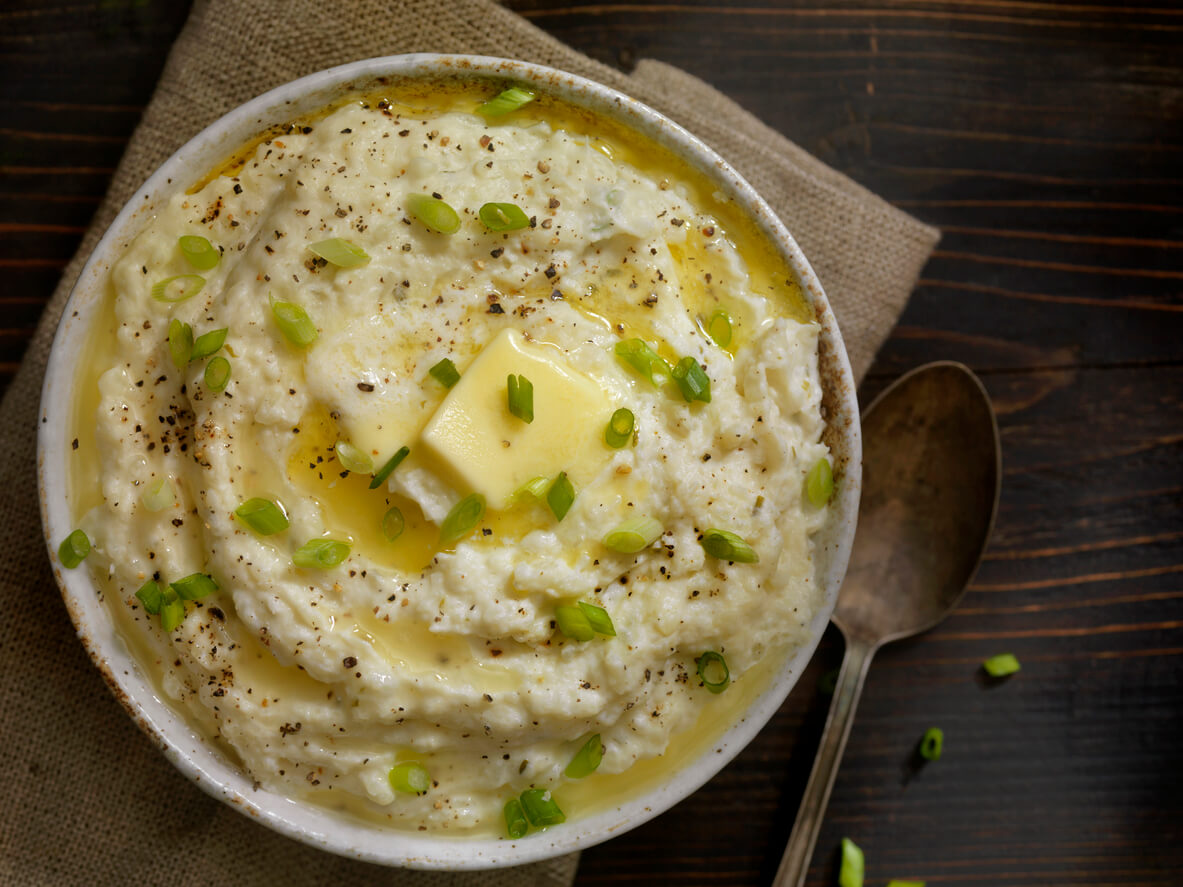 As for our next side, if there was any good reason to get an electric pressure cooker, it's these Awesome Instant Mashed Potatoes. Yes, you can boil your potatoes and make this same recipe, but with an electric pressure cooker you can make epic mashed potatoes in about five minutes worth of work. Let's do it.
In your electric pressure cooker, add five pounds of Yukon Gold potatoes, sliced into rounds or quartered with the skins on, and enough water to totally cover them, along with 2 teaspoons of salt. Cook on manual high setting for 13 minutes, then use the manual release to let the steam out. When they're done, drain the potatoes, then add them back to the Instant Pot. Add 1 cup of butter, 1/2 cup sour cream, 1/2 cup freshly-grated Parmesan cheese, and a half cup of heavy cream. You can also add some fresh chives or parsley. Mash it or mix it up, then add salt and pepper to your liking and enjoy!
If you made the garlic confit, you can also add a couple of teaspoons of that too. Rawr!
Winter Salad with Apple Cider Vinaigrette Dressing
[See the full video and printable recipe card]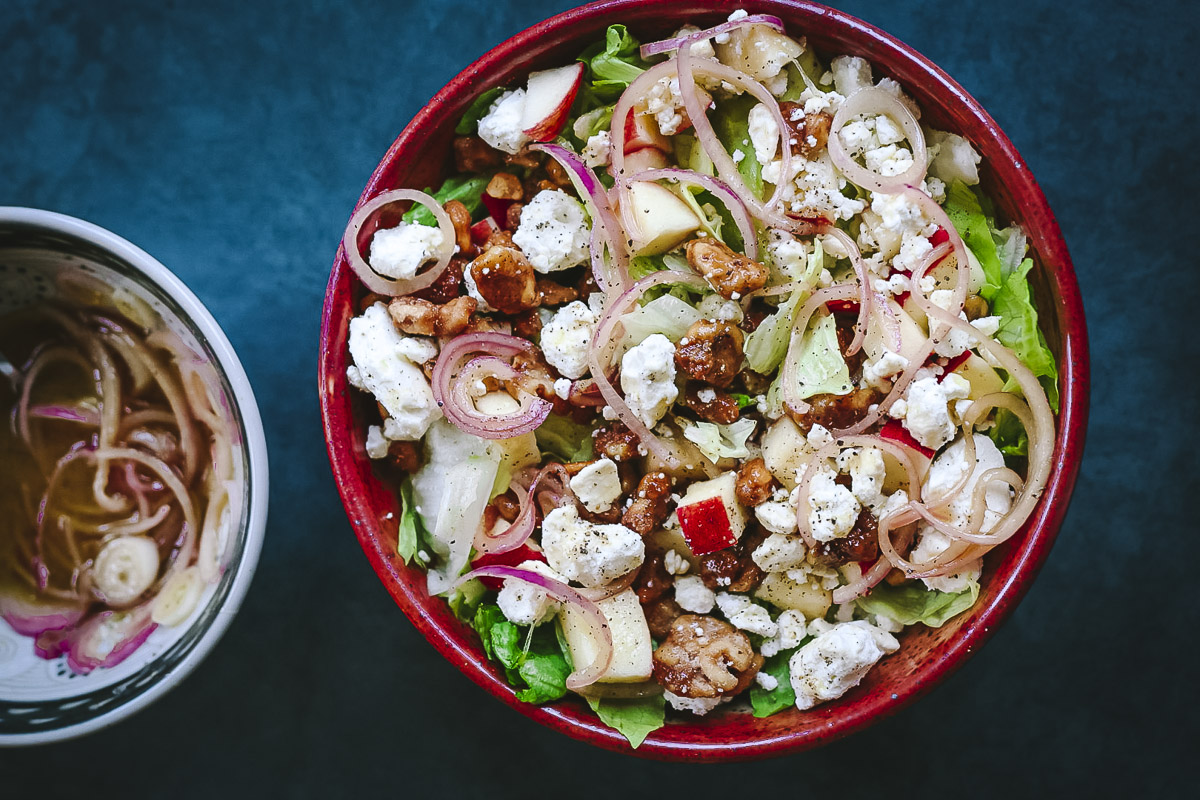 Now let's talk salad. You can prepare a simple but elegant winter salad with some leafy greens, candied nuts, goat cheese, and chopped apples—even some dried cranberries. The apple cider vinaigrette salad dressing is equally as elegant and seasonal, and you can absolutely make it ahead, so the flavors really meld.
To make the dressing, get a small mason jar and lid. Slice half a shallot into thin rounds and add it to the mason jar with 4 tablespoons apple cider vinegar, then let it sit for 20 minutes. This is called macerating the shallots and it's going to take the punch out of the shallot. Next, add 2 teaspoons dijon mustard, 2 teaspoons honey, 1/2 cup olive oil, 1 teaspoon lemon, a pinch or two of salt, and a crank of fresh pepper. Close the lid and shake the dressing. 
You can add a little more salt to suit your taste preferences. Also, if you want it a little sweeter, add some maple syrup. I usually do! Now your dressing is ready to go, and you can toss it with your salad when it's serving time, dress it with your favorite fixings, and serve.
Maple Sage Baked Pear
[See the full video and printable recipe card]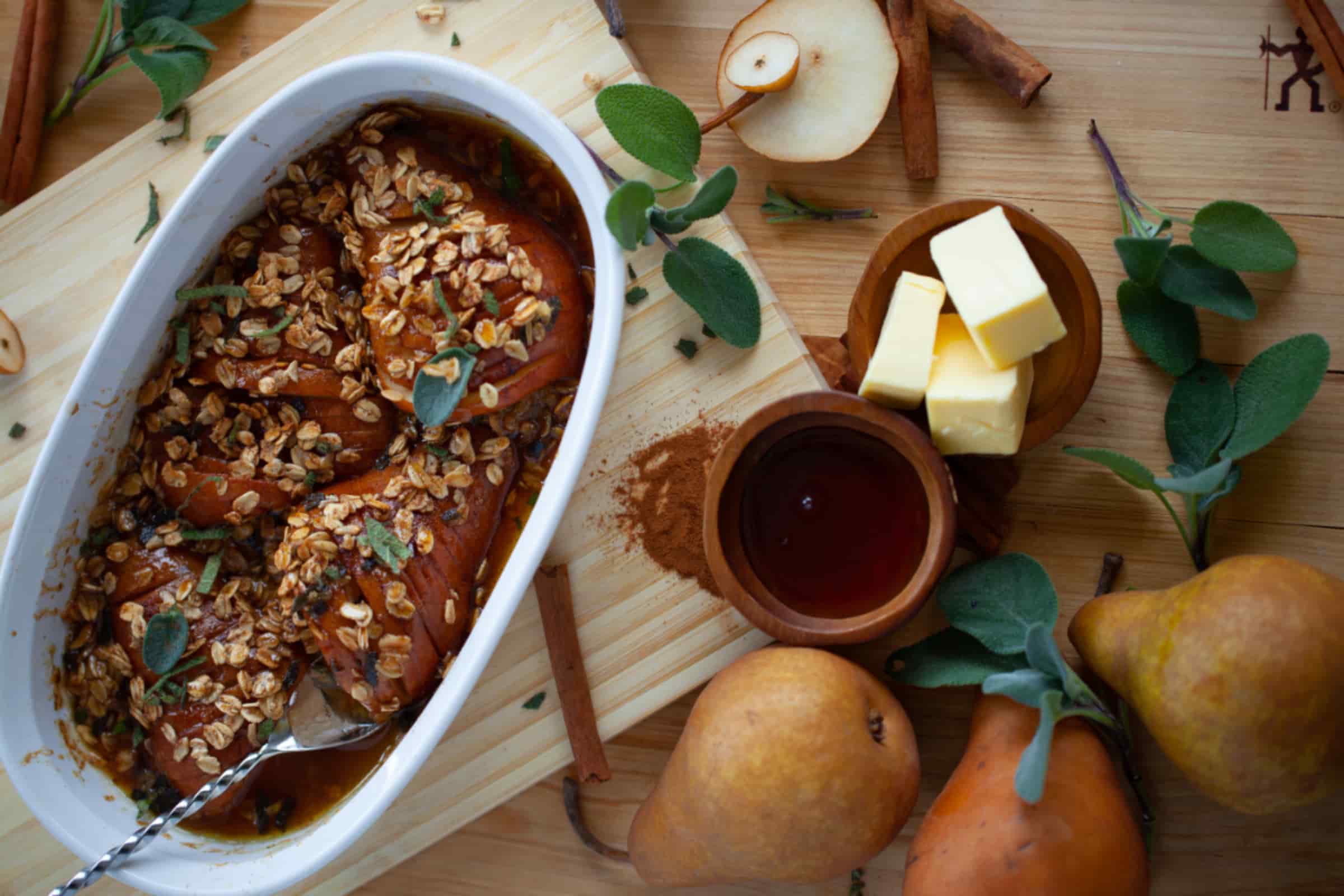 Making our way to dessert, we'll make the most delectable Maple Sage Baked Pears. This recipe makes enough for four people, and you can easily scale up to accommodate more people at half a pear per person. It's quite the light and sweet finishing touch on such a big meal, if I do say so myself! Start by preheating your oven to 350 degrees F.
To make the Maple Sage Baked Pears, you'll take two pears, sliced lengthwise and cored. Then you'll hasselback the pear halves by placing them flat-side down, and using a knife to make a series of thin slices on the top to create an accordion effect. Place the sliced pears in your baking dish and set aside. In a small skillet over medium-low heat, add 3 tablespoons of butter and a finely chopped leaf of sage, and cook for about three minutes until the butter begins to bubble, and then begins to brown. Quickly pour in 3 tablespoons of maple syrup, and mix for about 30 seconds before pouring over the pears. At this point don't worry if the mixture doesn't get into your slices. As the pears soften, you can ladle it over the top. Sprinkle a pinch of cinnamon over each pear half, then sprinkle some granola evenly over the whole thing. Bake for 20 minutes, then ladle the butter mixture that's at the bottom of your dish over the top. At this point, the pears may be softer, and you can get the mixture in between all the tiny slices a little more easily. Bake for an additional 20 minutes, or more if needed, to get to a soft, spoonable texture. Ladle the maple butter over the top one more time, and serve alone or with a scoop of vanilla ice cream, and enjoy!
Now that's what I call dessert!
Apple Cider Caramel Cocktail
[See the full printable recipe card]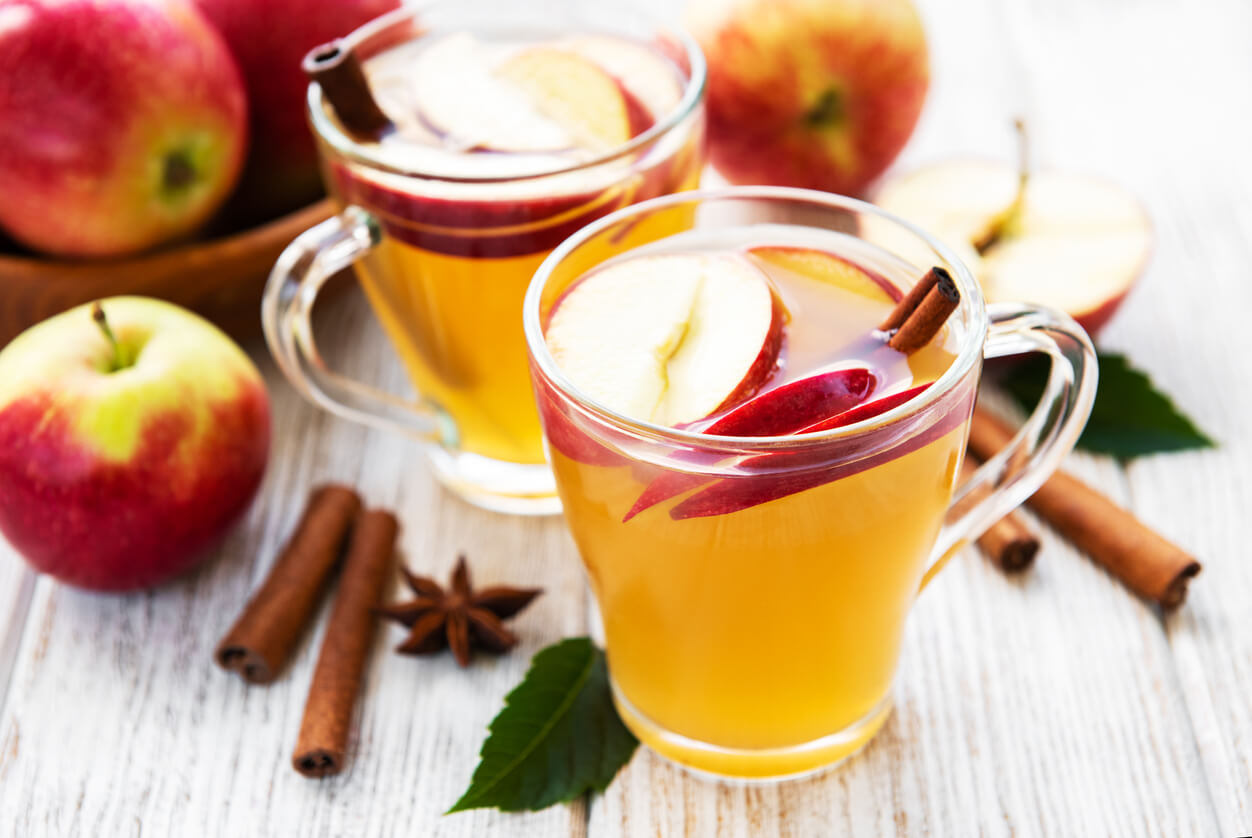 And for my final trick, let's talk about cocktails. When it comes to the holidays, I like my drinks warm, smooth, and easy to serve. So we're going with a warm Apple Cider Caramel Cocktail that's not only going to taste great, it's going to make your house smell delicious too.
In a slow cooker (yes, you'll need two for today!), add a gallon of apple cider, along with a stick of unsalted butter, 1/2 cup maple syrup, 1 teaspoon of cinnamon, 1 teaspoon of nutmeg, 1/4 teaspoon ground cloves, and a pinch of salt. Cook on high until hot, then leave on low or warm setting for the rest of the night, letting everyone ladle cups for themselves. Set a bottle of rum next to the slow cooker with a shot glass, which the guests can add at their discretion (wink wink).
Now, pat yourself on the back, and if you haven't already, take that bird out of the oven!