Candied Lemonade Cake Bread Recipe
Our moist Lemonade Cake recipe topped with a sweet Candied Meyer Lemon Glaze is perfect for breakfast, dessert, and special occasions.
Citrus is such a joy of a fruit. Delightful to drink, and even more fun to bake with. I use a microplane to zest my lemons and I add the zest to everything from sautéed peas with garlic, to custards and sweets. Today we're going to use the juice and zest of a Meyer lemon or a regular lemon to make this delicious, dense, and moist Lemonade Cake Bread, which is also a nice gift at holidays and for Mother's Day. Meyer lemons are typically orange in color, and slightly sweet in flavor—after all, they're an orange-lemon hybrid! That's why they make the most delicious glaze we're using on this cake.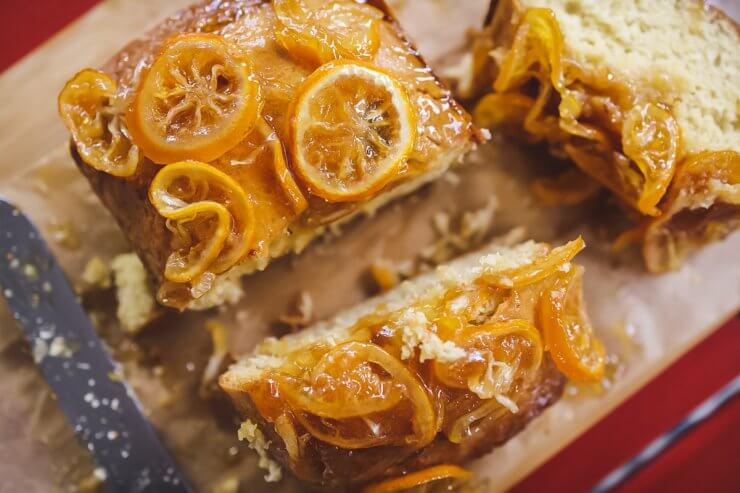 But wait, is it a cake, or it it a bread? It's both! It has the sweetness of a cake, but is formed like bread and slices quite nice in loaf form. However if you simply want to make a Lemonade Cake, just use a 9″ springform pan. And if you accidentally used up all your Meyer lemons for the glaze, it's totally fine, because they're required for that recipe. You can just use a regular lemon instead for the bread if you need to, that's what happened to me when we shot the video and it turned out totally fine!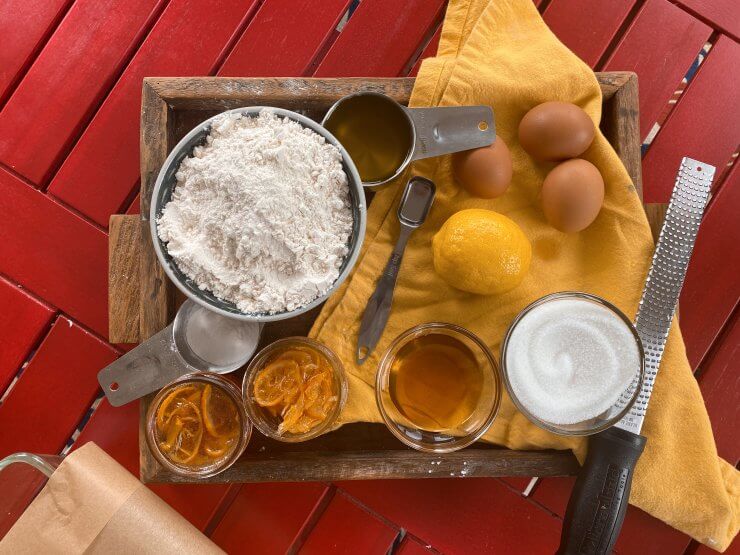 I love this Lemonade Cake Bread recipe because it's dense and moist. I've made it quite a few different ways. I do a lot of ketogenic cooking and have been cooking with almond flour for over a decade, so I tried to include it in the recipe not just to cut down on flour, but also to give it a nice moist consistency. But frankly, it was too crumbly. I tried adding poppyseeds to make it more of a poppyseed bread, but they were too distracting. I do love using olive oil in this recipe, it makes it extra rich and moist. And when I used the syrup from our Candied Meyer Lemons recipe, it came out perfect and ultra lemony!
A Few Tips for Making Candied Lemonade Cake Bread
Before starting the recipe, make our Candied Meyer Lemons recipe. You'll reserve the liquid instead of tossing it like the recipe says, and use it as the glaze at the end and also in the cake batter. Candied Meyer lemons have all the flavor of lemon with none of the tartness. They're sweet, flavorful, and wonderfully chewy! In fact, after being candied, it tastes and even looks a bit like orange marmalade since Meyer lemons are both orange and slightly sweet.
Print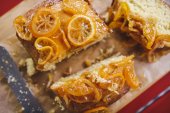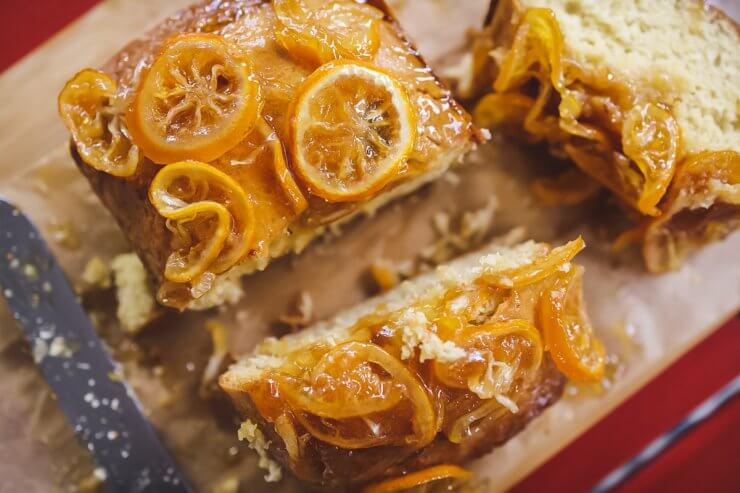 Candied Lemonade Cake Bread Recipe
Make our sweet Candied Meyer Lemons ahead of time to dress this moist, dense Lemonade Cake Bread, perfect for breakfast, dessert, and special occasions. If you don't have Meyer lemons for the cake, you can use regular lemons, but Meyer lemons are necessary for the glaze.
Author:
Prep Time:

1 hour

Cook Time:

45 minutes

Total Time:

1 hour 45 minutes

Yield:

8

slices

1

x
Category:

Bakery
Ingredients
Candied Meyer Lemons recipe with syrup reserved –  if not making the topping, use 1/4 cup honey.

3

room-temp eggs

3/4 cup

granulated sugar

2 cups

sifted unbleached flour

2 1/2 tsp

baking powder

1/2 cup

extra-virgin olive oil

1

Meyer lemon (or regular lemon), halved, seeds removed, zested

1 tsp

lemon extract (

1 tbsp

if using honey)
Instructions
Make the Candied Meyer Lemons recipe

in advance or just before and reserve the liquid with the oranges (it simmers for 1 hour – you'll know it's done when the lemons are transparent and the syrup becomes frothy).

Preheat oven to 350 degrees F. Grease a 5×9″ loaf pan, and then use a slip of parchment paper on the bottom and sides that will help you easily lift it out of the pan after.
Prepare the lemon by cutting it in half, removing seeds, and using a microplane or cheese grater to remove the zest.
In a bowl, beat together the sugar and eggs until light and fluffy, then add half the Candied Meyer Lemons

 syrup (about 1/4 cup – if you have more that's fine just use 1/4 cup in the cake and the rest on top later) and mix again until well blended.

Mix together your flour and baking powder, then slowly mix into the egg with a spatula (it will be tempting to use a hand blender, but you don't want the batter to get gummy), and when that's mixed, add your olive oil slowly. Add juice from lemon (about 3 tbsp), zest, and lemon extract, mix again and you're done.
Pour into your prepared loaf pan. Bake for 45 minutes, and test with a toothpick to make sure it comes back clean.
Let cool for 15 minutes, then poke holes in the top of the cake and drizzle with your candied lemons and syrup. Enjoy!
Notes
You can also make in a 9″ springform cake pan.
Grow Your Own Lemons for Lemonade Cake
You can grow lemons anywhere you have ample light. Outside zones 8-11, it's best to grow lemon trees in containers so you can bring them inside before the first frost. There are many cold-hardy lemon tree varieties, but they won't last through a snowy winter outdoors. There are dwarf varieties available, so they won't take over your space. Lemon trees have a heavy producing period, but they also produce some fruit pretty much year-round. To learn more about growing your own lemon tree, visit our Lemon Gardening Guide.
Will you make this Candied Lemonade Cake Bread recipe? Let me know what you think!