Herby Green Goddess Dressing
Put your herb garden to good use with this absolutely delicious herby Green Goddess Dressing!
I love Green Goddess dressing. It's my absolute favorite, and no matter how many other dressings I try, I always come back to it.
I first discovered Green Goddess at a dinner party. I had never heard of it before, but as soon as I tasted it, I was hooked. The creamy, tangy flavor combined with just the right amount of herbs made my taste buds dance.
From that moment on, I was determined to make the perfect Green Goddess dressing myself. I researched recipes, experimented with different herbs and ingredients, and even asked my friends for their secret recipes. But no matter how hard I tried, I just couldn't seem to get it right.
Then, one day, I decided to take matters into my own hands. I took to my herb garden and threw together many different bundles of herbs, parsley, chives, tarragon, basil, oregano, dill, and everything in between. I washed them, chopped them up into tiny pieces, and mixed them together with mayonnaise, sour cream, lemon juice, garlic, and a splash of tamari.
There were many variations, for sure. But on that final day, as I tasted the dressing, I knew I had finally done it. I had created the perfect Green Goddess dressing – creamy, tangy, and bursting with flavor. I used it on everything – salads, sandwiches, even as a dip for my vegetables.
For me, Green Goddess dressing is more than just a condiment. It's a symbol of my love for food, my passion for cooking, and my determination to never give up. Whenever I taste it, I'm reminded of the joy that can come from creating something truly delicious.
Years have gone by, and I still make Green Goddess dressing all the time. I share it with my friends and family, who all agree that it's the best dressing they've ever tasted. And whenever I eat it, I feel a sense of pride and accomplishment, knowing that I finally found my perfect recipe.
Now, I know the traditional recipe calls for tarragon, but that's a bit too intense for my taste buds. Instead, I use extra basil, which has a similar anise flavor. And forget about anchovies or anchovy paste, no thank you! I opt for tamari, a gluten-free soy sauce substitute that adds that savory umami flavor.
Sure, you can find it in the supermarket, but where's the fun in that? Making it fresh with herbs from your garden is the way to go. If you're anything like me, you have an herb garden bursting with parsley, basil, and chives, just begging to be made into this dressing.
So, sayonara Ranch and helloooo Green Goddess Dressing!  This dressing was named after a play, but it's been around for so long, it probably knows Moses. Rumor has it that Louis XIII's personal chef created it in France, where he served it with eel. Fancy, right?
But don't worry, you don't need a fancy occasion to enjoy this creamy dressing. You just need a bundle of fresh herbs and some kitchen magic. It's like a fragrant and tantalizing dream come true!
Print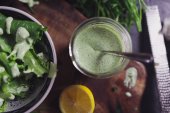 Green Goddess Dressing
Herb gardeners rejoice for this creamy Green Goddess Dressing that uses heaps of fresh parsley, basil, and chives.
Author:
Prep Time:

5 minutes

Total Time:

5 minutes

Yield:

Serves 4

Category:

Salads & Dressings
Ingredients
1/2 cup

mayo

1/2 cup

sour cream
Zest from

1

lemon and 1 1/2 tablespoons lemon juice

1 cup

fresh parsley

3/4 cup

fresh basil

1/4 cup

fresh chives

1 teaspoon

tamari/soy sauce/Worcestershire sauce

1

clove garlic, grated

1/4 teaspoon

salt (adjust to your taste)

1/4 teaspoon

freshly ground black pepper
Instructions
Blend on high for 30 seconds to a minute and serve right away. If you refrigerate, let sit out for an hour to loosen up. Serve over a spring lettuce mix or Bibb lettuce.
If you try this Green Goddess Dressing recipe, let me know what you think!