When I was a kid, we always had the classic home-cooked cranberry sauce with our Thanksgiving turkey. It was often my job to watch over the simmering pot, listening for the last cranberry to pop so we could give the sauce a good stir.
OK, there was that one time we had no fresh cranberries and we had to use the "sauce" from a can. As a kid, I thought it was great—a weird sort of jello to go with our turkey. But most years, we had a big bowl of freshly simmered cranberries. That sauce was great on turkey—and on ice cream, too!
Then, one year, a member of our extended family joined us for Thanksgiving and changed the menu forever. She brought her own homemade Cranberry Relish.
I will admit to being a little skeptical, because—as a kid—relish was for hot dogs! And this relish wasn't a sauce. It was more like a side salad—raw, cold, and very, very red.
Well, it was Thanksgiving—a time to show some gratitude. So I gave it a try.
Wow! What a wonderful surprise! It was zingy, tangy, crisp, and crunchy, with a touch of sweetness. Totally unexpected, and totally delicious!
There are some great benefits to making Cranberry Relish. For one thing, it's one less menu item demanding time on the stove. And for another, you can make a day—or even a week!—ahead of your big dinner. Take a little stress off yourself and add some new fresh flavor to the dinner table. You'll be glad you did!
I still love the familiar old cooked cranberry sauce. But in less than the time it takes me to heat the water and cook the cranberries for the classic sauce, I can have a fresh batch of Cranberry Relish ready for the table. Why not have both?
Print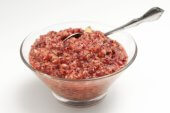 Cranberry Relish
Cranberry Relish is a delicious alternative to or partner with the traditional cooked cranberry sauce. Consider making this relish as a second cranberry condiment. The fresh taste adds a real zing to turkey and more!
Author:
Prep Time:

10 minutes

Total Time:

10 minutes

Yield:

20

minutes

1

x
Category:

Sides & Sauces
Ingredients
1

pound fresh cranberries

1

seedless orange, washed, sliced, with peel on

1

small apple, peeled and chopped

1/4 cup

nuts, optional (pecans, walnuts, macadamia, or hazelnuts)

1 cup

sugar

2 tablespoons

orange juice
Instructions
Add all ingredients to a food processor.
Pulse until all ingredients are coarsely chopped.
Serve fresh, or store in a sealed container in the fridge for up to a week.
Cranberries have a special place in the American palate. They seem to be most popular for cranberry sauce, cranberry juice cocktail, and cranberry muffins. But there's so much more to cranberries than that. If you'd like to learn more about growing your own cranberries, check out our Cranberries Gardening Guide: The Complete Guide to Growing, Cooking, and Eating Cranberries.
Have you tried this relish? What did you think? What kind of nuts did you use? Do you like this relish better than cooked cranberry sauce? Please let us know if you made any changes or have any suggestions by commenting below.