If you love the taste of a good cranberry sauce and wish you could savor that flavor all year, making a cranberry chutney is a way to take your cranberry flavor to the next level. With a little bit of time and the right equipment, you can have rich cranberry flavor on hand for Thanksgiving and beyond!
A word of caution about canning
If you plan to make this chutney the traditional way—with some shelf time for the flavors to mature—be sure you preserve it properly. See our home canning tips for guidelines on preparing and preserving food safely.
So what is it about chutney that makes it so appealing? Part of it is the amazing melding of flavors that you get. You have an almost endless array of choices for what to put in your chutney: fruits, vegetables, or maybe a combination of both. Add in the right selection of spices, and you have a delicious condiment or spread.
Chutney's roots go back to India; the name of the food comes from the Hindu word chatni. British explorers took samples of this flavorful condiment back home with them, where it was a hit. Chutney is now a popular preserve the world over.
You can make chutney that's sweet or sour, spicy or mild. And since all of your chutney ingredients are going to be chopped up and cooked down, those "ugly" fruits and vegetables from your garden are ideal candidates for chutney. As you wrap up your harvest for the season, if you find you have more than enough apples or rhubarb, consider making a chutney. It's one of the tastiest ways to recycle!
This recipe calls for distilled white malt vinegar. This particular vinegar is made with barley and has a sweeter flavor than standard white vinegar. If you can't find it, you can use regular white vinegar or wine vinegar; your chutney will just be missing a little sweetness. Either way, vinegar is an essential ingredient to this recipe, as it serves as a preservative. Make sure whatever vinegar you use has an acidic content of at least 5 percent.
Chutney's flavor improves with age. Can you just make this recipe and serve it? Sure. But you'll get better flavor if you let the flavors mingle for a while. How long? Some folks say at least four weeks. Others say at least three months.
Print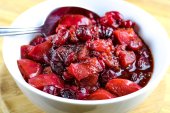 Cranberry Chutney
Our Cranberry Chutney is a sort of transition between the traditional cooked cranberry sauce and a cranberry relish. Serve it as a condiment with dinner, or as a spread on a cheese plate with fancy crackers.
Author:
Prep Time:

40 minutes

Cook Time:

2 hours

Total Time:

2 hours 40 minutes

Yield:

varies

Category:

Sides & Sauces
Ingredients
1 ounce

(

2 tablespoons

) butter

12 ounces

Vidalia onion, chopped

1

pound apples, peeled and chopped

1 teaspoon

allspice

12 ounces

cranberries, fresh or frozen (If you use frozen, measure them while they're frozen. Do not thaw.)

1

pound brown sugar (light or dark; your preference)

15 ounces

distilled white malt vinegar (If you use regular white vinegar, the chutney will not be as sweet.)
Instructions
Melt butter in a large saucepan. Sauté onion and apple for about 20 minutes.
Add allspice as onion and apple soften.
Add cranberries, sugar, and vinegar.
Stir constantly until sugar is completely dissolved.
Reduce the heat and simmer, uncovered, for 2 hours. Stir occasionally.
Pour into sterilized jars and seal.
Store chutney in a cool, dark place for about 4 weeks to allow the flavors to fully blend.
Once you open a jar, store it in the fridge and use it within a month.
Cranberries have a special place in the American palate. They seem to be most popular for cranberry sauce, cranberry juice cocktail, and cranberry muffins. But there's so much more to cranberries than that. If you'd like to learn more about growing your own cranberries, check out our Cranberries Gardening Guide: The Complete Guide to Growing, Cooking, and Eating Cranberries.
Have you made chutney before? The flavor of this chutney should improve with age. Please tell us how it turned out for you by commenting below.