For as long as I can remember, certain members of my family have made a colorful, creamy, and rather decadent fruit salad called ambrosia. Ambrosia is packed with fruit and more: mandarin oranges, crushed pineapple, maraschino cherries, and chopped nuts. Add to that flavored mini marshmallows, whipped cream (or frozen whipped topping), plus vanilla pudding (or yogurt), and you have an American side dish/dessert staple that's been on the picnic menu for decades.
Well, we're not going that far back on the timeline, and we're going to keep things simple, sweet, and just a little decadent. Our Cranberry Cloud recipe gives you a great opportunity to serve cranberries in a way that goes beyond muffins and cooked sauce.
The secret to cooking with cranberries is to find something sweet to offset the cranberry's natural tartness. It might be sugar, sweeter fruit, or a combination. Our recipe uses apples and grapes (or gooseberries) as partner fruit, a little bit of sugar, a whole lot of mini marshmallows, plus whipped cream, to create a fresh take on an old-time favorite dessert.
Don't worry about precision here. Find a balance that works for you. Want things a little more on the tart and tangy side? Use Granny Smith apples. Want some extra sweet in your crunchiness? Try Gala apples. Feeling adventurous? Use several different types of apples.
The key thing is to let the cranberries, cream, and sugar spend some quality time in the fridge, where the flavors will have a chance to blend and the sugar can help mellow out the cranberries a bit.
This dish leaves plenty of room for improvisation and experimentation. Combine some of your favorite fruits with the sweet, creamy, marshmallowy base and see what works for you.
Give this recipe a try—we bet it will become a favorite.
Print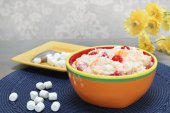 Cranberry Cloud
Looking for a sweet-tart, nostalgic dessert? Look no farther than our sweet and tangy Cranberry Cloud. Sweet mini marshmallows balance out the tartness of the cranberries. For best flavor, make this dessert a day ahead.
Author:
Prep Time:

30 minutes

Chill Time:

12 hours

Total Time:

12 hours 30 minutes

Yield: Serves

1

0

1

x
Category:

Desserts
Ingredients
4 cups

fresh or frozen cranberries (If you use frozen, measure them while they're frozen. Do not thaw.)

3 cups

mini marshmallows

3/4 cups

sugar

2 cups

diced apples, unpeeled

1/2 cup

gooseberries or grapes

1/2 cup

pecans or walnuts (optional)

1/4 teaspoon

salt

1 cup

heavy whipping cream, whipped
Instructions
Put the cranberries in a food processor. Process until the cranberries are finely chopped.
Put the chopped cranberries into a large glass bowl.
Add the sugar and marshmallows. Stir to mix thoroughly.
Cover the bowl and refrigerate overnight.
Shortly before you're ready to serve dessert, stir in the chopped apples, grapes (or gooseberries), salt, and optional nuts. Stir to mix.
Whip the cream and fold it into the fruit mixture.
Serve immediately.
Cranberries have a special place in the American palate. They seem to be most popular for cranberry sauce, cranberry juice cocktail, and cranberry muffins. But there's so much more to cranberries than that. If you'd like to learn more about growing your own cranberries, check out our Cranberries Gardening Guide: The Complete Guide to Growing, Cooking, and Eating Cranberries.
Have you tried this recipe? It's a fun dessert that's full of flavor. Let us know how it turned out for you by commenting below!