Ah, Brussels sprouts: love them or hate them. A lot of us grew up with boiled, mushy masses of green on their dinner plates and developed a definitive aversion to Brussels sprouts. Even as they grow in popularity, Brussels sprouts still remain the most hated vegetable in the United States.
But Brussels sprouts are getting a bad rap. I can hear some of you rolling your eyes, but it's true! Today's Brussels sprouts are different. The Brussels sprouts of yesteryear were packed with a naturally occurring chemical compound that delivered a bitter flavor. But Dutch scientists developed mellower cultivars with more taste and less aftertaste. Our Cranberry Brussels Sprouts dish provides plenty of delicious flavor all around.
One of the secrets to a successful side dish is balance. Your dish should use texture, flavor, and appearance to create a harmonious balance with whatever else you're serving. Likewise, each dish should have its own balance: flavor, color, texture. You definitely get that with our Cranberry Brussels Sprouts. Modern Brussels sprouts have a much sweeter flavor profile than their ancestors, so the tangy tartness of the cranberries is a perfect complement to the savory flavor of the roasted sprouts.
The balsamic vinegar and sugar work together to create a sweet, dark flavor that helps pull all the elements together.
So, if you already love Brussels sprouts, you're going to love this dish. If you're still on the fence or in the camp of "no way I'm eating those," you really should give them a try. You're going to love the way this rich and flavorful cranberry vinaigrette enhances the flavor of this dish.
Print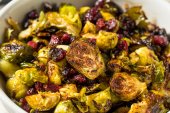 Cranberry Brussels Sprouts
Roasted Brussels sprouts are delicious. They're even tastier when you top them with a balsamic cranberry glaze. You won't want to wait for a special occasion to serve Cranberry Brussels Sprouts!
Author:
Prep Time:

20 minutes

Cook Time:

30 minutes

Total Time:

50 minutes

Yield:

1

6

1

x
Category:

Sides & Sauces
Ingredients
3

pounds Brussels sprouts, cleaned & trimmed

1/2 cup

olive oil
Salt and pepper to taste

1 cup

balsamic vinegar

1/2 cup

sugar

1 cup

dried cranberries
Instructions
Preheat oven to 375 degrees F.
Line two baking sheets with parchment paper.
Clean and trim the Brussels sprouts. You can cut them in half or leave them whole, depending on your preference and the size of the sprouts. All pieces should be roughly the same size for even cooking.
In a large bowl, toss the Brussels sprouts with the olive oil.
Spread the Brussels sprouts on the baking sheets, cut side down (if they're not whole).
Sprinkle with salt and pepper. (Salt greatly enhances the flavor of the Brussels sprouts).
Roast Brussels sprouts for 25 to 30 minutes, until brown and slightly crispy.
While the Brussels sprouts are roasting:
Prepare the sauce by combining the sugar and balsamic vinegar in a saucepan.
Bring the mixture to a boil; reduce heat to medium-low.
Stir occasionally.
Reduce the mixture until it is very thick; this should take 15 to 20 minutes.
When the sauce is ready, add the dried cranberries.
Pour sauce over roasted Brussels sprouts and serve immediately.
Cranberries have a special place in the American palate. They seem to be most popular for cranberry sauce, cranberry juice cocktail, and cranberry muffins. But there's so much more to cranberries than that. If you'd like to learn more about growing your own cranberries, check out our Cranberries Gardening Guide: The Complete Guide to Growing, Cooking, and Eating Cranberries.
Have you made Cranberry Brussels Sprouts? Do you roast them whole or cut them in half? Please let us know by commenting below!