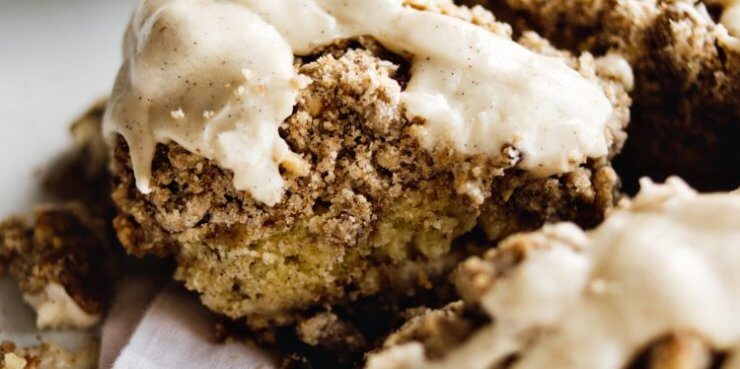 I could be wrong, but it seems like coffee cake is one of those overlooked breakfast classics. You just don't seem to find it as often as you once could. That's unfortunate. A warm apple-cinnamon filling with a crunchy walnut topping makes for a breakfast that should jumped right out of the pages of a lifestyle magazine.
This particular apple cinnamon coffee cake recipe has a little bit of everything. There's your cinnamon streusel crumb, with cardamom, nutmeg, and vanilla. You have your cake, with chopped apple. And there's the brown butter glaze. By the way, the trick to a delicious brown butter is to slowly heat the butter until the solids separate and turn brown. It takes a little bit, but you'll know it when it happens. It's really a beautiful thing.
Like so many similar recipes, this one's easy to adjust to your taste, too. Personally, I love this with pecans rather than walnuts. I know apple and walnut are a good combo – nothing against that at all. For that matter, some people prefer their coffee cake without nuts of any kind.
The type of apple you use can make a difference in the flavor, too. For example, a Cortland, Early Victoria, or Granny Smith apple will bring more tart flavors to the recipe, while a Macoun, McIntosh, or Jonagold will give you a sweeter flavor profile. Whichever you choose, once your coffee cake is ready, pair it with – what else – a hot cup of fresh coffee for an idyllic start to your day.
And if you want to check out more apple recipes, learn about some different types of apples, or even grow your own apple tree in the back yard, check out the Audacious Apples Collection. 
Print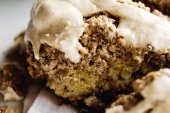 Apple Cinnamon Coffee Cake
The only thing that can make coffee cake more appetizing is to add in a touch of apple. So let's dive into this apple cinnamon coffee cake.
Author:
Prep Time:

20 minutes

Cook Time:

40 minutes

Total Time:

1 hour

Yield:

Serves 8

Category:

Bakery
Ingredients
Cinnamon Streusel Crumb

1 1/2 cups

all-purpose flour

1/2 cup

chopped walnuts

1/2 cup

packed dark brown sugar

1/4 cup

granulated sugar

1 teaspoon

ground cinnamon

1/2 teaspoon

kosher salt

1/4 teaspoon

ground cardamom

1/4 teaspoon

ground nutmeg

1/2 cup

(

1

stick) unsalted butter, melted

1/2 teaspoon

vanilla bean paste or vanilla extract

Cake

1/4 cup

(

1/2

stick) unsalted butter, softened

1/2 cup

sugar

1

large egg

1/2 cup

sour cream

1 teaspoon

vanilla bean paste or vanilla extract

1 cup

all-purpose flour

1/2 teaspoon

baking powder

1/4 teaspoon

baking soda

1/4 teaspoon

salt

1

large apple, peeled, cored, and chopped

Brown Butter Glaze

3 tablespoons

unsalted butter

1 cup

confectioners' sugar

2 teaspoons

vanilla bean paste or vanilla extract

2 tablespoons

heavy cream
Instructions
Preheat the oven to 350 degrees F. Grease an 8-inch springform pan. Line the pan with parchment paper and lightly grease.
For the cinnamon streusel crumb: Mix the flour, walnuts, brown sugar, sugar, cinnamon, salt, cardamom, and nutmeg in a medium bowl. Add the melted butter and vanilla and toss.
For the cake: Using a hand mixer or a stand mixer fitted with the paddle attachment, beat the butter with the sugar on medium speed until fluffy. Add the egg and mix well. Add the sour cream and vanilla and mix well. In a medium bowl, whisk together the flour, baking powder, baking soda, and salt. Reduce the speed to low. Add the flour mixture to the butter mixture and beat until combined.
Spread half of the batter in the bottom of the pan. Sprinkle the chopped apple over the batter. Sprinkle 1 cup of the cinnamon streusel over the apple. Spread the remaining batter over the crumbs, then add the rest of the cinnamon streusel.
Bake for 35 to 40 minutes or until a toothpick inserted in the center of the cake comes out clean. Let the cake cool in the pan for 10 to 15 minutes, then remove the ring from the sides and let it cool completely. Transfer to a serving plate.
For the brown butter glaze: Heat the butter in a small saucepan, stirring continuously, until the butter begins to brown, being careful not to let it burn. Transfer to a small bowl. Whisk in the confectioners' sugar and vanilla, then the cream. Drizzle over the crumb cake. Slice and serve.
Your thoughts? What do you enjoy in a coffee cake recipe?