Okra is more than delicious, it's packed with nutrients but low in calories. It's an excellent source of vitamin C, which contributes to your immune system health as well as healthy skin. It also has a healthy dose of vitamin K, which plays a role in blood clotting.
Okra is low in carbohydrates, low in calories, and actually provides a couple grams of protein—a bonus, since most fruits and veggies aren't known for their protein content. And not only is okra cholesterol-free—it may actually help reduce cholesterol levels in the body.
Here is the nutrition information for 1 cup of okra: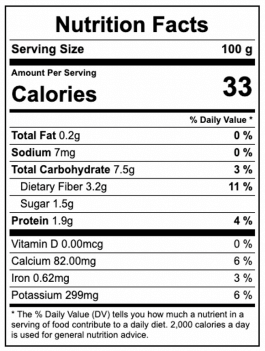 The carbohydrates in that 1 cup of okra are just 1.5 grams of sugar and 3.2 grams of dietary fiber, with the rest being complex carbohydrates. Okra has no saturated fat or cholesterol.
Here are some of the compounds in okra:
Vitamin C: The vitamin C in okra is an antioxidant that contributes to a healthy immune system and healthy skin.
Manganese: This trace element is important for many processes in the human body. One serving of okra provides 34% of your recommended daily value (DV) of manganese.
Magnesium: Essential for good cell health, one serving of okra provides your body with 14% of the DV.
Folate (vitamin B9): This is important for normal tissue growth and cell function and is essential for pregnant women and older adults.
Antioxidants: Okra contains polyphenols, including isoquercetin and flavonoids, which research shows can improve heart health.
Did you know all these nutrition facts about okra? Please tell us what you think.