Not gonna lie here. I love getting and giving homemade spice mixes for gifts. For the cook in your life, they're the perfect gift. A spice mix is thoughtful, and it shows that you spent time and energy making something that reflects you as a person and as a cook or gardener. 
And, yeah, there are about 73,226 spice mixes out there. You can find them at your major grocery stores, culinary retail chain stores, through mail order, and from that place that sends you catalogs full of packaged dry goods and cured meats even though you have no idea how you ended up on their mailing list. 
I'm not here to hate on those mixes. If you want to know a dirty little secret, I use some of them every now and then. They get the job done. But they don't hold a candle to giving out homemade spice mixes for gifts–even if those gifts are for yourself!
Now then, who's ready to get spicy?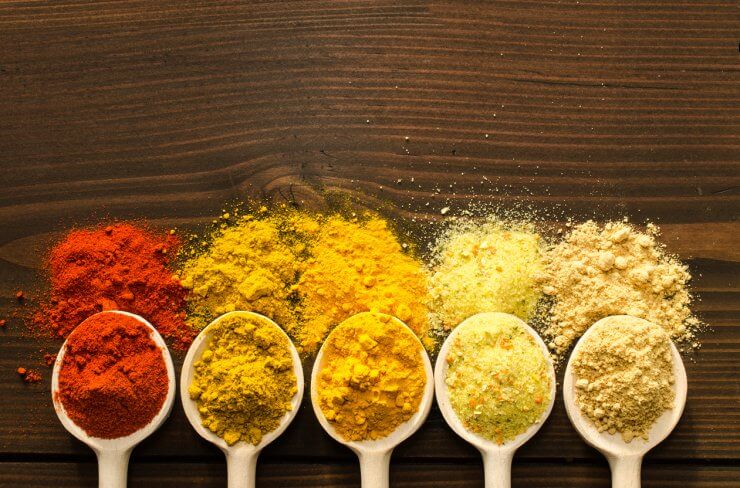 Making the best homemade spice mixes for gifts on any occasion
There are a few different ways to put together homemade spice mixes for gifts, and it's also important to consider the recipient of the gift. For example, your uncle in San Antonio may be fond of your super-hot pepper blend, but if you give that to your mild-mannered coworker who thinks bell peppers are too hot, he may think you're trying to get rid of him. 
However, spice mixes don't have to be spicy. There are plenty of spices with lots of depth and flavor without a hint of hotness. 
Whichever direction you go in, here are a few things to keep in mind to help you make homemade spice mixes for gifts that will be appreciated every time someone walks into the kitchen. 
Use the freshest possible spices.

 If you have your own spice garden, that's ideal, but don't worry if you don't. Spices can be a little more challenging to grow and harvest than herbs. It's perfectly fine if you need to buy spices to make your blends, just try to find them at your local farmers market or specialty food stores where they're more likely to be fresh.

Don't forget the herbs.

 Sure, we're talking primarily about spice blends here, but herb blends or herb and spice blends are just as wonderful a gift. Plus, for many people, there's only enough space for a balcony or indoor herb garden. 

Toast the spices for a more aromatic mix. 

You certainly don't need to toast your spices, but you can. 

Get inspiration from your favorite recipes.

 Here's another secret for creating spice mixes–check out your favorite recipes and see what herbs and spices are in them. Or check out the ingredients in some of the spice mixes you already know you like. 

Don't be afraid to experiment. 

Some spices can get overpowering if you use too much of them in a mix, like nutmeg, for example. But for the most part, especially when it comes to more savory blends, you have some room to play. A little extra paprika never hurts anything!

A little goes a long way. 

When you package up these homemade spice mixes for gifts, remember that you don't need large jars. In fact, your average container of spices from the grocery store is around 1.5 ounces. 

Label, label, label! 

Seriously. That extra hot chili powder and the mild chili powder look pretty much the same, so be sure to label each spice mix as you make and bottle it. 
There are limitless concoctions you can make here, but one rule of thumb I find helpful is, "when in doubt, leave it out." That's the thing with cooking; you can always add something in later, like salt or more pepper. But you can't take it out once it's mixed in. 
One more word of advice: start simply. Some of the best herb and spice mixes only have a few ingredients. Here are a few blends to get you started. 
Chili Powder Mix.

Don't make the mistake of thinking this is only good for chili. This mix works on all kinds of dishes, from roasted potatoes to a plate of scrambled eggs. Use freshly ground ancho peppers if you can; they have a wonderfully smoky and slightly sweet flavor. Mix equal parts cumin, garlic powder, onion powder, and dried oregano, then add the ground chili. Depending on how hot you want your chili powder and how hot the specific pepper you use is, you may add an equal part or up to a 4-to-1 ratio of chili to other ingredients. Add salt and pepper to taste. 

French Toast Blend.

Combine 1 tablespoon of cinnamon with 1 teaspoon of nutmeg. If you want a little zing, add a half teaspoon of ground ginger. Use this in your French toast batter or whisk it into heavy cream along with some sugar for homemade cinnamon whipped cream!

Italian Seasoning. Mix equal parts basil, oregano, rosemary, marjoram, thyme, and savory. Add half those amounts of garlic powder (for example, if you used 4 tablespoons of each ingredient, use 2 tablespoons of garlic powder).
All-Purpose Seasoning. In a blender or food processor, combine 2 tablespoons of garlic powder and onion powder, then 1 tablespoon each of salt, ground black pepper, and paprika. Then, 2 teaspoons each of dried thyme, oregano, and celery seeds.
Taco Seasoning. Combine 2 tablespoons chili powder with 4 teaspoons cumin; 2 teaspoons each of coriander and sea salt; 1 teaspoon each of onion powder, garlic powder, oregano, and smoked paprika; and finish with 1/2 teaspoon of freshly ground black pepper.
Do you have a favorite spice mix to share?