I love the feeling of my hands around a warm cup of herbal tea. I love the aroma, and I love the way a hot cup of tea reminds me to pause for a moment, take some deep breaths, and enjoy the world around me. Fellow tea drinkers, have I romanticized this too much, or just enough?
While I haven't gone full-on "Little House on the Prairie," I do take pride in being able to brew a cup of tea using the harvest from my indoor tea garden. I grow herbs at home because they are more potent than store-bought herbal tea blends, and of course, less expensive. But really, maybe it's just to say that I grew them myself. Maybe I'm just in it for the 'gram photos. I sure do love plucking fresh mint leaves though, they really do make the best tea!
Starting with just a few indoor plants, you too can be brewing a relaxing cup of herbal tea in no time! Here's how to grow herbs for tea in your kitchen. 

Plant Your Herbs
I recommend a sunny windowsill as the location for your indoor tea garden if you want to grow herbs for tea. A kitchen window is ideal for a seamless flowerpot to teapot experience. I love a mint tea, and you can use the leaves fresh. But my favorite (and easiest to grow) herb blend to grow is chamomile, lavender, and lemon balm. Alone these herbs are great but combine them and you'll make a delicious and calming tea blend. 
Be sure your pots have proper drainage and that your plants get at least six hours of sunlight. Follow the specific watering needs of each plant and watch as your herbs take off.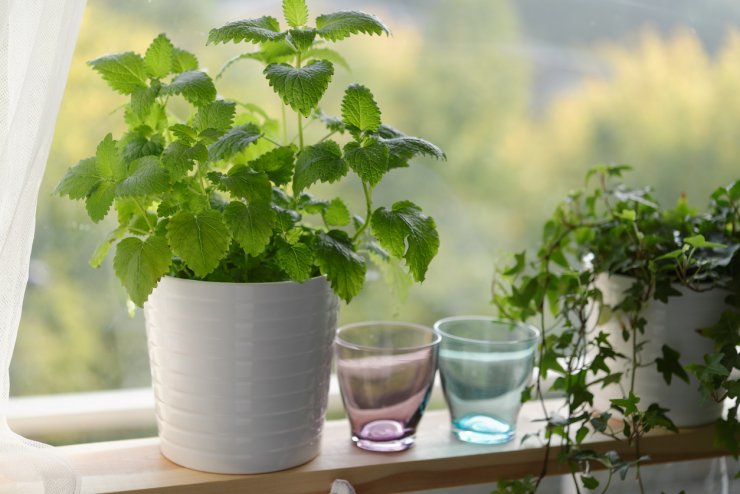 Harvest Time
With leafy herbs (mint, lemon balm, thyme), it's best to harvest leaves before the plant flowers. This prevents the leaves from tasting bitter. When it comes to flowering herbs (lavender, chamomile, rose), aim to harvest mid-bloom, before the flowers begin to droop. 
I like to use small, sharp, clean scissors for harvesting the leaves and flowers for my tea blends. A general rule is to harvest about 5% of the plant. By trimming your plant regularly, you are encouraging new growth. Once trimmed, rinse the herbs under tap water and dry gently with a paper towel.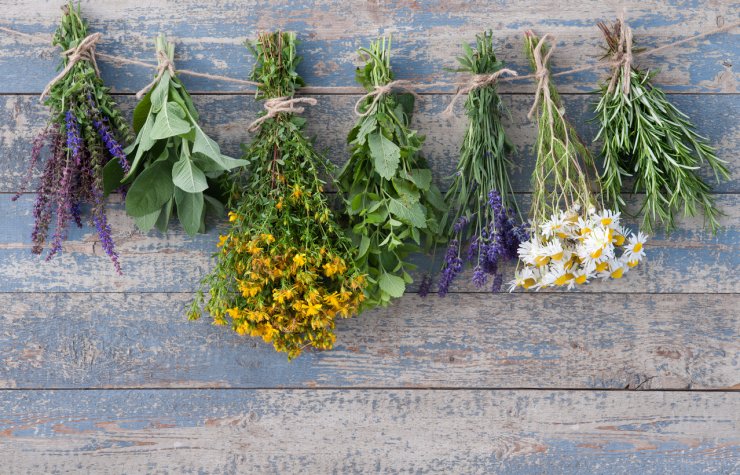 Dried or Fresh?
I like to experiment when growing herbs for tea, to decide which flavor combination I like best. I also like to try using them fresh as well as dried to note the differences. Many herbs like lemon balm, and mint, and even chamomile will yield a stronger or sweeter flavor if used fresh. I enjoy both fresh and dried versions of herbal tea and I highly recommend you test out both options. 
To dry your herbs, store them in a cool location with good airflow. I like to bundle my herbs and hang them upside down. Depending on your location, the dehydration process can take a couple of weeks. Once dried, strip leaves and flowers from stalks and stems and place them in glass, airtight containers.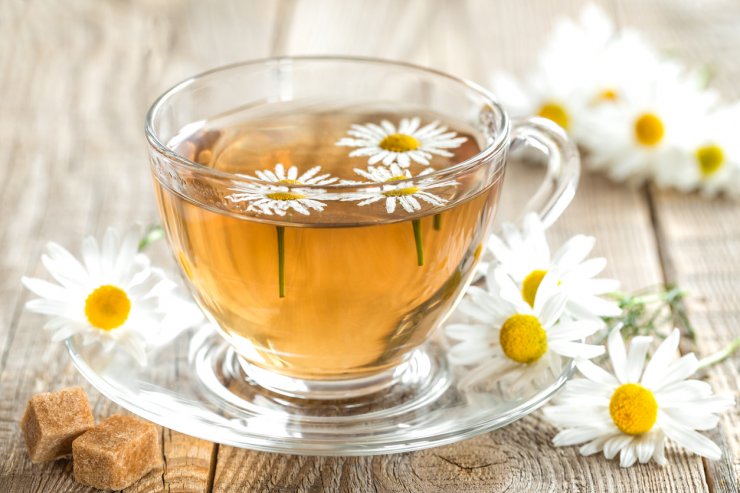 Steep and Enjoy!
Place desired dried herbs into your favorite tea infuser. I like to use one to two teaspoons of dried herbs or one to three tablespoons of fresh herbs per boiling cup of water. Let steep for at least five minutes and enjoy!
What is your favorite way to grow herbs for tea? I'd love to hear about your indoor tea gardens and any recommendations you have for growing herbs for tea in your kitchen.