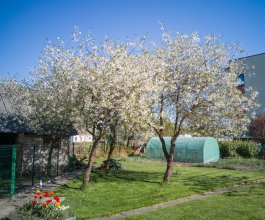 Flowering fruit trees have an enchanting beauty that captivates nature enthusiasts and admirers alike. Whether you possess an expert's knowledge of these magnificent trees or simply revel in their aesthetic appeal, it's worth taking a moment to celebrate and appreciate their splendor. As we delve into the realm of flowering fruit trees, let's explore a selection that blooms throughout the year, providing a perpetual spectacle of colors and fragrances. All fruit trees flower, but below I've chosen the 10 I personally think are the most beautiful; then we'll talk about the fruits of each season, which go beyond these 10. The fall is the perfect time for planting fruit trees, so start ordering now!
10 beautiful flowering fruit trees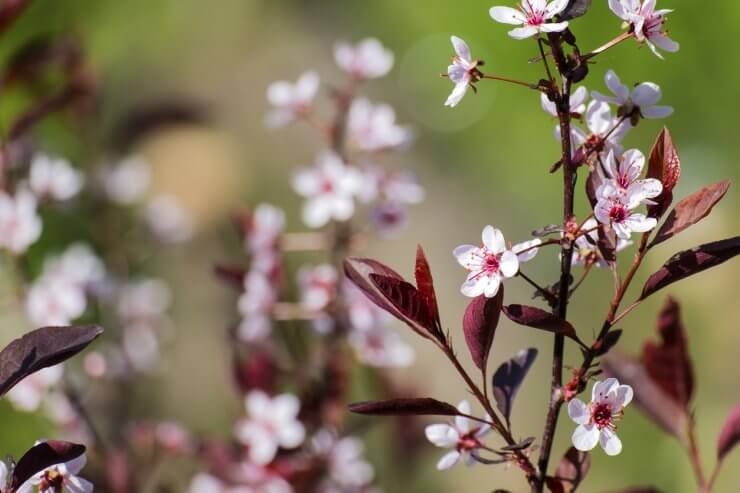 1. Plum tree
Plum trees, like their cherry tree counterparts, come in both ornamental and flowering fruit varieties. Those destined to bear fruit showcase delicate, tiny white blossoms, while non-fruit-bearing plum trees boast dainty pink flowers. Buzzing with activity, honeybees play a crucial role as the primary pollinators of these exquisite plum trees.
Bloom time: Late winter to early spring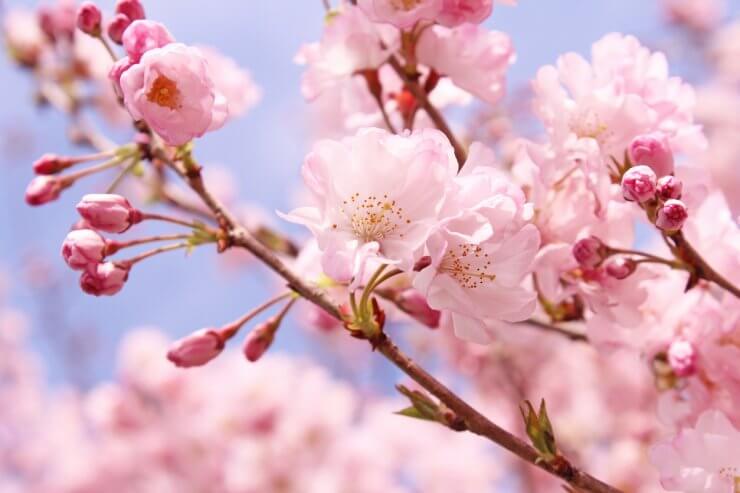 2. Cherry tree
Cherry blossom season is eagerly anticipated in numerous regions worldwide as a cherished symbol of spring's arrival. Certain varieties of cherry trees stand as ornamental masterpieces, captivating onlookers with their profusion of mesmerizing pink-toned blooms. These delicate flowers and their accompanying leaves offer more than just visual allure—they can be harvested and transformed into delectable candies and teas. In fact, Japanese culinary traditions even feature recipes that involve pickling the blossoms before incorporating them into pastries and other delightful baked goods.
Bloom time: Early spring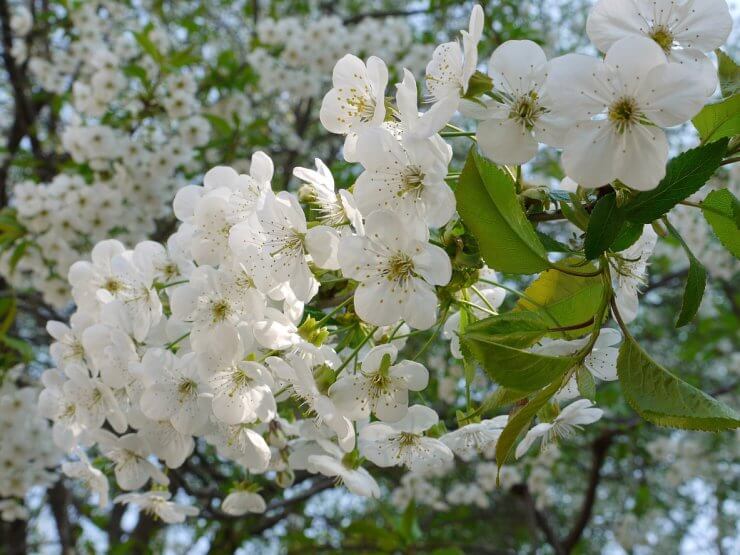 3. Pear tree
As pear trees awaken to their blooming season, their flowers initially emerge in shades of green, gradually transforming into a pristine white hue. These graceful blossoms, adorned with five to seven petals, emit a gentle, sweet fragrance. While pear blossoms do not possess a distinctive taste, their ethereal beauty makes them an enchanting choice for garnishing purposes.
Bloom time: Early spring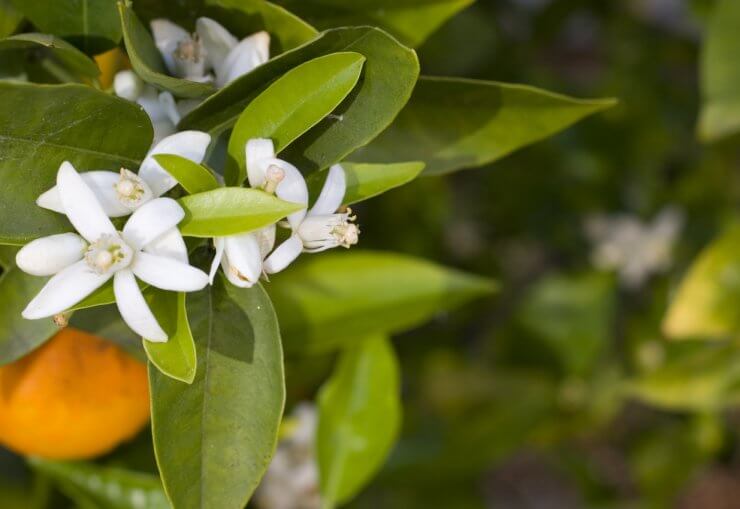 4. Orange tree
Resembling lemon blossoms in shape and color, orange blossoms emanate a delightful, sweet fragrance, making them a sought-after ingredient in perfumes and fragrances. However, not all orange blossoms will mature into succulent oranges; many will gracefully fall from the tree after their bloom. Distinguishing them from lemon trees, orange trees typically yield fruit only once a season due to their longer fruiting period, which can span up to 10 months. Prepare to be captivated by the aromatic allure and the eventual bountiful harvest of these magnificent orange trees.
Bloom time: Spring

5. Peach tree
When the time is right, peach blossoms make their grand entrance, gracing the scene in charming singles or delicate pairs, each adorned with no more than five enchanting petals. These exquisite flowers, making their appearance well before the leaves unfurl, create a striking contrast against the dark bark of the branches. The color palette of peach blossoms spans from gentle shades of light pink, nearly white, to vibrant reds and even light purples, depending on the specific variety. Notably, peach blossoms possess the remarkable ability to self-pollinate, eliminating the need for reliance on nearby peach trees. Witness the self-sufficiency and sheer beauty of peach trees as they offer a stunning display of nature's grace.
Bloom time: Spring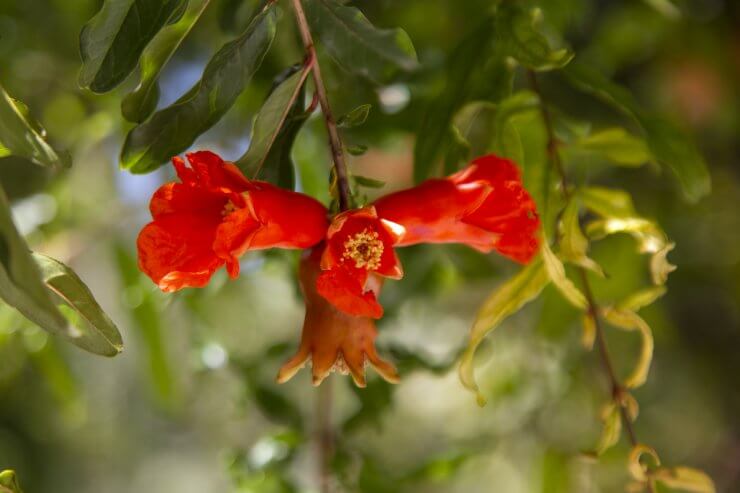 6. Pomegranate tree
As if heralding the arrival of the distinctively shaped pomegranate, the blossoms of pomegranate trees bear a striking resemblance to trumpets. These magnificent blooms give rise to flowers in shades of red or white, adorned with three to seven beautiful petals each. Similar to peach trees, pomegranate trees possess the remarkable quality of self-pollination, boasting both male and female flowers on the same tree. Witness the enchanting allure of pomegranate blossoms as they announce the imminent birth of this remarkable fruit, adding a touch of majesty to nature's symphony.
Bloom time: Spring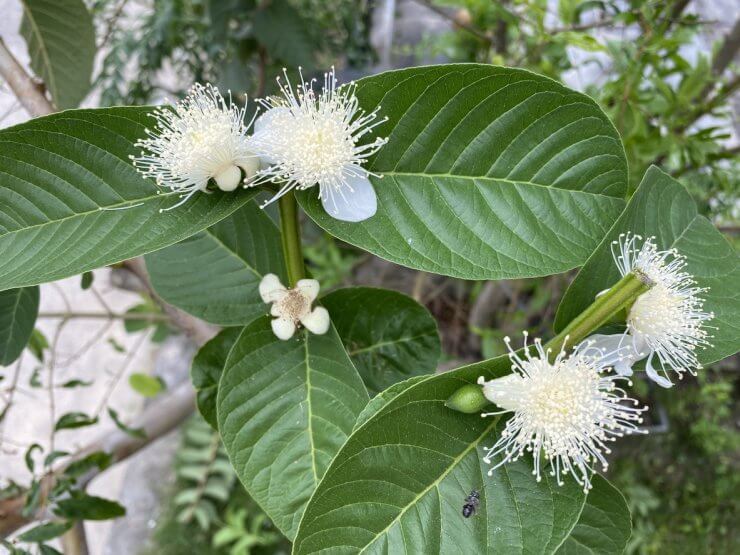 7. Guava tree
Boasting an extraordinary appearance, the blossoms of most guava trees showcase a unique spectacle. With their five-petal structure, these flowers are accompanied by several long central stamens that effortlessly steal the spotlight from the petals themselves. These stamens cluster together at the base, resembling a burst of fireworks shooting outwards. Remarkably, guava flowers possess the ability to self-pollinate, ensuring their own reproductive success. Additionally, they readily welcome the assistance of bees and other pollinators, further enhancing their chances of abundant fruit production. Prepare to be captivated by the unconventional allure and intricate floral display of guava trees, as they embrace both self-sufficiency and the wonders of nature's pollinators.
Bloom time: Spring

8. Apple tree
Apple blossoms, lush and lovely, adorn the branches with their five delicate petals, exuding a sweet scent that beckons pollinators like bees to partake in their nectar. The timing of these blossoms varies, with their arrival spanning from late spring to early summer, influenced by the specific location and variety of the tree. Notably, apple trees rely on cross-pollination, necessitating the presence of compatible varieties in close proximity for optimal fruit production. To ensure a bountiful harvest, planting apple trees in groups of the same variety is highly recommended. Marvel at the captivating beauty and enticing fragrance of apple blossoms as they usher in the promise of future harvests, while nature's pollinators play their crucial role.
Bloom time: Late spring to early summer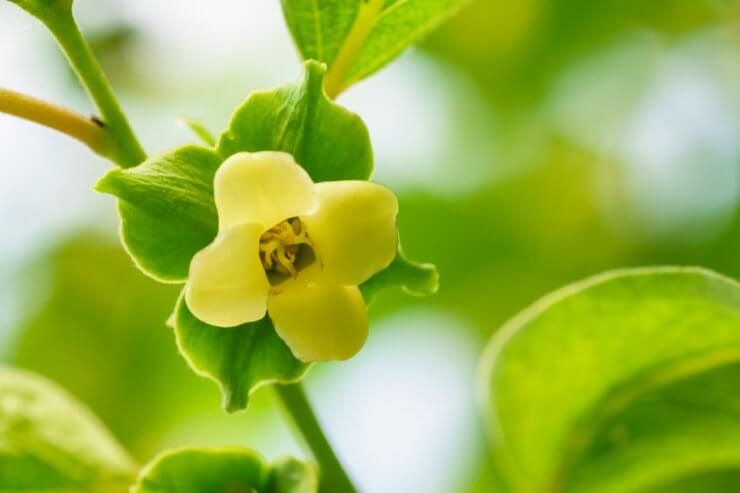 9. Persimmon tree
The persimmon tree delights with its adorable little yellow flowers, captivating onlookers with their charm. However, patience is key, as it takes approximately six years for these trees to bear fruit. Interestingly, each persimmon tree displays flowers of only one gender, relying on essential pollinators like bees to facilitate reproduction. Discerning between male and female persimmon trees is a simple task. Male flowers, growing in clusters, exhibit a white hue with a hint of green. On the other hand, female flowers bloom individually, showcasing a more pronounced yellow tint. Embrace the endearing beauty of persimmon blossoms as these trees patiently await the assistance of pollinators, ensuring the eventual reward of delicious fruit.
Bloom time: Late spring to early summer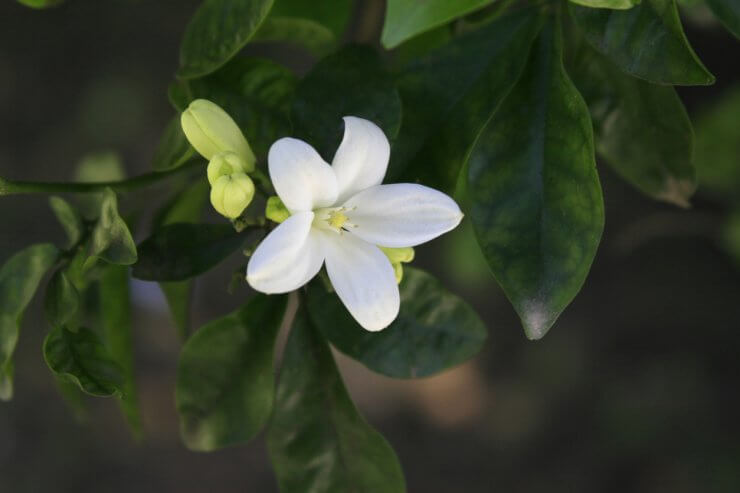 10. Lemon tree
Lemons, cherished for their tangy zest and refreshing flavor, originate from flowering fruit trees adorned with exquisite white blossoms. These delicate blooms possess a touch of purple near the base, adding a subtle hint of color to their pristine appearance. Many lemon tree varieties thrive year round, showcasing their self-pollinating nature and ensuring a continuous abundance of fruit. The blossoms of lemon trees hold additional treasures beyond their aesthetic appeal. They can be harvested, along with the leaves, to create delightful and fragrant teas. Moreover, these blossoms serve as a charming garnish, enhancing the visual appeal and flavor profiles of various culinary creations. Immerse yourself in the captivating allure of lemon blossoms as they contribute to both the sensory delights and culinary artistry derived from these remarkable fruit trees.
Bloom time: Fall and early spring
By organizing the flowering fruit trees according to their bloom times, gardeners and enthusiasts can create an ever-changing canvas of colors and fragrances throughout the year. The continuous cycle of blossoms offers a spectacle that allows us to connect with the passage of time and the ever-changing beauty of nature.
Moreover, these magnificent trees not only mesmerize with their aesthetics but also serve a practical purpose. They attract pollinators, such as bees and butterflies, essential for the successful production of fruits. Additionally, they contribute to biodiversity, providing habitats for various birds and insects.
An everbearing fruit orchard
Beyond blossoms, let's talk about the fruits, and getting fruits all year long! The months will always differ, but the order mostly does not, which is why I've kept this list to the order of harvest. Before choosing plants, always make sure that they will grow in your zone, and that you actually want to eat them. For example, there are cold-hardy pomegranate trees, but I wouldn't plant them because I have no idea what I'd do with a whole tree of pomegranates!
Without further ado, if you want an everbearing backyard fruit orchard, you can pick fruits from these spring, summer, fall, and winter categories so that you always have an abundance of fruit (and not all at the same time—unless you want that!).
A few things to note, because this isn't an exact science:
Before purchasing, check your varietal. Some may be early-season varietals that you can harvest earlier.
If a plant is everbearing that means it will produce fruit all season long.
Make sure if the plant isn't self-pollinating that you get at least two—or more if suggested.
Disease-resistant varieties will make your life easier. They are also likely genetically modified, but so are most things we eat and grow to some extent.
Consider pairing your trees with their fruit tree companion plants.
Early spring fruits:
Mango trees: Embark on a tropical journey with luscious mangoes, known for their juicy and aromatic flesh.
Pineapples: Delight in the tropical sweetness of pineapples, bursting with tangy flavors and a vibrant golden hue.
Late spring fruits:
Strawberry plants: Experience the juicy and succulent taste of these red gems, perfect for fresh snacking or delightful desserts.
Cherry trees: Indulge in the enchanting beauty and delectable flavors of cherries, whether enjoyed fresh or incorporated into culinary creations.
Guava trees: Discover the tropical allure of guava, with its unique flavor profile ranging from sweet to tangy.
Early summer fruits:
Fig trees: Relish in the sweet and tender flesh of figs, offering a delightful combination of texture and flavor.
Blueberry bushes: Experience the burst of tangy sweetness with these antioxidant-rich berries, ideal for snacking or adding to various dishes.
Raspberry bushes: Delight in the vibrant and juicy nature of raspberries, versatile in both sweet and savory applications.
Apricot trees: Enjoy the velvety and aromatic taste of apricots, showcasing a perfect balance of sweetness and tartness.
Banana trees: Dive into the creamy and versatile world of bananas, a beloved tropical fruit adored in various cuisines.
Late summer fruits:
Plum trees: Savor the juicy and succulent flesh of plums, available in an array of colors and flavors, ranging from sweet to tangy.
Blackberry bushes: Experience the rich and intense flavors of blackberries, bursting with juiciness and natural sweetness.
Mulberry trees: Delight in the delicate sweetness and unique flavor profile of mulberries, perfect for both fresh consumption and culinary creations.
Kiwi vines: Indulge in the refreshing and tangy taste of kiwis, packed with vitamin C and an appealing green flesh.
Pomegranate trees: Uncover the jewel-like arils and enjoy the sweet-tart flavors of pomegranates, adding a burst of color and antioxidants to your diet.
Peach trees: Sink your teeth into the juicy and fragrant flesh of peaches, capturing the essence of summer in every bite.
Early fall fruits:
Apple trees: Delight in the crisp and juicy goodness of apples, available in numerous varieties, each with its own unique flavor profile.
Grape vines: Experience the sweetness of grapes in their various forms, whether enjoyed fresh, turned into wine, or dried into raisins.
Pear trees: Indulge in the smooth and buttery texture of pears, offering a delightful balance of sweetness and subtle acidity.
Late fall fruits:
Cranberry bushes: Embrace the tart and vibrant nature of cranberries, perfect for adding a zing to sauces, baked goods, and beverages.
Pawpaw trees: Discover the tropical flavors of pawpaws, with a taste resembling a blend of banana, mango, and melon.
Winter fruits:
Loquat trees: Enjoy the juicy and tangy-sweet flavor of loquats, a fruit reminiscent of apricots and peaches, with hints of citrus.
Orange trees: Delight in the bright and citrusy goodness of oranges, bringing a burst of sunshine and vitamin C to your winter days.
Lime trees: Savor the zesty and refreshing taste of limes, perfect for adding a tangy twist to cocktails, desserts, and savory dishes.
Lemon trees: Unleash the vibrant and sour-sweet flavors of lemons, versatile in various culinary applications, from beverages to desserts.
Papaya trees: Experience the tropical sweetness and luscious texture of papayas, reminiscent of a juicy blend of melon and citrus.
Grapefruit trees: Enjoy the invigorating and tangy-sweet taste of grapefruits, packed with vitamin C and a perfect way to start your day.
Flowering fruit trees captivate our senses and offer an exquisite display of nature's artistry. Whether you find solace in their delicate blossoms, enjoy the fruits they bear, or both, these trees deserve our admiration. As we savor the enchantment they bring, let us celebrate the ever-changing beauty of flowering fruit trees that bloom throughout the year, enriching our lives with their charm and grace.
Which flowering fruit trees do you enjoy?