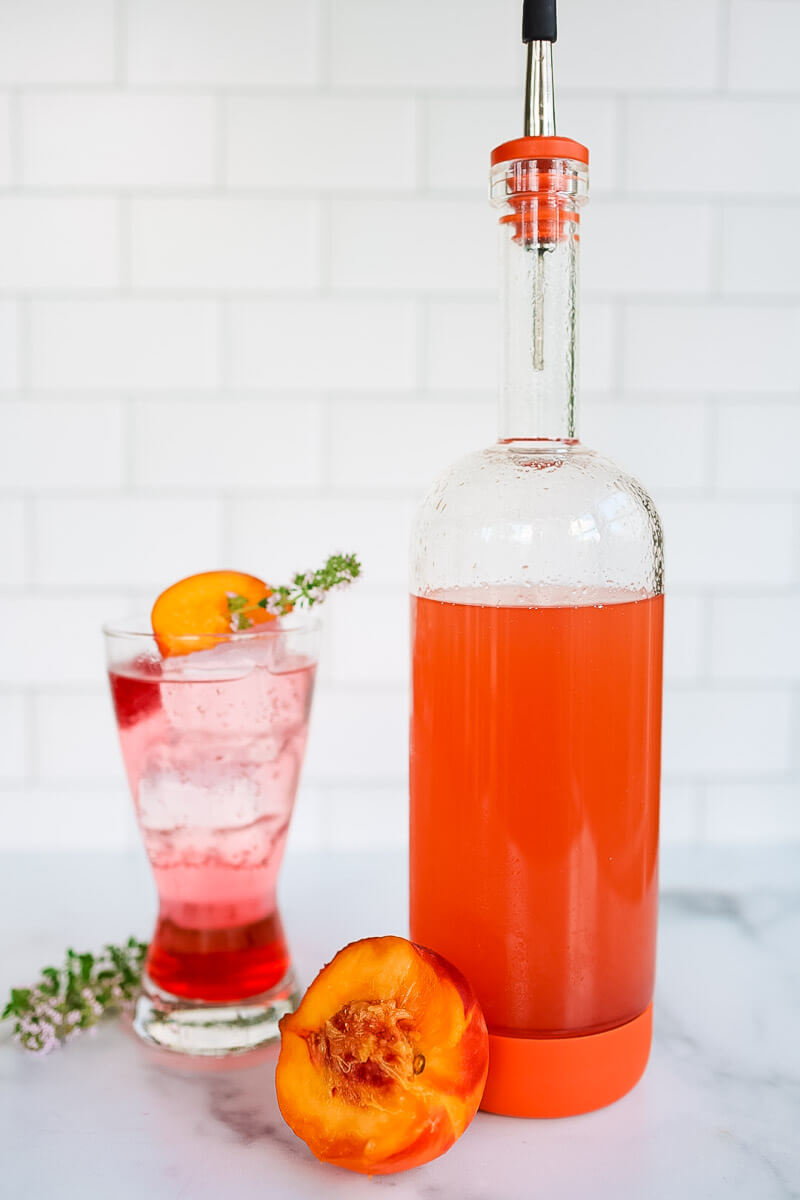 If you have peach trees, you probably have an excess all at one time every year! I've finally figured out what to do with all of them: make Peach Schnapps! All you need is some fresh peaches, lemon, sugar, vodka, and a little bit of time, and you're good to go with this homemade Peach Schnapps. I like to let my schnapps sit for about two weeks, so the flavors can really meld together. It's a bit of a long wait if you're really craving a drink (like I always am!), but trust me, it's worth it.
This homemade Peach Schnapps recipe is perfect for hot days. Once your iced tea is brewed and waiting, just throw a shot of this in it for a grown-up peach iced tea! Whenever the temperatures start to rise, I find myself reaching for this refreshing drink more and more. Whether I'm sipping it on its own or using it as a mixer, this Peach Schnapps always hits the spot.
I learned about this recipe from a friend who always served homemade cocktails at parties or simple get-togethers. They kept their schnapps in big jars and used them for all sorts of drinks. They swore by it and said it's the best schnapps they've ever had. I have to say, I agree! Not only is it delicious, but it's also incredibly easy to make. After many parties with them, I finally asked for the recipe. I expressed how the drink is dangerously good, and they just laughed and said: "That's the point!" I'm so glad they shared their recipe with me and let me share it with you.
If not for this recipe, I would've never known how possible it is to make schnapps at home. This schnapps tastes a whole lot better than the store-bought kind, especially when I know that all the ingredients can come from my own backyard!
When the day calls for a cocktail, I mix my homemade Peach Schnapps into a Knockout Peach Berry Fizz or a Peach Cosmopolitan. The schnapps gives the drinks an extra peachy flavor that takes them over the top. You can also mix the schnapps with seltzer or club soda. Even a simple lemonade or orange juice turns more delightful and refreshing with this schnapps added to the mix.
Print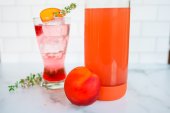 Peach Schnapps
Intensely fruity and peach-forward with the kick of vodka, this homemade Peach Schnapps is everything you'll need for a peachy cocktail.
Author:
Category:

Beverages
Ingredients
1 cup

water

1 cup

sugar

1/4 cup

lemon juice

4

washed sweet peaches, chopped

750

milliliters vodka
Instructions
In a saucepan, add water and sugar and bring to a simmer. Once the sugar dissolves, add the lemon juice and peaches. Let simmer for about 10 minutes. Let cool, then pour into a 1/2 gallon Mason jar. Add vodka, stir, and seal. Store in a cool dark place for 2 weeks.

Once it's ready, pour peaches over a fine-mesh strainer and press down to get out extra juice. You can do this twice, and you can also use cheesecloth, but this one will live in the fridge because it's a little more pulpy than the others. Now, add your Peach Schnapps to the bottle of your choice.
Peaches are so sweet, they're used as a synonym for a person who is delightful! With our Perfect Peaches Gardening Guide, you'll have everything you need to know about growing and enjoying this delicious fruit.
If you make this homemade Peach Schnapps, let me know what you think!