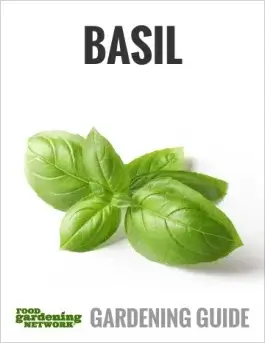 Walk into the kitchen at pretty much any restaurant and you'll find basil. It's prominent in many cuisines from Italian to Indian to Thai to Vietnamese to Mediterranean. You can find it in salads, atop sandwiches, or even basil ice cream. With so much popularity, it should come as little surprise that there are different types of basil. 
I've seen some lists of up to 200 varietals, while other sources say there are between 30 and 50 varieties. I'm not in a position to say how many different types of basil there are, but I can tell you it's one of the most popular herbs on the planet. It's relatively easy to grow, is an abundant producer, and will survive indoors in the winter. 
Basil is not, however, a one-size-fits-all herb. Some types of basil give off better flavors when they're cooked, while some are better added in just before serving a meal. The basil plant itself can be as small as 6-8 inches tall or upwards of 3 or 4 feet tall, depending on the variety. 
If color is your thing, you have options here, too. You're familiar with green basil, I'm sure, but some varieties produce purple or deep burgundy leaves, while others brighten your garden with flashy red or blue flowers.
So, which is the best variety for you? 
5 Different types of basil for your garden and your kitchen
1. Sweet basil. Also known as common basil, Sweet basil is the plant most common in American and European cooking. You might even recognize it as Genovese basil, which is a popular variety of sweet basil. It's a classic for pestos and other Italian dishes, and is best used fresh as it loses some of its flavor when cooked. Sweet basil is easy to grow, as well. Just give it warm days, plenty of sunshine, and water it well and you'll have a steady supply of basil. 
2. Thai basil. The maroon stems of the Thai basil plant stand out in the garden and the slightly spicy, anise taste of the herb brings unique flavors to your kitchen. Unlike sweet basil, Thai basil holds up well on the stovetop and is great in stir-fries and curries. It behaves similarly to Sweet basil in the garden.
3. Cardinal basil. Cardinal basil is a beauty. As you might guess from the name, this plant produces deep red and burgundy, tight blooms. Since it can grow up to 30 inches tall and spread around 18 inches, you'll get plenty of bright color, not to mention tasty leaves. Birds, bees, and butterflies love it, too. As a bonus, it's rumored to be quite the pest repellant, as well. What's more, the Cardinal basil tastes just as good as it looks. The catch? You'll need rich soil and a long, sunny summer to get the most out of this plant. 
4. Cinnamon basil. Of the different types of basil, I think Cinnamon basil might be my favorite. It has, as you can likely guess, hints of cinnamon, thanks to the methyl cinnamate. The cinnamate gives the plant a little extra spice, but it still has the sweetness of basil. It's easy to grow and is said to be especially beneficial in keeping pests away from tomatoes. The sweet-spicy leaves make this a versatile herb, with culinary uses that range from pasta to teas to baked goods. Is there a downside? The only potential drawback to Cinnamon basil is that it can grow up to 3 feet tall, so either stay on top of trimming it or make sure you have plenty of room in your garden!
5. Purple basil. Another ornamental variety is the Purple basil. It looks so good you could eat it…and luckily, you can! Like other basils, this one is easy to grow and pretty versatile in the kitchen. Don't over-fertilize it or let it dry out or you'll lose that rich basil flavor. 
Even more basil to love
I know there are some different types of basil that aren't on this list, but you will find them in The Basil Grower's Guide: All You Need to Know About Growing and Cooking with Basil. There's the ever-popular Lemon basil and one very unique variety that has quite the flavor and looks different than most basils. 
Plus, remember that Basil ice cream I mentioned earlier? Guess what? There's a recipe for it in the guide! In fact, I might go make some right now. Or maybe I'll try the Roasted Tomato-Basil Soup! 
Whichever type of basil you decide to grow, and whether you grow it in the ground or in a container on your windowsill, you're sure to enjoy the wonderful aroma and delicious flavors of this magical herb.
In the meantime, if you want to learn more about the different types of basil, get delicious recipes featuring basil, and get some good basil harvesting tips, but sure to check out The Basil Grower's Guide: All You Need to Know About Growing and Cooking with Basil.