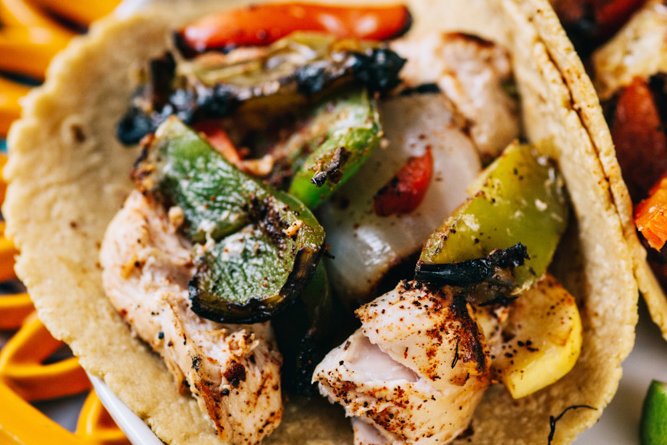 Marinades can be a godsend, especially when things get pretty hectic. I love marinating, not only because you can prepare part of the dish in advance but because the marinade also makes the meat extra tender and juicy. Chicken marinades can be absolutely delicious, as you'll soon discover in this recipe for Spicy Lime Grilled Tequila Chicken!
Making this marinade is really exciting as it combines the vibrant and irresistible flavors of lime, tequila, and a handful of fresh herbs that can be easily found in your pantry or home garden. As a drink, tequila can be sweet, fruity, or earthy depending on its age and variety. As a marinade, it can give your chicken a distinctly smoky flavor, which becomes even more apparent and delectable after grilling.
The addition of lime not only tenderizes the meat and speeds up the cooking process but also gives your marinade a bright, zesty flavor with just a tiny hint of sweetness to balance out its natural tartness. Some fresh minced cilantro also amps up the marinade's citrusy flavor.
Adding some Dijon mustard levels up your mixture as it has a sharp, strong, and tangy flavor with just enough spice and potency. Of course, the chili powder gives it that added spicy kick alongside a sprinkling of garlic powder. Sliced celery is not just crunchy, but pleasantly peppery and earthy. Ground cumin, on the other hand, is great for a warm and earthy flavor that will shine through when the chicken is grilled. With a bit of olive oil and light brown sugar, you'll have a marinade that's flavorful but exquisitely balanced.
Let your chicken breasts soak in all these delectable flavors for at least four hours. I recommend marinating them overnight for that maximum punch. With some bell peppers and onions, you can enjoy this delicious Spicy Lime Grilled Tequila Chicken best when served on a tortilla!
Print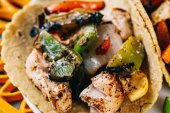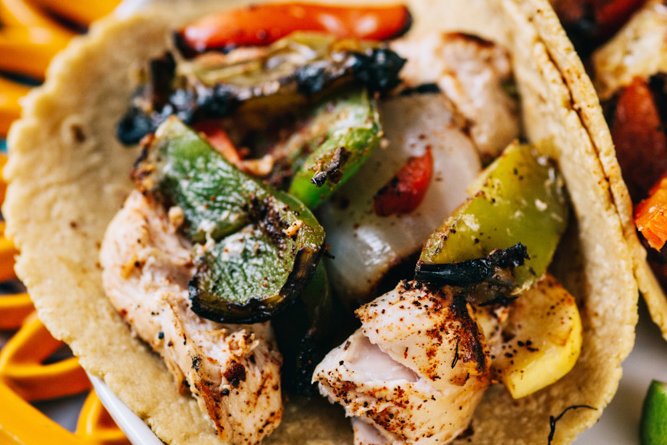 Spicy Lime Grilled Tequila Chicken
Immerse yourself in the deliciously tender flavors of Spicy Lime Grilled Tequila Chicken! 
Author:
Prep Time:

30 minutes

Marinade Time:

4 hours

Cook Time:

20 minutes

Total Time:

4 hours 50 minutes

Yield:

4

1

x
Category:

Entrées
Ingredients
Marinade

1 cup

sliced celery

1/2 cup

minced fresh cilantro

1/2 cup

tequila

1/4 cup

lime juice

1/4 cup

olive oil

2 tablespoons

packed light brown sugar

4 teaspoons

chili powder

4 teaspoons

Dijon mustard

2 teaspoons

ground cumin

1/2 teaspoon

garlic powder

Chicken

4

boneless, skinless chicken breasts

1

red bell pepper, chopped

1

green bell pepper, chopped

1

onion, sliced
Corn tortillas, for serving
Instructions
For the marinade: Stir all the ingredients together in a large bowl.
For the chicken: Place the chicken breasts in the bowl with the marinade, cover, and refrigerate for 4 hours or up to overnight.
Preheat the grill to medium-high heat, about 450 degrees F.
Place the chicken breasts on one side of the grill and cook for 8 to 10 minutes. Flip the chicken over and grill for an additional 8 to 10 minutes until done. Slice and set aside.
Place the bell peppers and onions in a grill basket, set on the other side of the grill, and cook for 10 minutes, until the skins are blistered and the peppers are tender. Scoop the chicken and vegetables into tortillas and serve.
What did you think of this recipe? Let us know in the comments.
Want to use home-grown bell peppers for this? Learn all about growing your own bell peppers in the special Beautiful Bell Peppers collection. It's packed with planting tips, specific plant profiles, recipes, nutrition and health information, and resources to help you be the best food gardener you can be.