When someone says "rhubarb," what's the first thing that comes to mind? Pie? Well, OK, it is also called pie plant—but rhubarb can be so much more. The flavor of rhubarb as a tea is a refreshing change from the usual fruit teas. It's especially good when you make it fresh yourself. You can tailor this recipe to your tea preferences and come out with a signature tea your guests will love!
This tea is a perfect cool beverage to make when the weather turns warmer. Since the rhubarb harvest is usually over before the weather gets really hot, you can plan ahead to make this tea during the dog days of summer. Just freeze some of your rhubarb and label it "Future Tea" so you don't forget to make this. Basic iced tea is good, but this rhubarb tea will be a real treat.
I like iced tea year round, so I don't wait to make it. As soon as I have enough rhubarb to make a big pitcher of tea, I get going. I have fresh mint in the garden, too, so that gives the tea an added layer of flavor. Imagine the joy of harvesting rhubarb in the morning and enjoying it as fresh tea in the afternoon!
A few of my friends were a little dubious when I told them I was making rhubarb tea; I think they were imagining something unbelievably mouth-puckering. But it actually comes out clean and sweet, with that little unmistakable rhubarb tang. My friends were pleasantly surprised to discover how delicious it was. You'll be pleasantly surprised, too. Try making this tea yourself—chances are, you'll make it more than once!
Print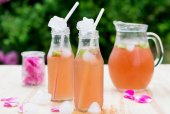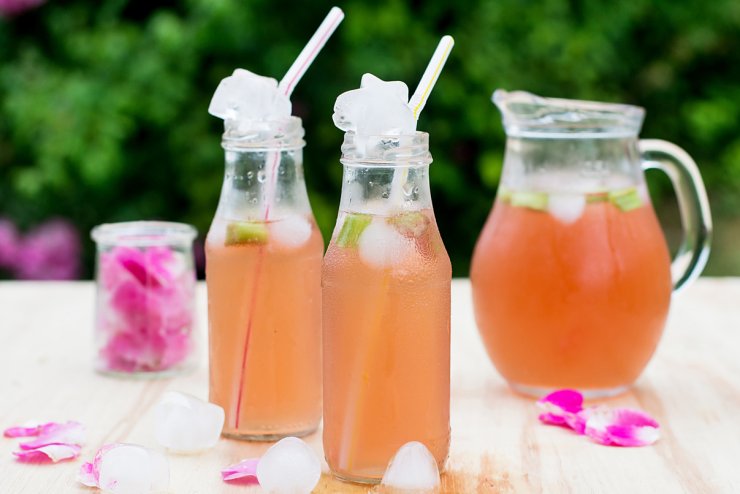 Rhubarb Tea
Rhubarb can make a refreshing tea. Make it in combination with in-season raspberries or another favorite fruit, and brew it with some black (or green) tea. Have it on hand to serve over ice, or with a dash of seltzer.
Author:
Prep Time:

30 minutes

Additional Time:

1 hour

Cook Time:

30 minutes

Total Time:

2 hours

Yield:

Serves 8

Category:

Beverages
Ingredients
4

–

6

cups rhubarb, chopped*

2 cups

fresh or frozen raspberries, strawberries, or blueberries (optional)

2 cups

fresh mint leaves

3 quarts

water

4

tea bags (black or green tea)

2 cups

sugar, or to taste
mint sprigs for garnish
seltzer (optional)
Instructions
Combine rhubarb, optional fruit, mint leaves and water.
Bring the mixture to a boil; reduce heat and simmer, uncovered for half an hour.
Remove pot from the heat and add the tea bags.
Steep, covered, for 5 minutes (or according to taste).
Use a fine mesh strainer to strain the tea and pulp into a large mixing bowl.
Stir in sugar to taste, until it's dissolved.
Transfer tea to a covered pitcher and chill in the fridge until it's cooled completely.
Serve over ice or with seltzer.
Garnish with fresh mint leaves.
Notes
If you decide to skip the fruit, increase your rhubarb by 2 cups; otherwise, use 4 cups rhubarb, 2 cups fruit.
Have you tried this recipe? It's a refreshing drink on a hot day. Please tell us how it turned out for you.