As a home food gardener, I've often tried my hand at making pies with the berries I grow. The Classic Blueberry Pie is one of my favorites, and it's never hard to say why. It's easy to make, and the ingredients are readily available. Plus, it just tastes so good!
What makes the Classic Blueberry Pie a hit to me is the combination of a sweet and tart filling encased in a buttery and flaky crust. For the pie dough, I use a recipe my cousin passed down to me. It's pretty easy to work with, and it never fails to give me a crispy and flaky crust. I am always amazed by how the egg with cream makes the crust golden and shiny! It goes so well with just enough saltiness and buttery flavor.
For the filling, fresh blueberries do all the magic. The lemon zest and juice are two other key ingredients that give it a tart edge, and the liqueur adds just the right amount of sweetness and depth of flavor!
The recipe proves to me that it's not scary to make a pie from scratch. It only takes about two hours to make this pie from start to finish, and most of that time is spent waiting for the dough to chill in the fridge.
This Classic Blueberry Pie is best enjoyed while it is still warm, but it can also be served at room temperature or cold. I like to serve mine with a scoop of vanilla ice cream on the side. Feel free to enjoy it however you like!
Print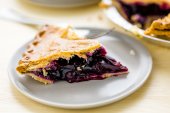 Classic Blueberry Pie
The ripe blueberries in your garden are begging to be used in a classic pie. It doesn't matter if you serve it slightly warm or at room temperature, this Classic Blueberry Pie will remain as tasty as ever!
Author:
Prep Time:

15 minutes

Chilling Time:

1 hour

Cook Time:

50 minutes

Total Time:

2 hours 5 minutes

Yield:

Serves 6

Category:

Bakery
Ingredients
Pie Dough

12 tablespoons

(

1 1/2

sticks) unsalted butter, very cold and diced

3 cups

all-purpose flour

1 tablespoon

sugar

1 teaspoon

kosher salt

1/3 cup

very cold vegetable shortening (Crisco), diced

1/2 cup

ice water

Pie Filling

4 cups

fresh blueberries, washed and dried

1/2 cup

sugar

2 tablespoons

natural raw sugar for sprinkling/topping

1/2 cup

all-purpose flour

1 teaspoon

grated lemon zest (zest of

1

lemon)

1/4 cup

freshly squeezed lemon juice (

2

lemons)

1 tablespoon

liqueur (Cassis or St. Germain)

1

egg, beaten with 1 tablespoon of milk or cream (for brushing as egg wash)
Instructions
For Pie Dough:

Cut butter into 1/2-inch diced pieces and return to refrigerator while continuing preparation.
Place flour, sugar, and salt in a food processor, using steel blade, and pulse a few times to mix together.
Add the diced butter and shortening, then pulse 12 to 15 times until the fats are pea-like in size. (Beware: don't over-mix, as the fats will lose their effectiveness if over-handled.)
With the food processor running, pour the ice water down the feeding tube; then pulse until the dough forms a ball.
Place the ball of dough on a floured board or countertop and form into a large disk.
Cover disk of dough in plastic wrap, and place in the refrigerator for at least 30 minutes.
After dough is chilled, remove from the refrigerator and cut disk in half.
With a rolling pin on a floured board or countertop, roll each piece into a 12- to 13-inch circle—roll from the center of the dough piece outward, ensuring to flour along the way so the dough doesn't stick to the board or counter.
Place the rolled-out dough in the refrigerator until ready to assemble your pie.

For Complete Pie:

Preheat the oven to 400 degrees (375 degrees with a convection oven).
Line a baking sheet with parchment paper.
Mix the blueberries, 1/2 cup sugar, flour, lemon zest, lemon juice, and liqueur in a large bowl. You might need to mash some of the blueberries, to release the juices and offset the whiteness of the flour with blueberry color.
Place one of the pie crusts in a 9-inch pie plate, being careful not to stretch the dough (it will shrink when baking).
Use kitchen scissors to cut off the excess dough around the edge of the pie plate.
Spoon blueberry mixture into the pie shell—use a rubber spatula to get every last drop into the shell.
Brush the edge of the bottom crust with the egg wash.
Carefully place the second crust on top, being sure not to stretch the crust to fit.
Press the two crusts together around the edge and crimp with your fingers to form a nice edge design.
Brush the entire top crust with egg wash.
Cut at least three slits in the top crust, so the pie can vent and release moisture while cooking.
Sprinkle top crust with natural raw sugar.
Place pie on lined baking sheet and bake for 45 to 50 minutes in the oven, until the crust is golden brown and the filling is bubbly.
Allow pie to cool and serve warm, or at room temperature.
Want to start growing blueberries at home? Blueberries are a favorite of everyone, everywhere! With our Blueberry Bonanza Gardening Guide, you'll have everything you need to know about growing and enjoying this delicious and healthful fruit.
Have you tried this recipe? No kitchen is complete without a blueberry pie recipe—please tell us how it turned out for you.