Candied fruits have been around since the 14th century and have remained a favorite snack for many. Personally, I don't often make candied fruits particularly because they need a lot of patience! But, of course, there are just some days when you want to make something extra special. If you have the time and patience (and perhaps a sweet tooth), Candied Kumquats will definitely be worth the effort!
Actually, making Candied Kumquats isn't all that difficult. What does become a challenge is waiting until they're ready to eat! You don't even need special ingredients: just sugar, filtered water, a teensy bit of salt, cream of tartar, granulated sugar, and, of course, a fresh batch of kumquats.
To make your Candied Kumquats look absolutely irresistible, don't include the ones with blemishes. You can save those for later when you're going to make something else, or when you're looking for a snack to try while waiting for the candying to finish. You can also give your Candied Kumquats a bit of panache when you leave a short stem on some of the fruits.
Now, the process is going to take some repetition for certain steps since you can't get lip-smackingly delicious Candied Kumquats by doing it just once! There are no shortcuts but I promise it will all pay off in the end.
Once you're done with your Candied Kumquats, what you'll get are bright, amber-looking gems bursting with so much flavor! Since a batch for 10 or 12 servings takes around two and a half days to make, I suggest you make extra because there's no way you'll be able to stop yourself from munching on them as a snack. For a more sophisticated treat, serve them with tea or as a dessert for those much-needed get-togethers. They also make great gifts around the holidays in a parchment-lined tin and dipped in chocolate.
Print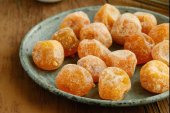 Candied Kumquats
This recipe isn't difficult, but it is definitely time-consuming. However, in the end you will have delicious, sweet-tart Candied Kumquats to serve with tea, as dessert, or just to snag as a sweet snack.
Author:
Prep Time:

30 minutes

Additional Time:

2 days 2 hours 30 minutes

Cook Time:

3 hours

Total Time:

2 days 6 hours

Yield: Serves

10

to

1

2

1

x
Category:

Desserts
Ingredients
2

pounds fresh kumquats

2 cups

sugar

2 cups

filtered water
Pinch of salt
Pinch of cream of tartar

1 cup

granulated sugar (for finishing the candying process)
Instructions
Wash the kumquats and separate any that have blemishes (you can eat those later). It's OK to leave a short stem on the fruit.
Poke each kumquat at least 10 times with a pin or skewer; this is to facilitate the flow of water as you cook the kumquats, and later, for the syrup to fully permeate the fruit.
Put the kumquats into a heavy saucepan and cover with filtered water.
Bring the water to a boil, then immediately remove the pan from the heat and put a lid on the pan.
Allow the water to cool down almost to room temperature.
Repeat Steps 3 and 4 two more times.
After the third boiling, pour off the water, taking care not to damage the kumquats.
To the kumquats in the pan, add the sugar, 2 cups of water, and a pinch each of salt and cream of tartar.
Bring the pot to a full boil, then lower the heat so there's hardly any movement in the pan.
Slowly cook the kumquats for about an hour, until the fruits look dark and translucent.
Cover the pan and let the fruit sit in the syrup overnight.
The next day, remove the lid and bring the syrup to a boil.
Turn off the heat and put the lid back on the pan.
Let the kumquats and syrup cool to room temperature.
Repeat Steps 11 to 14 two more times. The kumquats should look like amber.
Gently remove the kumquats and put them on a cooling rack that's over waxed paper. Let them dry overnight. Save the cooking syrup for other recipes.
The next day, put about a cup of granulated sugar into a tray with a raised edge.
Roll each kumquat in the sugar, one at a time, until it's completely coated.
Put sugared kumquats in an airtight container with sugar between each layer of kumquats. Store in a cool, dark place.
Eat while they're still fresh.
Have you tried this recipe? It's a real time investment, but it should pay off with big flavor—please tell us how it turned out for you. For more information on growing kumquats, check out our Crazy For Kumquats gardening guide.