Thyme has been recognized for its many health benefits since Roman times. Nutritionally, thyme is a good source of vitamin C for immune support, potassium for healthy cells, and manganese for bone development and blood clotting. But perhaps thyme's most important contribution to nutrition is that it brings out the best flavor in healthy foods such as vegetables, fish, and lean meats, making them even more delicious.
Here is the nutrition information for 1 teaspoon of fresh thyme: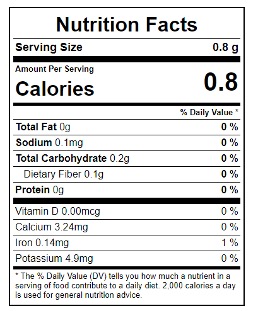 The main plant compounds in thyme are:
Thymol. One of the main oils in thyme, thymol is a biocide that can kill infectious bacteria and fight against enzymes responsible for inflammation in the body.
Carvacrol. Also a biocide, carvacrol has a similar effect on inflammatory cytokines, which are signals your body uses to increase inflammation. This oil can help reduce it. Thymol and carvacrol team up to give thyme its strong antimicrobial properties.
Vitamin C. This powerful nutrient may help protect against immune system deficiencies, cardiovascular disease, prenatal health problems, eye disease, and even skin wrinkling.
Manganese. Manganese contributes to many bodily functions, including the metabolism of amino acids, cholesterol, glucose, and carbohydrates. It also plays a role in bone formation, blood clotting, and reducing inflammation.
Did you know all these nutrition facts about thyme? Please tell us what you think.