Sage contains many beneficial nutrients, all packed in a small leaf. Sage is particularly high in vitamin K, which is important for bone health and wound healing. Sage also contains over 160 distinct polyphenols, which are plant-based chemical compounds that act as antioxidants in your body.
Here are the nutrients in a teaspoon (0.7 grams) of ground sage: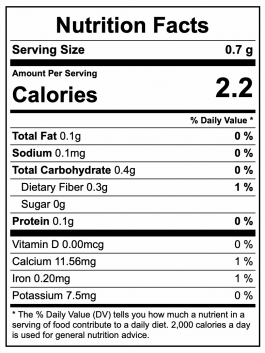 The main plant compounds in sage are:
Chlorogenic acid. Studies have shown that chlorogenic acid may help reduce blood sugar levels and reduce insulin spikes. This compound may lower cholesterol and triglycerides and boost fat metabolism. It may also lower blood pressure in people with hypertension or elevated blood pressure.
Rosmarinic acid. Rosmarinic acid has antioxidant, anti-inflammatory, and antimicrobial activities. This compound helps to prevent cell damage caused by free radicals, thereby reducing the risk for cancer and atherosclerosis.
Ellagic acid. This polyphenol, or micronutrient, is an antioxidant that provides a defense against infections.
Rutin. A powerful antioxidant compound, rutin helps blood circulation, prevents blood clots, and has been shown to lower cholesterol and reduce arthritis pain.
Did you know all these nutrition facts about sage? Please tell us what you think.