The water content of cucumbers is around 96%—the other 4% consists mainly of carbohydrates and fiber. Cucumbers are a good source of fiber, especially if you leave the skin on, providing about 2 grams per average-sized cucumber.
Here is the nutrition information for a typical 1/2-cup serving of raw (with peel) cucumbers: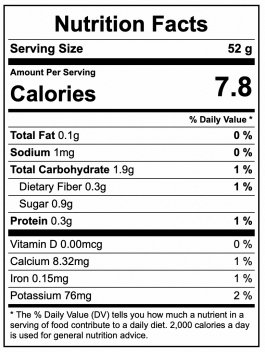 The main plant compounds in cucumbers are:
Cucumerin A and B.These triterpene phytonutrients have been studied for their effectiveness in preventing some cancer
An antioxidant that has anti‐inflammatory, anti-cancer, and neuroprotective effects.
This flavonoid has been shown to decrease inflammation and have antioxidant, anti-aging, anti-viral, and anti-bacterial benefits, as well as having positive effects on the heart and nerves.
An antioxidant compound studied for its heart health, diabetic, and anti-inflammatory benefits.
Did you know all these nutrition facts about cucumbers? Please tell us what you think.