Basil is an excellent source of vitamin K and manganese; a very good source of copper, vitamin A (in the form of carotenoids such as beta-carotene), and vitamin C; and a good source of calcium, iron, folate, magnesium, and omega-3 fatty acids. Who knew that basil is such a nutritional powerhouse?
Here are the primary nutrients in chopped fresh basil :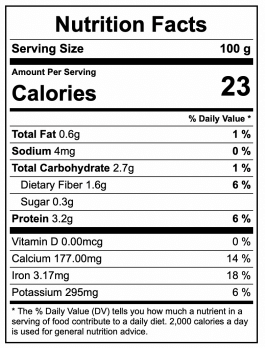 The U.S. Food and Drug Administration (FDA) has set the Daily Value (DV) percent of average servings of foods based on a typical 2,000-calorie diet for healthy adults. And basil packs in the good nutrients without much of the fat, sugar, and sodium that—at high levels—can contribute to poor diet and health.
With all these beneficial nutrients, basil packs more than just an aromatic punch. And you can really enjoy basil's benefits by adding fresh chopped basil at the end of preparing a dish to avoid cooking's dilution of any nutrients—and to maximize the flavor!
Did you know all these nutrition facts about basil? Do you use basil for taste or nutrition—or both? Please tell us what you think.