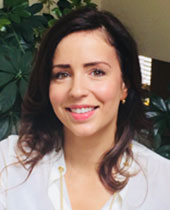 Gardening in November? I know this isn't typically the month people think of in conjunction with gardening. And it's true that at least where most of the Food Gardening team lives, the summer tomatoes and cucumbers are long gone. But the beets and Swiss chard in our gardens are still going strong and some of our herbs, like sage and rosemary, are as healthy as ever, too. 
Of course, I know it's just a matter of time before the temperature plummets and our gardens are done for the year. Or are they? 
You might be surprised at how much you can still do in your garden before the ground freezes. There are some more apparent tasks, like cleaning out any remaining weeds. You can also do some planting. Our Senior Editor, Amanda MacArthur, has lots of tips on some end-of-the-season garden tasks, and she'll share with us the one herb you can put in the ground right now. 
In this edition of Food Gardening Magazine, you'll discover lots of valuable and helpful content and advice, with some of my favorites including:
Gardening with Amanda articles—Amanda MacArthur is one fabulous food gardener! She takes gardening seriously, makes it fun, and delivers some great content—including companion videos to show you, not just tell you, precisely what to do. Check out these four helpful articles, with videos, from Amanda this month:
"

November Gardening Tasks and Chores

": While you may still have a few hardy veggies growing, November is the time to clean up and get your garden prepped for next season. A little bit of focus and time at the end of your growing season gets you primed and ready to go for the spring.

"How to Start Growing Garlic This Fall": 

There's nothing like fresh garlic! It's also super easy to grow, but you need to start it right away. Amanda shares her garlic-growing secrets in this fragrant article.

"How to Dry Herbs": 

Even if you use a lot of fresh herbs in your cooking, you may still have an abundance at the end of the season. Find out how to harvest and prep your herbs, then discover three different ways you can dry them so you can enjoy the fruits of your herb garden even in the depths of winter.

"Maple-Roasted Beets and Butternut Squash with Caramelized Onions, Sage and Cranberries": 

My mouth waters every time I read this recipe. I can almost smell the roasting butternut squash and beets in the oven! Join Amanda and find out how to make this Thanksgiving favorite. 
And this issue of Food Gardening Magazine includes details on our three featured foods this month—concurrently with publishing this issue of our magazine, we're publishing and updating gardening guides on sage, peas, and beets. As a premium member of Food Gardening Network, you get full access to the magazine and these gardening guides:
I've read all three gardening guides, and there are so many exciting things about sage, peas, and beets. Consider some of these juicy facts I discovered in these gardening guides. 
Did you know that sage is exceptionally high in vitamin K, which is essential for bone health and wound healing? The herb also contains over 160 distinct polyphenols, which are plant-based chemical compounds that act as antioxidants in your body.
Peas are healthy, too, of course, but I love that they taste like garden candy, especially in early spring when they first come in. And because they grow quickly and tolerate cool weather, you can usually get a spring and an early fall planting. 
Beets? They love cool weather, too. These earthy root vegetables are packed with nutrients, and the entire plant is edible. Plus, you can do a lot with beets in the kitchen. Sure, they're fantastic roasted with a bit of olive oil, salt, and pepper. But did you know you can make a beet puree to use in brownies? I kid you not! There's a recipe for Beet Brownies in the gardening guide that gives you the most velvety-smooth brownies you've ever had.
When you read this edition of Food Gardening Magazine, be sure to check out the Gardening Guide Close-Ups that focus on sage, peas, and beets—these in-depth articles give you valuable tips and advice about these three foods, and you'll have instant access to the premium gardening guides themselves, too. Be first to read these Gardening Guide Close-Ups, to get a head start on these fantastic foods:
And then there are the recipes you'll find in the three gardening guides—here are three of my favorites that are tasty, unique, and easy to make:
Pumpkin Sage Soup

—Fresh pumpkin and sage combine to make a filling vegan dish that's high in beta carotene and full of flavor. Serve it with hearty peasant bread and a glass of wine. Add a swirl of coconut cream and a sprinkling of pumpkin seeds for an elegant presentation.

Lemon Garlic Shrimp with Peas and Artichokes

—This seafood dish combines the flavors of southern European countries with peas and artichokes for an elegant dining experience. Serve with orzo or pilaf to complete the meal. This recipe is a show-stopper your family and friends will beg you to make again.

Roasted Beet Hummus

—Visually appealing, with its bright, pink color, the beets add another earthy element to the hummus we all love, as well as an extra dose of nutrition. You'll dazzle your guests when you place a bowl of this pretty dip on your buffet table. 
I hope you enjoy the November issue of Food Gardening Magazine as much as we've enjoyed putting it together. And wherever you may garden, whether that's a city balcony in a cool climate or a raised bed in warmer parts of the world, let's take a moment to enjoy the fact that there's still lots of gardening to do and vegetables to enjoy!
Happy gardening—and happy eating!


Kim Mateus
Editor & Publisher
P.S. Please enjoy this issue of Food Gardening Magazine, and let me know what you think about it by commenting below with your feedback! Your input is valuable to us and can help us make improvements.